The newest kid on the New York City trade show block, DG Expo, is growing rapidly. Indigo and
Printsource recently showed print ideas for Spring/Summer 2014.
Celebrating its second year, DG Expo now has about 80 exhibitors showing fabrics and trims
that have low minimums and flexible ordering options. Apparel fabrics dominated, but home fabrics,
buttons, beads, labels, appliqués, zippers, buckles and ribbons also were on display.
Hemp Traders, Carson, Calif., has knitted and woven fabrics of hemp, cotton and blends. At
the moment, hemp comes from China and Romania. It is hoped that growing hemp will soon be legal in
the United States. Some of the most popular apparel fabrics are jersey knits. Canvas is going into
apparel and selling to artists.
Premier Prints Inc., Sherman, Miss., has a 1,000-yard minimum. Its fabrics are going into
bedding, draperies and pillows. All are woven in North Carolina and printed in Mississippi. Cotton
twill printed pillows were on display. The outdoor line is woven of polyester.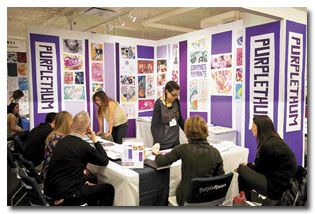 Purplethum Design shows its fabrics to attendees at Printsource.
Warp knitter Darlington Fabrics, Westerly, R.I., a division of The Moore Company, sells to
athletic, swimwear and intimate apparel markets. Production is done in Rhode Island and El
Salvador. Most fabrics have performance finishes, including moisture-wicking, soil-release and
anti-odor; and are available solid or printed. Constructions include tricot, raschel, satin, power
net and mesh.
James Thompson & Co. Inc., New York City, sells custom-dyed and -finished woven fabrics,
shipped from its mill in Delaware. Most are basic solids in cotton and blends including burlap,
canvas, flannel, muslin, sheeting, ticking and 10-ounce denim.
Stylecrest Fabrics Ltd., Hoboken, N.J., is easing out of French laces and concentrating on
yarn-dyed woven cotton, linen, silk, wool, rayon and microfiber shirtings; and small ditsy prints,
and novelties. Today, half of its line comes from Europe.
Robert Kaufman Fabrics, Los Angeles, is bullish about stretch denim, cotton/spandex knits,
yarn dyes and prints. Prints include florals, abstracts, geometrics and conversationals. Most of
the fabrics are from Asia; prints are produced in Japan and Korea.
Philips-Boyne Corp., Farmingdale, N.Y., sells yarn-dyed shirtings, most of which are woven
in Japan. The collection is enormous, and minimums are low. The company also sells fabrics for
dresses, accessories, childrenswear and linings. With most fabrics warehoused on Long Island,
deliveries generally are fast.

Prints


While there is overlapping at the two surface design shows, Indigo's strength is apparel
fabrics, while the majority of Printsource exhibitors concentrate on home fabrics. For apparel,
there are trends to smaller designs, clean looks, watercolor florals, and bright color plus
black-and-white.
At Tom Cody Design, New York City and London, simple abstract and geometric designs and
conversationals, especially bird patterns, caught customers' eyes, along with smaller florals,
clean and crisp geometrics, tiny no-print designs and bright colors.
Owens & Kim pointed out small flowers, painted flowers, ethnics, skins and
black-and-white designs. Amanda Kelly had orientals, scrolly ornamentals, scenics and
Aztec-inspired designs. Gather No Moss showed nautical conversationals; black-and-white dot, stripe
and box combinations; and paisleys.


Bold black-and-white graphic designs were also popular at Whiston and Wright, along with
cleaner and smaller flowers, batiks, ikats and small conversationals. Small prints, black-and-white
designs or bright colors, flowers mixed with spots and vintage were selling at Chris Judge Design.
All of the above exhibitors showed at Indigo and are based in London.
At Printsource, Creativo Surface Design, New York City, showed small allover abstracts,
galaxy designs, marble patterns, tie-dyes, geometrics and ditsy flowers for apparel. There were
parrots and safari travel themes for girls, and nautical pirates for boys. For bed top, there were
birds with flowers or butterflies, medallions, ikats and large geometrics.
K. Jenny Tyas, United Kingdom, sells to fashion and home designers. Watercolor floral
coordinates have stripe complements, and fruits are popular for kitchens. Coordinating designs at
U.K.-based Simon Ashby Studios include travel, with the Statue of Liberty and Eiffel Tower in
evidence, along with watercolor flowers.
Happy, fresh and clean is how New York City-based Karma Prints and Artwork described its
line, with bright colors, hand-drawn simple designs and abstract tonals. Purplethum Design, also
based in New York City, pointed out simple, smaller and less textured looks, conversationals,
geometrics, photorealistic florals and galaxies for apparel.
Patricia Nugent Design and Textiles, Seattle, showed vintage prints from 1790 to 1970 on
cards, fabric pieces and garments. At the moment, she has a run on the 1920s and '30s, with prairie
florals and small field botanicals as popular looks.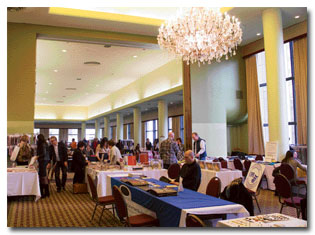 DG Expo presented about 80 exhibitors showing fabrics and trims that have low minimums and
flexible order options.
---

Green T-Shirts Styled, Dyed, Printed & Shipped From New Hampshire


The Mountain Corp., Keene, N.H., has been styling, dyeing and printing cotton T-shirts since
1990. Select a design from its preprint line, and it will be on its way to you in 24 hours.
T-shirts, most made of U.S.-grown cotton, are purchased from Delta Apparel Inc. and Gildan
Activewear Inc. The Mountain sells about five million T-shirts a year. In the preprint line, custom
designs are available in more than 600 colors, tie-dyes and prints.
T-shirts are designed, dyed, screen-printed and finished in The Mountain's Marlborough,
N.H., facility, using organic reactive dyes and water-based inks. Dye wastewater is oxidated
without the use of chemicals. The Dye Oxidation System, invented by The Mountain and installed in
2011, strips all traces of dye and heavy metals from the water, so it is cleaner going out of the
factory than when it came in. Oeko-Tex® Standard 100 certification guarantees the company's shirts
are free of harmful chemicals.
What's in the future? The Mountain is looking at other products and new ways of shipping.
Stay tuned.
---
---

Stoll: A New Machine For Better Solutions


The Stoll Fashion and Technology Center in New York City recently introduced a new knitting
machine to the American market and, at the same time, presented its new Denim Knits trend
collection, all made on Stoll's new CMS ADF-3 machine.
The ADF-3 has 32 feeders. Not only does it enable increased production, but it also can
create intricate intarsia patterns, give more options for color and color changes, and provide
direct yarn feed and individually controlled yarn carriers. According to Jorg Hartmann, head of
Fashion & Technology, H. Stoll GmbH & Co. KG, Germany, the ADF-3 also revolutionizes
plating by making plating patterns reversible so patterns can be laid onto patterns.
Innovations on display for the denim industry included vintage, worn and distressed looks
whose destroyed applications are easily machine-created, and require no water to make and only one
machine washing. Other denim looks included normal, rib and drop-stitch effects. Some had the look
of woven jeans.
There is enormous interest in the new machine. Roger Markay, Yarn Sales Corp., and Howard
Ellis, Charles West Fashion — both based in New York City — see great potential.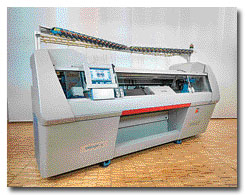 The CMS ADF-3 will be available in September.
---
May/June 2013