As the number of textile trade shows in New York City increases, show producers have fine-tuned
their productions to serve the needs of today's changing markets. Recently, three new events took
place, all custom-tailored to specific segments of the apparel industry. Along with the look, touch
and performance of fabrics for Spring/Summer 2013, the environment, smaller minimums and production
sourcing were topics covered.
At Texworld USA, produced by Messe Frankfurt Inc., Atlanta, a recent addition is the Apparel
Sourcing Show. This event runs concurrently with Texworld and is a special help to retailers,
designers and small manufacturers who are looking for sources for apparel production.
Olah Inc., New York City, organizer of Kingpins, has added another show called Continuum.
Whereas the focus of Kingpins is denim, Continuum is about sustainability.
The newest event on the New York City textile stage is DG Expo, produced by DG Expo Corp.
Here, exhibitors showed fabrics with low minimums and flexible ordering opportunities, plus
in-stock items.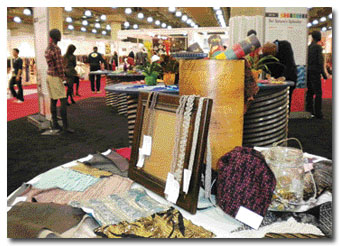 Spring '13 fashion and fabric trends at Texworld USA were divided into four major
directions, each with its own color story.

Texworld USA


Exhibitors at Texworld USA include global fiber, yarn and fabric producers. Lenzing AG,
Austria, along with users of its cellulosic fibers, occupied a large section. The company
introduced Lenzing Modal® Edelweiss to the U.S. market. The fiber is sustainably produced from
beech wood and is oxygen-bleached. Recently, Tencel® and Lenzing FR® fibers were certified as
100-percent Biobased by the U.S. Department of Agriculture. Lenzing is expanding annual fiber
production from 770,000 tons to 1.1 million tons.
Buhler Quality Yarns Corp., Jefferson, Ga., pointed out a soft, lustrous unmercerized
MicroTencel®/Supima® cotton blend. Buhler also offers MicroModal® Edelweiss yarns (See "Edelweiss:
Eco Improvement For Modal® Fiber," this issue). Coming soon are ultrafine ComforJet® spun yarns
that exhibit less pilling than other yarns.
Laguna Fabrics, Los Angeles, showed novelty knits. Among the best samplers are soft,
lustrous lace types in rayon/polyester blends, jacquards, pointelles and sweater knits. A
tissueweight jersey of MicroTencel/spandex, dot and stripe combos, heathers and French terries were
pointed out.
All of Mansfield Textiles Inc.'s production is done in Vernon, Calif. Spring 2013 favorites
include stripes and rib knits. Soft, warm-hand low-gauge knits have a sweaterknit look.
FesslerUSA, Orwigsburg, Pa., is selling flame-retardant (FR) knits containing Lenzing FR to
military and industrial users. Shirts have been adopted by the Columbus, Ohio, Fire Department and
are being weartested by the New York City Fire Department. The report is that as baselayers, the
shirts offer excellent comfort and performance. Sustainability is another success. Knits of
Repreve® — Greensboro, N.C.-based Unifi Inc.'s recycled polyester — blended with spandex are
selling. For Fall 2013, FesslerUSA will present an expanded wool knit line.
Burlington WorldWide, Greensboro, N.C., was a first-time exhibitor. Worsted wool and
functional fabrics were shown. New technologies include Easy Wool™ 100-percent washable wool
suiting fabrics. Performancewear fabrics include weaves in blends of wool with polyester and nylon,
and 100-percent man-made fiber. Some are woven of Repreve. Temperature, moisture and odor control,
ultraviolet protection, stain repellency and insect repellency are some of the technologies.
Miroglio Textile S.r.l., Italy, showed rotary prints and fabrics produced in Asia that are
less expensive than the Italian digital prints it showed earlier at Première Vision Preview (See "
From Mass To Class: Spring/Summer 2013 Apparel Fabrics," Textile World, January/February 2012).
Highlighted at Textil Santanderina, Spain, also an exhibitor at Kingpins, were pantweight
fabrics in neon colors. Fancy denim was soft, light, flocked and available with a lot of stretch
and recovery.
Linen fabrics at the HLC Linen & Cotton Group, China, ranged from tissueweight to
pantweight. A lot of the styling is done in Italy. There are compact weaves, mesh fabrics, puckers,
crinkles, jacquards, prints and coated fabrics.
One popular exhibitor at the Apparel Sourcing Show was Panjiva, New York City, which
connects buyers to suppliers. With a database of 750,000 suppliers in 190 countries, the company
can provide information about capabilities, size, location, certification and other data to anyone
looking for reliable apparel sourcing.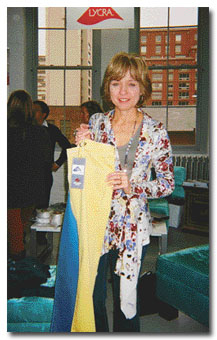 Jean Hegedus, global marketing director, bottoms, Invista, holds up a pair of super-stretch
jeans made with Lycra® dualFX™.

Kingpins And Continuum


Held in a space duplexed with parent show Kingpins, the small Continuum show was big in
impact. Global resources exhibiting at this show have developed eco-friendly products that are a
growing business. With denim the focus of Kingpins, there was overlapping.
Poole Co., Greenville, producer of EcoSure® recycled polyester fiber, displayed yarns,
fabrics and apparel from major global resources. Parkdale Mills Inc., Gastonia, N.C., and Carolina
Mills Inc., Maiden, N.C., are among the spinners. Products range from contract linens to rental
uniforms.
Genencor®, Palo Alto, Calif., presented PrimaGreen® enzyme solutions for finishing fabrics
and garments. The solutions eliminate the use of harsh chemicals; and reduce energy and water usage
as well as waste.
With booths at both events, FiberMax® cotton had strong transparency, technology and
sustainability stories. Developed by Bayer CropScience, with cotton headquarters based in Lubbock,
Texas, this extra-long-staple cotton, grown in Texas, goes into jeans sewn in American Denimatrix's
plant in Guatemala. The entire process can be tracked. Fabrics and garments are ozone-treated,
which eliminates the use of harsh chemicals.
Kingpins exhibitor Cotton Incorporated, Cary, N.C., showed extensive fabric development
collections of both knitted and woven fabrics. One new denim fabric has the look and touch of
leather. Another has a paint-splattered appearance. Others are permanently crinkled, silky or oily
in feel. There are colored denims, enzyme-washed denims, printed denims that have a pearlescent
look, and washed and overprinted denims that have a blotchy appearance.
In focus at Supima, Phoenix, were quality and connection through the supply chain. Brands
and retailers showed interest in ultrafine and novelty yarns for jeans and silky-touch T-shirts.
Invista, Wichita, Kan., introduced Lycra® dualFX™, a combination of Lycra with Lycra T400®.
Both fibers can be corespun simultaneously into a single cotton-covered yarn with high stretch and
recovery. On display were super-stretch jeans that are comfortable to wear and retain their shape
and fit.
Colors at Cone Denim, Greensboro, are named Beer Bottle Brown, Water Cooler Blue and Soda
Pop Green. There are soft-hand fabrics woven with Tencel/cotton warp yarns and a cotton weft. Some
fabrics are prepared for garment dying, woven with heathered warp yarns, or coated.

DG Expo


There were close to 50 North American exhibitors at the first DG Expo, where specialty,
novelty and low yardage requirements attracted buyers.
D. Zinman Textiles Ltd., Montreal, reported meeting 50 new customers the first day of the
show. Cotton and blended fabrics for lingerie and casualwear were of special interest. Zinman, a
lining fabrics producer since 1938, has expanded into basic and novelty fabrics with stock service
and 25-yard minimums.
A specialty of Solid Stone Fabrics, Martinsville, Va., is fabrics for the performing arts.
Dancewear, and gymnastics and cheerleader apparel were mentioned. Knitted fabrics come from Italy,
and wovens, from the Carolinas. The company has in-house digital printing capacity totaling 4,000
yards per week. There are no minimums.
Jasco Fabrics Inc., White Plains, N.Y., produces knits of organic cotton, wool and viscose.
New this season is a viscose/spandex crepe satin. An activewear designer from California sampled a
fine, silky cotton jersey and midweight boiled wool.
Robert Kaufman Fabrics, Los Angeles, was pleased to find a New York venue that caters to
small and medium-sized buyers. His collection of woven fabrics ranges from twills, sateens, poplins
and stretch denims to crepes, chiffons, georgettes and prints.
March/April 2012