Recent fabric trade shows in New York City saw an upswing in exhibitor and buyer numbers. At
Première Vision Preview, innovation caught interest. The 460-plus total exhibitors at colocated
Texworld USA, the International Apparel Sourcing Show and the Home Textiles Sourcing Expo ranged
from fibers and yarns to finished product. At Kingpins, there is a waiting list for exhibitors.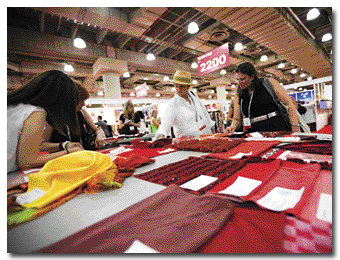 Texworld USA visitors examine fabric samples on display.

Première Vision Preview


Jacques Brunel, managing director of Paris-based Première Vision S.A., noted changes in
buying habits. "The market has come back," he said, "but it's a different buyer than it was three
years ago. Those shopping this show are open to new developments and creativity. And they are
buying fewer fabrics from Asian resources."
At Première Vision Preview, cashmere, alpaca and mohair were in demand. Lively colors were
selling, and new technologies focused on comfortable functional fabrics.
Robert Noble, Scotland, has restyled traditional tartans, Donegals and tweeds. Larger
patterns and lively, lush colors look new. Shades of eggplant, mauve, berry and brown are enlivened
with a spot of pink or coral. Shetland and lambswool are soft and light, and blended with cashmere
or cotton. At Picchi S.p.A., Italy, it's classics, cashmere and color. Twills have hairy surfaces,
and meltons have sheen. Buyers are asking for knitted outerwear fabrics.
C.O.T.O., Japan, describes its line as "modern design based on tradition." Fibers include
wool, cotton and washi — a paper derivative. Wool knits have a lot of contrast. There are thick,
fuzzy patterns with irregular open spaces; heavy/sheer ribs; tree-bark stripes; black-and-white
checked bouclés with metallic splashes; color-flecked tweeds; and double-faced tartans.

Two Italian techno specialists showed new ways of weaving and finishing. Frizza S.p.A. has wax
finishes on peach-touch fabrics, waterproof and breathable membrane-backed cloths, crushed
surfaces, and metallic luster. At Olmetex S.p.A., a double-faced cashmere/wool coating is backed
with quilted nylon. Water-repellent double-faced silks reverse from matte to metallic. Classic
tonal patterns are wax-finished, washed and brushed.
Creativity stretches the imagination at two French firms, Philea and Velcorex since 1828.
Corduroy specialist Velcorex has jacquard-patterned, printed, laser-cut or flocked corduroy. There
are cut and fringed ribs, suede or velvet touches, denim, and fur looks. Philea's casual, classic,
feminine line includes pigment-dyed double-faced stretch satins, silky denim-look jacquards and
melting patterns. New wool/Tencel® flannels are soft to the touch and have a lot of drape.
A photo of Kate Middleton in her Alexander McQueen wedding gown of Solstiss lace centered the
display at Solstiss, France. Popular laces include delicate florals, chenilles and metallics. Denis
et fils, France, has metallic jacquards in ethnic patterns or small tie-like designs. Hand-painted
crepon with a gold jacquard flower is new.
There is a demand for printed fabrics. Popular base fabrics at Confetti Tekstil, Turkey, are
rayon knits, crepe marocaine, georgette and challis. Small florals and dimensional geometrics are
among the design choices. Deveaux, France, showed cotton crinkle plaids, shirtings woven with
colorful mélange yarns, and burnished shine. Fractured geometric prints and small conversationals
are popular.
Miroglio Textile S.r.l., Italy, showed darker colors, winter paisleys, artistic flowers,
sweet 1950s retros, color blocking and new ways with animal skins. At KBC, Germany, flowers are
abstract, stylized or Japanese-inspired. There are Art Deco and Art Nouveau influences. Feathers,
birds and stars are conversational themes; and animal skins appear with lace or flowers, or in
patchwork variations.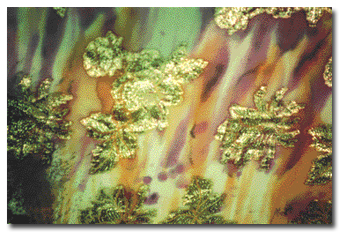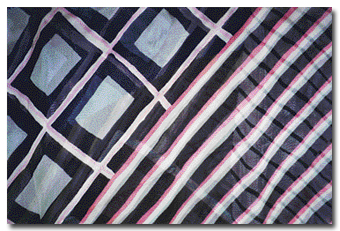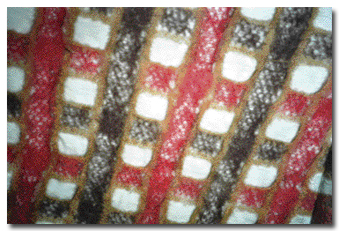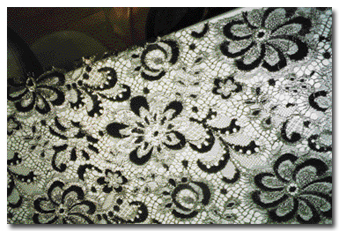 Companies exhibiting at Première Vision Preview included (top to bottom)


Denis et fils,


Confetti Tekstil, C.O.T.O. and Solstiss.



Texworld USA


With 323 exhbitors, Texworld USA was 13-percent larger than the July 2010 show. Natolyn
Tapscott, director of fabric research & development for Maggy London, said she thought this
year's show was more upscale.
Lenzing AG, Austria, introduced Tencel C, a variant with cosmetic properties, to the U.S.
market. Pozzi Electa, Italy; Borkenstein, Austria; and Hermann Bühler AG, Switzerland, are working
on product development. Another Lenzing innovation is an online service that provides resource
information through the supply chain.
Bühler subsidiary Buhler Quality Yarns Corp., Jefferson, Ga., reports demand for yarns
containing MicroModal®, Tencel and Supima® cotton. The company showed a piqué stitch knit that has
a dry, slick hand.
Tuscarora Yarns Inc., Mt. Pleasant, N.C., showed polyester/cotton/rayon and
polyester/Modal®/cotton tri-blend yarns. A mélange natural/man-made fiber blend; and slub, mock
twist and voile yarns also were of interest.
At the International Apparel Sourcing Show, Shima Seiki Mfg. Ltd., Japan, demonstrated
WholeGarment knitwear production and computer-generated textile design systems. At its Monroe
Township, N.J. facility, five 7-gauge and 10 12-gauge seamless garment machines are available to
produce apparel for the industry.
Shima Seiki's SDS-One Apex3 textile design system creates fabric design, texture, pattern,
print and colorway from scratch or from scanned photos or fabrics. Yarns can be scanned into the
yarn database. Mélange, space-dyed and twisted yarns can be created. Simulated or scanned fabric
can be draped onto garment or accessory images. Connected to Microsoft® Windows-based networks,
design presentations can be quickly confirmed in the boardroom and instantly transferred to the
factory

(See "Virtual Solution For Fashion Design," this issue)
.
FesslerUSA offers full-package services from its solar-powered facility in Orwigsburg, Pa.
"It's all about speed," said CEO Walter Meck. "Along with creativity, we have the ability to be
nimble." The company has added more performance products for active- and outerwear and is
developing lightweight flame-retardant products. It is also developing fine-gauge jersey of
18.5-micron Italian merino wool and is working with a group of alpaca farmers

(See
"FesslerUSA: Onshore And On Time," this issue)
.
At Texollini, Long Beach, Calif., it's high-quality and high-tech. Alpaca, wool, Tencel and
spandex are going into fine-gauge circular knits for activewear and intimates.
Arvind Ltd., India, was at Texworld and Kingpins showing space-dyed knits, French terry,
bonded fabrics, crepes, and subtle textures with slubs. French terry was also a favorite at Laguna
Fabrics, Los Angeles, as were open-stitch, lightweight sweater knits of acrylic blended with Modal
or cotton.
Textil Santanderina, Spain, showed wool-touch Tencel/polyester twill and cotton/Tencel
stretch denim. Sustainability is a priority through dyeing and finishing.
In the Home Textiles Sourcing Expo, many Chinese exhibitors showed quilts, pillows and
bedding. Jian Santai showed woven FR polyester jacquards and basics for hospital, hotel and
decorative fabrics markets.
Several Egyptian firms, including Nile Textile Industries S.A.E. and Pyramids Free Zone Co.,
showed terry bath products. The Kozman Group has classic jacquards in silk, cotton and synthetic
blends for upholstery and bed coverings, and organzas and voiles for curtains.

Kingpins


With a focus on denim, cotton is king at Kingpins.
Cary, N.C.-based Cotton Incorporated's fabric archives include more than 5,000 swatches going
back more than 30 years, and offer technical details as well as sourcing information. Fabrics in
demand include novelty stonewashed denims, slubbed denim and tweed looks. Knitted development
fabrics include indigo-dyed French terry, Storm-treated piqué and jersey interlocks, cotton/wool
brushed flannel, and double-sided thermal knits.
With its superior strength, Bayer CropScience Inc.'s Texas-grown extra-long-staple FiberMax®
cotton, grown on more than 39 percent of U.S. cotton acreage, is in demand globally.
Supima, Phoenix, displayed jeans, chinos, shirts and sweaters from the Brooks Brothers Supima
collection. During Fashion Week in New York, Supima showed a collection designed by students from
several schools offering fashion design.
Invista, Wichita, Kan., showed Lycra dualFX™, integrating Lycra and T400®, which in jeans
provides 30-percent stretch and improved comfort and shape retention.
Cone Denim, Greensboro, N.C., reported interest in soft-hand, high-stretch denim for women.
Men are asking for classic, authentic jeans with stretch. Tavex, Spain, showed supple, soft-hand
vintage denims, and is promoting sustainable new coatings and resin finishes for denim.
September/October 2011