A

s two colleges of fashion design showcase their students' creativity, they also honor
those who paved the way. New York City-based Pratt Institute's annual senior class fashion show was
preceded by a slide presentation highlighting the dynamic career of designer Catherine Malandrino,
the school's 2010 Fashion Icon. Student awards in several categories were announced during a runway
show of their work.
RadiciSpandex Corp., Gastonia, N.C., sponsored a fashion competition for the junior class at
Kent, Ohio-based Kent State University's Fashion School. This year, Jeffrey Chow, Poleci's creative
director for contemporary womenswear, was selected as designer judge to receive the "Stretch to the
Future" Award. He also helped select student scholarship award winners for the best-designed
stretch eveningwear, swimwear, activewear and lingerie.

Pratt Institute


Malandrino is the fifth designer to receive Pratt's Fashion Icon award, established in 2006
to honor outstanding talent in the fashion industry. Previous recipients are Ralph Rucci, Carmen
Marc Valvo, Narcisco Rodriguez and Diane von Furstenberg.
Malandrino, who was born in the French Alps and educated in Paris, worked at the couture
houses of Dorothée Bis, Louis Féraud and Emanuel Ungaro before she moved to New York City. In 2002,
her SoHo boutique was featured in the hit cable television series "Sex and the City." Currently,
she designs two collections: Catherine Malandrino, a line of contemporary apparel; and Malandrino,
a runway line that includes accessories. Her company operates 11 boutiques globally, and her
collections are sold in more than 400 stores worldwide.
Women's sportswear, eveningwear and bridal fashions, menswear and costume designs appeared
on the runway to showcase the work of 22 Pratt seniors. In addition to designing and making each
garment, several students embellished fabrics with their own prints, hand painting or other
decoration. Other students pieced and patched different fabrics to create dramatic effects.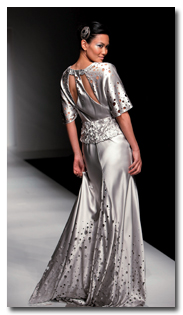 Pratt senior Kasia Wisniewski, winner of the Debi Jones Bridalwear Award, designed this gown
featuring laser-cut satin and paillettes. Photographed by Rene Perez
In the sportswear category, Kathleen Su created a shaggy short jacket featuring
red/green/black stars and stripes, and worn over short shorts and a scoop-neck top in green and
black. Julie Ann Mollo, who interned with Betsey Johnson, dazzled the audience with a liquid
gold jacket that had black and white bullseyes at the elbows and read, "with the band." It was worn
over a short, ruffled, black and gold skirt.
Jennifer Damm worked as a student curatorial intern at the Museum of the City of New York
and London's Victoria and Albert Museum. Her collection was called Try Angles. A body-skimming
dress was made of pieces of triangular-cut sateen in different shades of red. Another featured
overlapping green triangles connected with metal studs.
Three students, Nina Zilka, Jeff Dodd and David J. Krause, have formed their own company,
the twentyten, and are making casual sportswear. They showed a lot of layered pieces in black and
white. Knitted leggings, cutout tops, paneled jackets, and body-skimming knit dresses are some of
the components.
A lot of the menswear was loose and fluid. Kristen Steinman, who won honorable mention,
showed side-draped jackets. K. Paige Regan, who said her aim is to bridge the gap between high
fashion and New York street style, showed a side-buttoned long jacket in black and white checks
that had inserts of black and white zigzags.
In the costume segment, Alessandra Hammet, who interned with the Boston Ballet costume
department, designed a collection called [M] Alice: Nightmare in Wonderland. Alice was sweetly
dressed in layers of softly colored chiffon; other costumes were bold and dramatic. The Queen was
clad in black and white tight britches and flounces of black and red sheer fabrics cascading at the
back from a tight, bare bodice and a jaunty feathered crown.
Rayneese V. Primrose, winner of the Martin Izquierdo Costume Design Award, called her
collection, Thriller: Death to the Homecoming Queen. Her "prom?" queen was clad in a black,
low-cut, nail-studded top; tight leather shorts; and layers of black tulle.
Evening- and bridalwear was innovative and pretty. Devin Cole stated her goal is to fuse
fine arts with fashion. She painted and printed cotton gauze for her wedding party including four
bridal attendants. Her prints were soft and romantic.
Christine Brown, honorable mention winner in eveningwear, spray-painted satin and overlaid
it with lace for her collection of strapless short gowns.
Laser-cut satin and paillettes decorated one of Kasia Wisniewski's gowns. Another, in tucked
chiffon, had touches of sequins. Wisniewski won the Debi Jones Bridalwear Award.
Timothy Kuzmeski, who interned with Chado Ralph Rucci, was recipient of the Rene Hunter
Eveningwear Award. His gowns, in black or white taffeta or tulle, were designed with layers and
layers of ruffled fabrics. Some of the models looked as if they were wrapped in masses of flower
petals.

RadiciSpandex "Stretch To The Future" Awards At Kent State


Chow was this year's honoree judge at the RadiciSpandex "Stretch to the Future" student
design competition held at Kent State's Fashion School. Fifty-one juniors entered the
competition. The Underfashion Club was sponsor of the lingerie award. Other award categories were
swimwear, activewear, eveningwear and a Grand Prize Overall.
Chow began his career in the early 1990s as a sportswear designer for Marc Jacobs at Perry
Ellis, and later worked at Esprit International and Tommy Hilfiger in the United States, and for
Pucci in Florence, Italy. He has been Poleci's creative director for about a year. The Poleci label
is sold internationally through department and specialty stores including Neiman Marcus, Nordstrom
and Harvey Nichols; and at Poleci's own stores in New York City, Los Angeles and Las Vegas.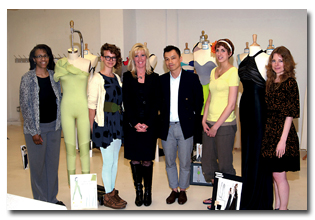 Left to right: Paula Dancie, Kent State University instructor; Bethany Clark, activewear
winner; Kim Hall, RadiciSpandex marketing manager; Jeffrey Chow, designer honoree judge; Samantha
Hawkins, eveningwear and Grand Prize winner; and Emily Aldredge, Kent State studio director, pose
with "Stretch to the Future" winning designs.
Kim Hall, RadiciSpandex marketing manager, presented the "Stretch to the Future" award to
Chow. Previous honorees have included Betsey Johnson, Dana Buchman, Nicole Miller, Nanette Lepore,
Carmen Marc Valvo and Marc Bouwer.
One of the objectives of the competition is to educate aspiring designers about how to
combine creativity and function using fashion fabrics that contain highly technical fibers. All of
the fabrics selected by the students were circular or warp knits, and all contain RadElast®
spandex.
Fabrics for the competition were donated by ABC Elastic Corp., Brooklyn, N.Y.; Contempora
Fabrics Inc., Lumberton, N.C.; Cyberknit Fabrics, New York City; Darlington Fabrics, Westerly,
R.I.; Guilford Performance Textiles, Wilmington, N.C.; McMurray Fabrics, Aberdeen, N.C.; Monte
Textil S.A., Guatemala; Polartec, Lawrence, Mass.; Rentex Mills, Quebec, Canada; Sextet Fabrics,
East Rockaway, N.Y.; and TDB Tecidos, Brazil.
Samantha Hawkins won the eveningwear and the Grand Prize Scholarship awards totaling
$5,000. Her winning design was a black satin halter-neck gown with a tucked top in stretch
fabrics from Guilford Performance Textiles and McMurray Fabrics. Bethany Clark was the activewear
winner, receiving $2,000 for her body-hugging exercise suit in yellow stretch fabrics from McMurray
and Polartec.
The $2,000 swimwear prize went to Ashley Gerber for a navy and red two-piece high
corset-like suit made in fabrics from Guilford and McMurray. Phillip Fry won the lingerie award,
also $2,000, for his bra and panty set in fabrics by Polartec and TDB Tecidos.
July/August 2010