T

rade shows in New York City are on the rise. Newest is Hong Kong-based organizer Well
Link Consultants Ltd.'s SpinExpo, at which products exhibited ranged from fibers and machinery to
yarns and design direction. Karine Van Tassel, SpinExpo director, said that with the current
unstable economy, buyers are less inclined to travel, so it is important to bring information
directly to them. The show's 75 exhibitors from 16 countries represented the elite of the industry.
"It is a quality show," Van Tassel said. "We want to bring elegance, innovation and creativity with
fashion impact to New York buyers, and present it in a stimulating setting."
Two other shows, Direction by Indigo and Printsource, focus on surface design. Lisa
Mainardi, director, Direction by Indigo, said exhibitors were pleased with that show, which offers
customers one-stop shopping for textile design and future direction.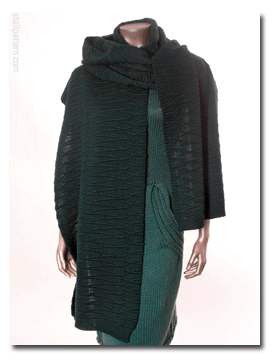 Stoll's Autumn/Winter 2010-11 pattern collection includes this scarf in gore-look created
by float jacquard with holding stitches and stepped wave structures, and sleeveless dress with
jersey top in Stoll-knit and wear® technique and skirt with box pleat and cross cable.

SpinExpo

New technology, the environment, service, performance and quality were stressed in all
sectors. At Angelina® metallic fiber producer Meadowbrook Inventions, Bernardsville, N.J.,
brilliant metallic and iridescent polyester fibers are made from recycled post-industrial waste.
Aluminum fibers composed of plain or pigmented recycled aluminum are available in a variety of
staple lengths, are dyeable, and protect against ultraviolet rays and electromagnetic waves.
Meadowbrook's 100-percent silver and copper fibers and silver- or copper-coated polyester are
reported to have therapeutic, anti-inflammatory, antistatic and antimicrobial properties.
Australian Wool Innovation Ltd. focused on technology and fashion. "The consumer wants
luxury and quality," said Jimmy Jackson, general manager, Product Development, "and it has to
last." Two new collections are Merino Touch™ and Merino Casual. Some Merino Touch fabrics are made
with merino wool yarn that is mercerized to give an exceptionally soft and silky hand, as well as a
cashmere feel. The yarns have a subtle sheen and color vibrancy. Many fabrics in the Merino Casual
range have unique application treatments. Some have a vintage look, or are permanently crinkled or
pleated; others have high/low or opaque/sheer effects from devoré processing.
Germany-based machinery manufacturer H. Stoll GmbH & Co. KG installed an electronic flat
knitting machine at the show to demonstrate production efficiency and quality of garments produced
by this equipment. At its Fashion and Technology Center in New York City's garment district, Stoll
provides services such as training and education in knitwear development and production, creative
design development, sample garment execution, and sourcing to the apparel industry. There also is a
reference library.
Santoni S.p.A., Italy, a producer of electronic knitting machines for seamless apparel,
showed a diverse collection of apparel that can be produced on its equipment. The range includes
socks, underwear, sweaters, sportswear, beachwear and outerwear. Garments shown go from trendy to
basic. One dress that was knitted using different yarns and patterns was produced in 12 minutes.
At Buhler Quality Yarns Corp., Jefferson, Ga., buyers showed interest in slubbed and
shiny/dull yarns spun with Supima® cotton or MicroModal®. One bulky Supima yarn spun with
35-percent reduced twist has a shiny surface and silky touch. Moisture management such as transDRY™
technology is a factor. According to David Sasso, vice president, sales, there were more retailers
at the show this year wanting to work directly through the supply chain.
S & O, New Hyde Park, N.Y., showed chenille yarns made with recycled polyester and
organic cotton. Mohair and alpaca chenille yarns also were shown. Cross-dyes and tweed effects,
sparkle yarns and thick-and-thin rayon space-dyed yarns are going into products for the home.
Felise Erdal, president, Yarn Mavens Inc., New York City, said customers will pay higher
prices for quality yarns from European and American spinners. Yarn Mavens develops its own yarns
and represents several Italian and Spanish companies. New yarns include alpaca/merino wool/nylon
brushed and burned yarn, and metallic yarn that looks like chain mail – both from Lanificio
dell'Olivo S.p.A., Italy.
Two other Italian spinners at Yarn Mavens, FiliVivi S.r.l. and Filatura Papi Fabio S.p.A.,
offer stock service and wide color ranges. One popular yarn at FiliVivi is organic Australian
merino wool blended with acrylic. Papi Fabio, a spinner for hosiery and knitwear, blends wool with
cashmere and other precious fibers, and uses organic and natural vegetable dyes.
Custom Fancy Yarn S.L., Spain, also at Yarn Mavens, sells yarns on cones for flat knitting
or in skeins for hand knitting. One spliced yarn has 34 different colors and textures.
Novelty yarns at Huntington Yarn Mill Inc., Philadelphia, are available in quantities as
small as 20 pounds. There are twisted yarns, bouclés, metallics and yarns spun with merino wool,
rayon or cotton.
Shanghai Tenbro Bamboo Textile Co. Ltd., China, grows bamboo and soy beans and processes and
spins them into soft, silky yarns that sell primarily to knitters and weavers that make
next-to-skin articles such as socks, lingerie and T-shirts.
New at Hilados Dusol S.A., Spain, is the Envirovert open-end spun yarn collection made from
recycled cotton and polyester. Custom colors are created by blending waste materials. Eco-friendly
plied yarns at Huafu Top Dyed Melange Yarn Co. Ltd., China, are available in vintage colors, and
are selling for circular and sweater knits.
New at Leinefelder, Germany, are blends of cotton with silk, cashmere and baby alpaca. For
activewear, there are antibacterial and temperature-control yarns. The company is known for
ultrafine yarns. Z. Hinchcliffe, England — a spinner of cashmere, angora, camel hair, vicuna and
lambs-wool — stocks 120 colors and has no minimums. "We can twist anything and get it out in a
day," said com-pany representative Graham Wilby.
Projects and designs based on individual clients' needs are the specialty of Circular Knit
Services, Fort Mill, S.C. Novelty sample collections are available, or individual designs can be
created exclusively for each client.
Scotland-based husband-and-wife team Sheila-Mary and Hamish Carruthers, Carruthers
Associates, have an easy-to-use Web-based fabric design service interactive site called Scotcloth,
presenting an archive of more than 70,000 digitally created textile designs that accurately
recreate woven fabrics. Selected designs can be rescaled and recolored, then downloaded. All colors
are Pantone® referenced.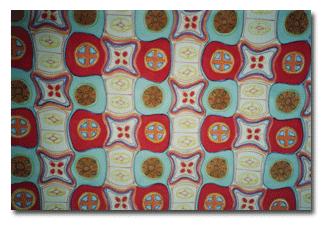 Karolina York Print Studio's collection includes stained-glass-inspired fabrics such as the
one shown above.

Direction By Indigo And Printsource

At Direction and Printsource, textile designs can be vintage or contemporary. Swirling,
melting and moving images; large graphics; and nature-inspired elements are popular themes.
At Direction, Australia-based Karolina York Print Studio showed a stained-glass-inspired
group with mosaic and marbled abstract fragments in shades of bottle green and cobalt blue. Melting
stripes and washed effects turned up in a color dilution story. Workwear was another theme, with
dark colors and blurred designs.
Multipatterned mixes at Keelergordon, England, include damask/ tapestry, geometric/floral
and exploding houndstooth designs. Another English studio, Sukhanlee, presented boldly colored
connecting triangles, changing circles, scratchy stripes, color-blocked graphics and architectural
drawings.
Tom Cody Design Inc., New York City, showed large, hand-painted flowers on tonal grounds;
feathery printed burn-outs; flocking; and animal skins. Catherine B. Designs, also of New York
City, showed small, ditsy flowers or gigantic florals on printed textures; chenille embroidery; and
animal conversationals.
New York City-based digital color service ColorEdge creates design folders that can archive
current and past seasons. It will cross-reference designs and collections and shade colors; and
connect them directly to Scotic numbers.
The focus is on weaving and warp knitting at EAT GmbH – The Designscope Co., Germany. The
company's software creates textures and patterns and connects electronically to the production
machinery.
Amanda Kelly Design Studio and Whiston & Wright, both based in England, exhibited at
Direction and Printsource. Kelly pointed out skin prints, spots on striped grounds, abstract
florals and black-and-white designs. At Whiston & Wright, spotted and splattered patterns,
textured stripes that look as if they were in motion, distorted skins and scarf borders were
pointed out.
At Printsource, The Style Council of New York showed textural and marbleized designs, loose
black-and-white geometrics, and animal/skin graphic mixes. Large-scale prints range from paisleys
to menswear designs. Blugirl Art, Springfield, Mass., uses elements from nature for inspiration.
Wantagh, N.Y.-based Creativo showed optic geometrics, abstract animals, paisley mixes and nature
graphics.
November/December 2009