Recently in New York to celebrate Scotland Week, Bob Galbraith, sales & marketing director,
Calzeat & Co. Ltd., Scotland, told

Textile World
in an exclusive interview, "Our business is very good right now."
Since its founding by Robin Galbraith in 1971, Calzeat has grown from a small jacquard weaver
of tie fabrics to a producer of menswear, womenswear and home fabrics. The company is running at
capacity, producing 10,000 meters a month.
Galbraith attributes Calzeat's success in today's down market to a passion for the business,
niche marketing and a lot of time spent developing lines. "Today, it's the mid markets that are
suffering. We sell to couture or to High Street," he said.
Calzeat's line includes tartan, floral, geometric and paisley patterned jacquards and
brocades. All are woven on high-speed jacquard equipment. At the top end, international customers
include Ralph Lauren, Calvin Klein, Marc Jacobs, Vivian Westwood, Chantal Thomass, Burberry, Brooks
Brothers and Paul Smith. Home fabrics decorate the Oval Office in the White House, Windsor Castle
and actor Clint Eastwood's Cannes villa.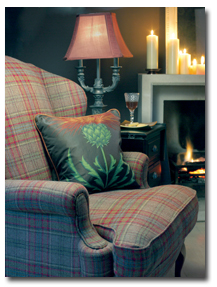 This chair is upholstered in a 100-percent wool fabric

woven by Calzeat using a heather yarn emulating and

inspired by the colors of the Scottish countryside.
"Today, the trend is ultralightweight fabrics or quite heavy," Galbraith said. "We are
weaving voiles and sheers as well as carpet fabrics. Most of our line has been woven with fine
worsteds or heavy woolens. There is a misconception about wool in some hot climates, so we've added
linen to the line, using fine wool warps woven with linen wefts. We are using mohair and rustic
Shetland for home accessories."
In 1986, Calzeat launched Thistle, a luxury line of home fabrics. Brunschwig & Fils is a
customer. Another division, Morgan & Oates, sells fashion accessories through duty-free shops.
Retail stores opened recently in Scotland to sell home products.
Asked what to look for in the future, Galbraith said Calzeat is contemplating doing a towel
collection. Stay tuned.
July/August 2009