D

espite the lagging economy, sample orders for many recent Paris apparel textile trade
show exhibitors were ahead of last year. Business is coming back to Europe. The trend is to order
less, buy more frequently and demand faster deliveries – something not available from Asian mills.
And buyers looking for innovation and creativity found a lot of it at the shows.
Fiber producers, yarn spinners, weavers, knitters and finishers all offered new developments
and treatments that buyers wanted. Generally, fluid, sheer, supple, silky-touch fabrics are
favorites for Spring/Summer 2010. Some have crinkled surfaces; others, a papery touch. Open-work
comes via knit stitch, loose weave or laser cut. Luster, shine and metallic decoration are
abundant.
Performance fabrics transport and evaporate moisture, are antibacterial and
ultraviolet-protective, and provide thermal comfort. Eco-friendliness is a given, with cotton,
linen and silk reported to be fibers of choice, along with recycled polyester and a bio-based nylon
as activewear favorites. Natural dyestuffs and low-impact finishing treatments are on the rise.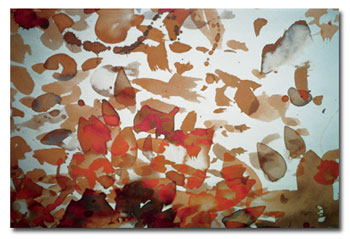 Fabric from Bucol, shown at Première Vision

Fibers


Cary, N.C.-based Cotton Incorporated, an exhibitor at Première Vision and Texworld, showed
development techniques and fabrics, along with Fall/Winter 2010-11 color direction. Fabrics shown
included knits with a dry, crisp hand; fluid 36-gauge single knits, hairless, singed, plied yarns;
and piece-dyed, discharge-printed denim.
Supima, Phoenix, showed fabrics and apparel brands, and garments created by young, emerging
designers. Of note was a wedding dress created in Supima® cotton shirting fabrics by Cotonificio
Albini S.p.A., Italy.
Lenzing Fibers, Austria, focused on new fiber variant ProModal®, Tencel® in denim and the
environment. Lenzing is working with DyStar Textilfarben GmbH & Co. Deutschland KG, Germany, to
develop eco-friendly ways to use and reuse dyestuff.
At Première Vision, Masters of Linen, Paris, showed a collection of innovative fabrics called
Linen Dream Lab. Fabric samples were executed by European knitters and weavers. Libeco Lagae S.A.,
Belgium, showed a linen/paper-blend dense and loose check. Also seen were a micro textured jacquard
with a dry hand and fluid drape from Crespi, Italy; camouflage-patterned devoré of linen/silk that
has mechanical softening by Achille Pinto, Italy; soft, ultrafine double voile by Coltex Retail
Group, the Netherlands; broken geometric damask by Linea Tessile Italiana, Italy; and a 3-D
prism-like knit in yarns from Linificio E Canapificio, Italy.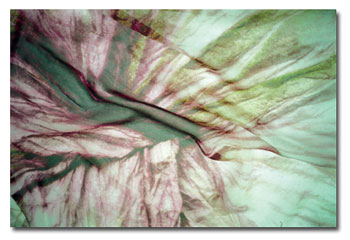 Fabric from Mantero Seta S.p.A., shown at Première Vision

Expofil


Exhibitors at Expofil, the yarn segment of Première Vision Pluriel, presented a lot of
newness. Much of the focus was on yarns for Fall/Winter 2010/11 and future developments.
Sofila, France, introduced its greenfil® yarn, made of Rilsan® nylon produced from oil
extracted from castor beans. Sofila is using natural dyes produced by Rubia Pigmenta Naturalia, the
Netherlands. Hosiery, lace, swimwear and medical products makers have shown interest.
France-based Safilin introduced ultrafine-count linen yarns. A lot are going to knitters,
including Bel Maille and Bugis, both based in France, and Silanco S.p.A, Italy. Bel Maille reported
excellent reaction to its linen single jersey and a linen/cotton piqué. Bugis is blending linen
with cotton or Tencel. Fabrics include piqué stitches, ribs and jersey with a slight nub.
Techno yarns at Tearfil, Portugal, are low-pill and antibacterial. A new yarn spun of
Trevira® is being used in double cloths for the next-to-skin inner layer. For Winter 2010, Tearfil
has new cashmere/silk yarns.
Hermann Bühler, Switzerland, reported special interest in TransDRY™ and Rainbow yarns.
Recently, it introduced an extensive range of ultrafine organic Supima cotton yarns. Another new
product is Royal Spun, a MicroModal® yarn with improved anti-pilling.
New at Kurabo Industries Ltd., Japan, is Qwon yarn irradiated to bind deodorizing agents,
producing a long-lasting effect. The yarn absorbs moisture inside clothing to generate heat and
warm the body. Mitsubishi, Japan, showed superfine acrylic yarns with antistatic, anti-pilling and
heat-generating properties. Other yarns resemble fur.
ProModal spinner Karsu Tekstil, Turkey, is showing cellulosic yarns as well as cashmere and
wool blends. There are fine-count and anti-pill yarns. Sampaio, Portugal, has ultralight
ProModal/spandex piqué and single knits.
One of the most crowded stands was Rubia, whose current spectrum of naturally dyed colors
ranges from pale pinks and oranges to deep reds and browns. Rubia's dyes are powder extracts from
Rubia tinctorum roots grown on its own farm. Soon to be introduced are yellows and blues. Crespi
and Italy-based Marioboselli Group are using Rubia dyes.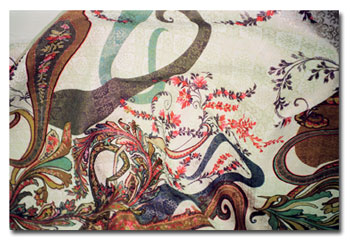 Fabric from Ratti S.p.A., shown at Première Vision

Première Vision Best Sellers


At Crespi, linens have a paper touch, are gold-foil-coated or have pearly finishes.
Marioboselli has linen/Lycra® knits and heavy jacket weights for menswear.
Libeco Lagae is selling naturally dyed linen. Popular are glazed linens washed to give
them a soft hand, linen gauze and summer tweeds.
Prints tend to be large and bold, blurred and romantic, abstract, outlined or graphic.
Continuing are skins, small shirting florals, dots and paisleys. Print bases at Josef Otten GmbH
& Co., Austria, are heavy cotton/silk blends, seersucker, polyester sateen, heavy linens, silk
chiffon and viscose crepe. There are blurred florals, abstracts and mono-colored flowers outlined
in white.
Miroglio Group, Italy, has spectacular dramatic flowers, sunburst stripes, animals in their
natural habitat and enormous borders. Italian printer Friulprint's line, created by five young
British-schooled designers, ranges from colorful abstract florals to architectural designs.
Silk producer Ratti S.p.A., Italy, has sophisticated fabrics with dimensional effects,
transparent foil coatings, prints with a faded look, bleeding watery florals and new paisleys. Best
seller at R. Allegri & Filli S.r.l., Italy, is a color-reverse, crinkled-surface taffeta.
Bucol, France, showed an elegant line with prints that are splattered, melting, blurred or
paintbrush-stroked. Colors are subtle.
Jacquard weaver Stephen Walters & Sons Ltd., England, showed handwoven effects,
understated textures and patterns, touches of luster or metal and soft mélange colors.
Fantasy knits at Jackytex S.p.A., Italy, are light and liquid, and include fringe, chenille,
shiny printed laminates and double gauzes. Knits at Texdam, Spain, are crinkled, puckered or open;
and include eyelet embroideries, diagonal stripes and placed patterns.
Techno specialist Mectex S.p.A. produces all of its fabrics in Italy. Nylon stretch cloqué
and ultra-sheer taffeta with a soft or crisp hand were pointed out. Performance features include
bistretch, moisture transport/absorbency, antibacterial function, and flame retardation.
Komatsu Seiren Co. Ltd., Japan, showed a 7-denier, 11-grams-per-square-meter transparent
woven polyester fabric with reflective luster.
At Texworld, Rieter Machine Works, Switzerland, presented possibilities available using its
textile machinery. Fabrics and garments on display were created using yarns spun on new ComforJet®
equipment.
Many Texworld exhibitors are vertical manufacturers. Many are also garment manufacturers.
Nishat Mills Ltd., Pakistan, sells stretch denim woven with Invista T400® elastic fiber. There are
soft sugar finishes.
Techno finishes at Alok Industries, India, offer soil-release, antibacterial and
insect-repellent properties on cotton/silk knits, fine yarn-dyed dobbies and herringbone shirtings
that have been gas-finished. Some fabrics are knitted or woven of organic cotton.
At Bordo Tekstil, Turkey, organic and Pima cottons, linen and bamboo are fibers of choice.
Fabrics include silky-touch twills; jacquard interlocks; and jersey for T-shirts, dresses and
intimates.
Hangzhou Zhongsang, China, a dyer and finisher of casual and outerwear fabrics, is selling
ottomans, twills and poplins. China-based Jiangsu Textile Industry (Group) Import & Export Co.
Ltd. showed jacquards, piqués, interlocks, fleeces and basket textures knitted with cotton/spandex,
Modal, Tencel, bamboo viscose and polyester.



May/June 2009