T

he 2008 Pratt Institute Fashion Show, held recently in New York City, was supported by
the Importer Support Program of the Cotton Board and Cary, N.C.-based Cotton Incorporated. A jury
of fashion industry leaders pre-selected the more than 100 designs – representing the best work of
Pratt's 23 graduating seniors – to appear on the runway. Three fashion design students were named
winners in a year-long eveningwear and bridal design competition, also sponsored by Cotton
Incorporated. Industry leaders presented individual awards in the categories of sportswear, costume
design, eveningwear, and bridal.
More than 12 fashion design students participated in the Cotton Incorporated competition.
Requirements were to design eveningwear in fabrics containing at least 98-percent cotton. Jessie
Leigh Voris of Fredon, N.J., was the first-place winner. She was awarded the $5,000 prize for a
cotton cream-colored muslin and sateen A-line gown with a handcrafted overlay. Voris also received
the Caitlin Ward Costume Award. Second-place winner, Adrianne Waite of Dallas, received a prize of
$1,500 for a green cotton organza pleated, drop-waist dress. The third-place prize of $1,000 went
to Niki Marcheggiani, Knoxville, Tenn., for a purple strapless, box-pleated dress of spray-painted
cotton muslin. She also won the Hiroko Suzuki Individual Eveningwear Award.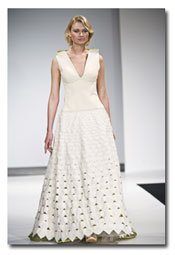 Jessie Leigh Voris' cream-colored A-line gown received the first-place award at the
2008 Pratt Institute Fashion Show.
For the first time, a Best of Show award of $5,000 – funded by Merrick and Lillian Pratt –
was given to support the careers of promising fashion designers graduating from Pratt. Yamel
Mendoza of Paterson, N.J., was the winner. Mendoza also was recipient of the Renee Hunter Evening
Award and the Debbie Jones Bridal Award. Her dramatic eveningwear was a favorite of the 70 members
of the critic's panel. She named her collection "Evora." Brightly colored, slim silk charmuese and
crepe satin gowns were designed with contrast edging, pleated tops and feathers. Her award-winning
bridal gown was created in cotton sateen and twill with eyelet embroidery.
Seventh Avenue designer Carmen Marc Valvo was given the Pratt Institute Fashion Icon Award,
which is awarded annually to a noted designer in recognition of his or her positive influence and
ability to inspire young people interested in fashion. Valvo has dressed notables including
Beyoncé, Katie Couric, Oprah Winfrey, Kate Winslet and Queen Latifah.
Pratt Institute, founded in 1887, today is one of the largest independent colleges of art and
design in the United States. "By the early 1940s, the Institute had become the first school in the
United States to offer a degree in fashion," said Thomas F. Schutte, president. "Our seniors will
soon depart for the exhilarating world of fashion, but we are sure to see their names again as they
progress in their careers."
July/August 2008