M

aterial World Miami Beach, to be held April 8-10 at the Miami Beach Convention Center in
Miami Beach, Fla., will present 400 exhibiting companies covering the sewn products industry
spectrum — from garment manufacturers to fabric and trim suppliers — throughout 100,000 square feet
of show floor space.
Sponsored by the Arlington, Va.-based American Apparel & Footwear Association, and owned
and produced by Atlanta-based Urban Expositions LLC, the exhibition will once again be held
alongside Technology Solutions, an exposition and conference for information technology geared
towards the sewn products industry.
Admission is free. One badge will gain attendees admission to both Material World and
Technology Solutions.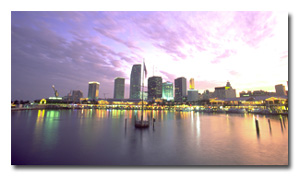 Material World Miami Beach will attract exhibitors and attendees from around the world to
Miami Beach, Fla.

Photographs courtesy of the Greater Miami Convention & Visitors Bureau.

New Focus Areas

Material World is set to continue to uphold its reputation as a must-attend event for
sourcing, trim, technology and fabric professionals, with a number of new offerings that will place
special emphasis on eco-friendliness; performance, sourcing and technology solutions; and global
matchmaking.
A vast selection of eco-friendly exhibitor resources and concurrent educational seminars and
conferences will be offered. Exhibitor highlights will include a new environmentally friendly
technique for printing novelty and active apparel fabrics from Solid Stone Fabrics, Martinsville,
Va.; a new addition to Cerritos, Calif.-based Insta Graphic Systems' line of eco-friendly heat
transfers; and a new line of 100-percent organic cotton twill from Carr Textile, Fenton, Mo.
Performance fabric solutions will also be an area of great emphasis at Material World.
Exhibitors will present a number of innovations including New York City-based Darlington Fabrics'
new Lasting Degree™ fabrics with wicking and soil-release technology; Clifton, N.J.-based Sommers
Plastic Products Co. Inc.'s new line of AgUARDIAN™ antimicrobial-treated materials; Cleveland,
Tenn.-based United Knitting's new fabrics featuring Cocona™ technology using activated carbon
derived from coconut shells; and Portland, Ore.-based Pine Crest Fabrics' new Endurance Microfiber
moisture-wicking and quick-drying fabric.
Show organizers have also placed special emphasis on matchmaking between attendees and
exhibitors. After registering for the show online at
www.material-world.com, attendees may
fill out the Sourcing Solutions Global Matchmaking form. Based on their categories of interest,
they will be matched with exhibiting companies whose products and services meet their needs.
Registrants will receive a list of these exhibitors at the Material World Matchmaking Lounge on the
show floor.
Exhibitors featuring eco-friendly and performance, and those participating in the matchmaking
program will be highlighted on the show floor by corresponding icons so that attendees may easily
find them.

Trend Pavilion

Spring/Summer 2009 trends in color, fabrics and trimmings will be highlighted at the Trend
Pavilion. A new garment trend area will present the products of garment manufacturing exhibitors,
while fabric and trim samples at kiosks throughout the pavilion will be displayed along with
exhibitors' booth names and numbers.
Pantone Inc., Carlstadt, N.J., official color partner of Material World, has worked with
Material World to develop apparel and interior color forecasts for the show using the theme of Re:
Invention … Continued. Five key apparel color palettes will be shown under the headings Re: Value,
Re: Focus, Re: Consider, Re: Think and Re: Act. Interior color palettes will be presented under the
headings Morning, Noon and Evening.
In addition to color trends, Kevin Knaus, creative director, Material World; trend consulting
firm Stylesight, New York City; and other industry trend trackers have worked to identify trends in
fabrics and trimmings.

Global Gathering

Material World Miami Beach has attracted exhibitors from 20 countries, some of whom will
present their offerings in national pavilions.
Central and South American companies and organizations will present a variety of textile and
apparel sourcing solutions for companies of all sizes.
The Dominican Pavilion will feature members of the National Free Zones Council and other
company representatives offering direct, cut-make-and-trim and full-package contracts.
Additional organizations will include: Colombia-based ACOPI Antioquia and ProExport Colombia;
the Costa Rican Textile Chamber; PROESA, the National Investment Promotion Agency of El Salvador;
VESTEX, the Guatemala Apparel and Textile Industry Commission; the Honduran Manufacturers
Association; ANITEC, Nicaragua's networking association of textile and apparel companies, PROMPEX,
the Peruvian Export Promotion Agency; and Mexico's state of Yucatan.
Asia also will have a strong presence at the show. The Taiwan Pavilion will feature 31
exhibitors offering a range of natural and man-made fiber textiles in traditional and contemporary
designs.
The China Pavilion will house members of the China Chamber of Commerce for Import and Export
of Textiles, and the China Council for the Promotion of International Trade.
India will be well-represented at Material World. Members of the Apparel Export Promotion
Council and the Synthetic and Rayon Textiles Export Promotion Council — both government-sponsored
organizations — will be on hand to discuss export opportunities with attendees.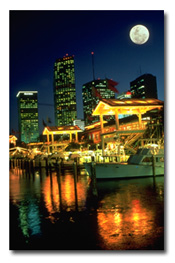 Miami Beach, Miami, offers visitors plenty to do and see, and a vibrant nightlife
scene.



Seminar And Conference Program

Material World and Technology Solutions will hold concurrent seminar and conference programs
Monday, April 7, through Wednesday, April 9.
The program will kick off Monday afternoon with "America's Textile & Apparel
Competitiveness Forum" presented by the US Department of Commerce Office of Textiles and Apparel.
Material World's headlining event, "AAFA Presents: The Politics Of Trade," will be offered
Tuesday morning, while Technology Solutions' main event, "AAFA Presents: Supplier Relationship
Management (SRM): Profiting Through Improved Supplier Collaboration," will take place Wednesday
morning.
Other sessions will focus on product lifecycle management, workflow, supply chains,
sourcing solutions for small manufacturers, thinking green, color and apparel trend planning for
Spring/Summer 2009, fabric developments and e-measurement solutions, among other topics.
---

Technology Solutions

Technology Solutions exhibitors will provide attendees with answers to technology needs
related to the sewn products industry including planning/ forecasting, line development, textile
design, product lifecycle management (PLM), costing, sourcing, supply chain management, customs
compliance, logistics, shipping, distribution and retail systems, among many others.
Key focus areas for this year's edition of the show are PLM and design and merchandising
solutions.
As part of the PLM focus, exhibitors such as Zweave Inc., Boston; Yunique Solutions, New York
City; New Generation Computing, Miami; Just Oneplace Pty. Ltd., Australia; and Business Management
Systems, Fair Lawn, N.J.; will present the latest technologies related to PLM, product data
management, enterprise resource management, global sourcing and supplier relationship management
(SRM).
Design and merchandising solutions, from exhibitors such as C-design Fashion Ltd., Paris; GCS
Software LLC, New York City; Optitex™ USA, New York City; and Tukatech, Los Angeles; will include
technologies related to line planning, forecasting, technical and 3-D design, sampling and visual
merchandising that can help to shorten the overall product development cycle.
March/April 2008