A

t the most recent Expofil and Indigo events, it was noted that many buyers attended
multiple shows – Première Vision for fabrics, Expofil for yarns, Indigo for surface design and
Mod'Amont for trimmings and accessories – all of which happen in Paris at the same time and at the
same venue. Organizers of these international trade shows – plus a fifth, Le Cuir à Paris (leather)
– announced they have joined forces and will work together under the banner Première Vision
Pluriel.
Although each show will maintain its own identity, a single administration will allow
visitors access to all without having to register separately for each, according to Daniel Faure,
president, Première Vision. Organizers have set up a website – www.premierevision-pluriel.com – to
supply simple, easy access to all five shows.


Hermann Bühler AG supplies organic Supima® cotton yarn to Patagonia Inc. for use in its
line of apparel.

Expofil


There were more than 31,000 visitors looking at yarns for Spring/Summer 2006 and Fall/Winter
2006-07 at the most recent Expofil. Exhibitors showed yarns for flat and circular knitting, and
weaving. Buyers asked for yarns with a luxurious hand and high performance. Fine yarn counts,
subtle luster and a soft touch are selling.
For fall, tweed and bouclé yarns are spun with mohair, cashmere, angora or microfibers for
lightness and softness. Technological developments include new fibers, yarns with therapeutic
properties and added performance.
At Switzerland-based spinner Hermann Bühler AG, a company that has been in business for
about 200 years, the most accepted yarn is SwissCotton Silver®. It contains X-Static®, a polyamide
fiber coated with pure silver and blended with extra-long-staple cotton. Hosiery, underwear,
therapeutic clothing and bandages are major end-uses. It is antimicrobial, antiodor, antistatic and
temperature-regulating.
Other Bühler yarns are spun using organic, extra-long-staple cotton. They are available in a
variety of counts. Patagonia Inc., Ventura, Calif., is a customer.
Most of the company's yarns are ring-spun or compact-spun combed cotton. Others contain
MicroModal®. Specialties are high-twist and crepe yarns. Much of its extra-long-staple cotton is
purchased in the United States.
Another Switzerland-based company, Spoerry & Co. AG, spins extra-long-staple US Pima
cotton on a compact system it calls Nobletwin. Two rovings are joined, compacted and twisted to
form a yarn similar to a two-ply yarn. The yarn has little hairiness, high tear resistance, an
elegant sheen and a soft touch.
Spoerry Sensual yarns are spun using extra-long-staple Pima cotton twisted around a core
yarn of Lycra® using the Com4 spinning process. Other yarns contain baby alpaca, cashmere, soy or
silk, usually in blends with cotton. There are yarns containing aloe vera or aroma capsules that
have functional properties. One called Swiss Shield® is spun with a metal monofilament. Fabrics
made of this can be fine or heavy. They are flame-retardant and water-repellent.
Portugal-based spinner Textil Tearfil S.A. is the exclusive producer of dri-release® yarn
for the European market. Most of these yarns contain micropolyester and cotton. Linen and wool are
sometimes used as well. Fabrics made with dri-release transport moisture to their surface, and they
dry four times faster than traditional fabrics.
Other technical yarns at Tearfil are spun with Viloft or SeaCell® fibers. Viloft is a fiber
made from wood pulp. The lightweight, easy-care yarn has thermal, moisture management and
antistatic properties.
SeaCell also is a cellulose-based fiber. Seaweed is added to lyocell to give yarns nutrients
such as calcium, magnesium and vitamin E that are released with the aid of natural body moisture
when fabrics containing this fiber are worn next to the skin. Underwear, sleepwear and bed linens
are some of the target markets.
Pozzi Electa S.p.A., Italy, introduced its line of yarns called Crabyon® about four years
ago. Made from crab shells, this yarn also has therapeutic properties. It is antibacterial; and
clinical tests show that it prevents bedsores, relieves the pain of sunburn and – when used in
socks and rubber glove liners – is an aid to diabetics.
A new yarn that is still in development comes from flower stems. It is ultrafine and soft.
Fashion yarns at Pozzi Electa are spun with stainless steel, dyed metal, linen, bamboo,
cotton, viscose, wool and cashmere. The company specializes in fine counts and dyed yarns. Some of
its technical yarns are spun with Kevlar®.
Ojo, Japan, has a yarn made from Manila hemp that is first made into paper and then cut into
fine strips and twisted into thread. It is eco-friendly, dyes well and can be blended with other
natural or man-made fibers. The fiber is strong and smooth, and has thermal properties.
Kurabo Industries Ltd., Japan, is spinning Supima® cotton into a variety of yarns that
provide different looks and performance characteristics.
Wavy Magic, a 100-percent cotton yarn with the look and feel of linen, was developed
to recreate the cool feel of the traditional banana cloth of Okinawa, Japan. Fanon is described as
cotton with the touch of cashmere. Lunafa – wool enveloped by cotton – is lightweight, bulky,
heat-retaining and easy-care. Spinair – a hollow-core yarn spun of 100-percent cotton – is soft,
bulky, absorbent and fast-drying.
Condamin & Prodon Schwarzenbach, France, spins fine-filament nylon yarns – some blended
with wool, silk, viscose or Lycra. There are high-twist, thrown, novelty and high-tech yarns.
Becool® – a nylon yarn developed for sportswear – is breathable, and has excellent
moisture-management and thermal properties.
Cotton is the major product of France-based Robert Blondel. It is dyed, combed, plied,
compacted and mercerized. For intimate apparel, the company has developed low-pill yarns with a
soft hand. Some are spun with MicroModal or Tencel A100, a non-fibrillating lyocell. Some yarns
contain aroma capsules or carotins that are released to the skin when fabrics are rubbed. Bamboo is
another fiber the company uses.
Novelty yarns at France-based Emile Tardy/Chavanoz Industrie are selling for fine-gauge
jersey and home furnishing markets. There are polyester space-dyed bouclés, yarns with iridescent
sheen, ultrafine metallic yarns, bicolored twisted yarns, slubbed yarns and technical composite
yarns. Along with polyester, there are acetate, viscose, silk and nylon.
Best sellers at A-Dress, France, are spun with silk used alone or blended with bamboo,
cashmere, alpaca, camel hair or cotton. There are bouclé yarns, chenille yarns and fur yarns spun
with animal hair. Dyed yarns and fine yarn counts are a specialty. One new yarn is a blend of
bamboo and cashmere that combines the brightness of bamboo with the softness of cashmere.
Inwool Jersey S.r.l., Italy, produces carded Shetland, merino and lambs wool yarns and
blends with cashmere, mohair, angora or silk. There are tweed, bouclé, thick-and-thin, fancy plied
and twisted, nubbed, slubbed, soft fleece, velvet and classic yarns.
Turkey-based fancy yarn producer Ulusoy Tekstil showed a range of chenille and novelty yarns
for circular, flat-bed and hand knitting. Some are selling for upholstery fabrics. Most are blended
yarns containing combinations of acrylic, cotton, viscose, wool, nylon or metal. The firm noted
there is a return to hand knitting.
H. Stoll GmbH & Co. KG, Germany, a manufacturer of electronic flat knitting machines and
pattern preparation systems, introduced a new on-line database. Pattern ideas with instructions are
available at the company's website,
www.stollpattern.com. It is updated monthly. Users can
stipulate machine types, gauges, widths and other information.
At Expofil, Stoll displayed a variety of garments, including knit-and-wear® seamless
sweaters produced using its machinery.
Italy-based OT-LAS S.p.A. displayed high-tech laser marking systems. Along with cutout
patterns and perforations, equipment can create shadow effects, blisters and the look of jacquard
patterns. The systems are fast and work on almost any fabric.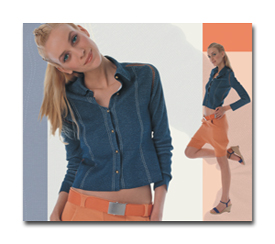 H. Stoll GmbH & Co. KG has introduced a pattern database at
www.stollpattern.com, from which visitors may access
patterns to apparel such as the outfit above.

Indigo


Five thousand visitors and 160 exhibitors attended Indigo, where designs for prints, woven
patterns and application treatments covered the same two seasons as Expofil. Most of the business
done at this show was for spring.
It is not unusual for printed fabrics exhibitors to shop at Indigo when there is increased
interest in a specific trend. This season, it was African ethnics, vintage and paisleys. Flowers
always sell.

At Amanda Kelly Ltd., London, ethnics are small in scale. Application treatments include
vintage lace insets and heavily beaded patterns.
Westcott Design Ltd., also based in London, sold tonal and monotone African tribal designs.
They are not as colorful as they were last season. Chunky wooden beading and vintage embroideries
are popular treatments.
Bernini & C. S.a.s., Italy, sold florals. Tropical summer flowers had a lot of depth.
There was little interest in flat florals. For fall, ethnics continue and paisleys are strong.
Variations include patchwork paisley designs.
Another Italy-based company, Avantgard S.r.l., had a bit of everything. Paisleys are classic
and sober. Patterns that have the look of old tapestry designs are beginning to sell. Ethnics come
from Africa and the Middle East. Lurex® is popular.
Tom Cody Design Inc., New York City, had one of the most crowded stands at the show. The
firm has opened offices in London to handle European markets.
"Almost anything ethnic is selling," Cody said. "We are doing well with bright colors and
beaded application treatments, especially wooden beads." He also pointed out ikats.
Karen Moller, Paris, said buyers come to her for small, sophisticated geometric print ideas.
Retro florals are another popular look. She showed graphic designs reminiscent of Pucci in the
1970s and was surprised at the strong reaction.
---

RadiciSpandex Graduates

From High School And Goes To College


This year for the first time, Gastonia, N.C.-based RadiciSpandex Corp. presented its
"Stretch to the Future" student design awards to undergraduates at New York City-based Pratt
Institute College of Art and Design's department of fashion design. In years past, recipients were
students at New York City's High School for Fashion Industries. In making the change, the company
noted that Pratt – founded in 1887 – is the oldest college for fashion design in the United States.
Stan Herman served as designer judge and honoree. President of the Council of Fashion
Designers of America, Herman designs loungewear and uniforms for such companies as Avis, TWA and
McDonalds.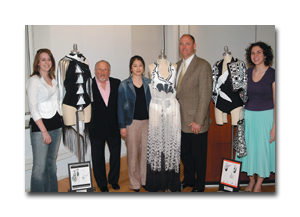 Left to right: Kristina Paulsen; Stan Herman; Sheena Murai; Bill Girrier, vice president,
sales and marketing, RadiciSpandex Corp.; and Beryl Crocker
Most of the RadiciSpandex entrants, who comprised a field of students from the junior and
senior classes, showed swimwear designs, all in black and white combinations.
Along with apparel design, prints and patterns were created by the students. Their work was
judged for originality, best use of fabric, design interpretation and construction.
The grand prize winner was Sheena Murai. First prize went to Kristina Paulsen, and second
prize to Beryl Crocker. Their designs were shown at Pratt's 106th annual fashion show.
July/August 2005