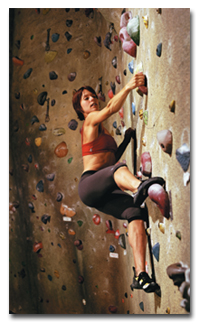 Hyosung Corp. is targeting its Creora® spandex yarn to athleticwear markets.

S
ince its introduction about 50 years ago, spandex has gone from replacing rubber in
narrow elastics to being the most popular fiber on the fashion block. Today, there is not much that
has not been impacted by stretch fiber. From swimwear to men's suits, from shoes to bed linens,
stretch fibers are in demand. They offer greater comfort and fit, and fewer wrinkles or bagging
than their stretchless counterparts. The stretch phenomenon has expanded dramatically – spandex use
is growing at an annual rate of 6 to 8 percent. After elastic waistbands for hosiery were
introduced, lighter and finer fibers were developed for the legs of hosiery. Then came swimwear.
With each new end-use came newer fibers and variants developed for specific end-use applications.
Today's consumers are more sophisticated, educated, active and affluent than those of past decades.
They are into a variety of physical fitness activities in a big way. They want their clothing to
look good, feel good and perform with minimal upkeep. Fabrics that are knitted or woven with a
stretch yarn are fulfilling this demand.

Dow Fiber Solutions

Midland, Mich.-based Dow Fiber Solutions is a relative newcomer to the stretch market, with its
DOW XLA fiber. Launched in 2002, XLA is the first elastic olefin-based fiber to be introduced into
the global textile marketplace. Giving a move-with-you soft stretch, it has received the generic
designation lastol. The fiber is resistant to extreme chemicals and heat, even temperatures of up
to 220°C. It can withstand severe dyeing, bleaching, mercerizing and garment-washing conditions. In
processing, it behaves like the base rigid fiber. It is compatible with natural fibers including
cotton and wool, and man-mades including polyester. In 2004, Dow opened a manufacturing site in
Tarragona, Spain. "Our new, dedicated production site in Spain allows Dow Fiber Solutions to serve
our customers globally with premium-quality product and the flexibility to produce new fibers based
on market demand," said Juan-Carlos Cuadrado, global business director.
Reaching out to markets where stretch had not been a factor, Dow went to leading European
shirting fabric producers to introduce XLA. Albini, Italy, and Emanuel Lang, France, were the among
the first companies to try it. It was an immediate success. "Dow XLA elastic fibers' exceptional
performance is convincing more and more brands that it can provide their customers with
unprecedented comfort, style and performance," Cuadrado said. Dow recently introduced no-iron
stretch women's blouses from New York City-based Brooks Brothers. The fabric from Luthai Textile
Co. Ltd., China, is a blend of 94-percent cotton and 6-percent XLA woven with yarns from Fujian
Kartex Textile Co. Ltd., also based in China. After shirts, XLA targeted sportswear. Some of the
first firms to work with XLA were Dan River Mills Inc., Danville, Va., which produced chambray
fabrics woven with core-spun yarns from R.L. Stowe Mills Inc., Belmont, N.C.; and Tejidos Royo,
Spain, which produced indigo-dyed denim.
Wool blends and swimwear soon followed. Italy-based wool weaver Luigi Botto S.p.A. reported the
addition of XLA enhances the drape and hand of wool fabrics. It provides modest stretch without
altering the base fiber. The touch is pure wool. According to Abigail Job, sales promotion manager,
Dow Fiber Solutions, the next apparel step will be no-iron stretch trousers. The next XLA
development will be colored fibers. "We're looking at colored fibers that don't bleed or fade," Job
said. "Right now, we're asking the market for feedback. We expect to see where we will go with this
within six months."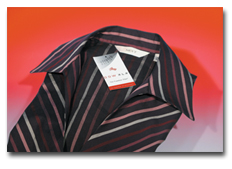 Dow Fiber Solutions is marketing its Dow XLA fiber to European shirting fabric
producers.

Hyosung

Creora®, Korea-based Hyosung Corp.'s spandex fiber, is ranked second worldwide in spandex yarn
production, according to the company, which has a reported annual growth rate of 50 percent.
Hyosung maintains 26 offices around the world, with facilities in China, North America and Europe.
Specialty products are finer-denier, antibacterial and thermo-sensitive spandex fibers. Creora
C-100B antibacterial spandex was developed in October 2002. In fine deniers, it has been used
widely in hosiery and intimate apparel. In addition to bacteria, it completely eliminates
unpleasant odors. Athleticwear, casual sportswear, knitwear and outerwear are other current target
markets.
Creora C-400 is Hyosung's newest spandex. It can be dyed at low temperatures and was developed
to blend with heat-sensitive fibers. At high temperatures, it prevents discoloring from mold and
mildew.

INVISTA

New variants of Lycra®, the brand that began the spandex trend, continue to be developed for
specific end-uses. Lycra hangtags are seen on hosiery, sportswear, swimwear, knitwear, intimate
apparel, casualwear and formalwear. Woven or knitted, Lycra has a dominant position in stretch.
Last fall, INVISTA Apparel, Wilmington, Del., introduced Black Lycra
(See Finding Design Inspiration In Paris,
www.TextileWorld.com,
February 2005). This fiber variant reduces elastane grin-through in dark fabrics and can be
used to create marl and pattern effects. Currently, fabrics containing Black Lycra are available at
Brugnoli and Jersey Lomellina, both based in Italy; Fieratex, Greece; and Spain-based Dogi
International Fabrics. In February, Invista announced the development of Xtra Life Lycra, a stretch
fiber developed for swimwear. It was introduced on the NBC Sports Illustrated Swimsuit Model Search
reality show broadcast earlier this year. Invista and Roudi/Chargeurs Mens Fabrics, France,
recently launched Elixir, a range of high-performance stretch fabrics. The principle of Elixir
fabrics is based on a high density of ultra-fine yarns to create a lightweight feel for comfort and
bidirectional stretch. Fabrics are woven of 50-percent wool, 47-percent polyester and 3-percent
Lycra (22 decitex). They are crease- and stain-resistant. Air France announced garments made of
these fabrics will replace uniforms worn by all of its staff 36,000 people worldwide. Invista
recently presented a collection of ultra-fine circular knitted fabrics and denims shown in garments
by the emerging young designer Silvio Betterelli. Low-denier Lycra yarns are used in fine knits
that are warm, thin and light, offering comfort and freedom of movement. Denim fabrics in the
collection were woven by Legler and Italdenim – both based in Italy – using T-400 and Lycra blended
with cotton. T-400, Invista's multicomponent comfort stretch fiber, has received the US Federal
Trade Commissions new fiber generic designation, elasterell-p. This fiber is chlorine-resistant.
When it is used in denim, fabrics can withstand bleaching and washing treatments not typically used
on stretch denim. Fabrics knitted or woven with T-400 fiber provide enhanced performance, lasting
fit and ease of movement. Low shrinkage, improved wrinkle resistance, stability, a smooth
appearance, soft hand and crease retention are some of its attributes. In addition to denim, target
markets are knitwear, shirts, sweaters and trousers.

RadiciSpandex

With 30,000 tons of spandex fiber from China and Korea coming into Europe, there is a price war
going on, according to Guido Morelli, marketing and communication manager, fashion and interiors,
RadiciFibers. Innovation is one way to combat mass-market imports from Asia. Radici recently showed
a new taslanized yarn in a nylon and spandex mix for the fancy yarns sector. It imparts a natural
look and soft hand; and provides performance, comfort and easy care. It is quick-drying and has an
absorption capacity similar to that of cotton. "Now we, the fiber manufacturers, are challenged to
provide add-ons to stretch," said Bill Girrier, vice president of sales and marketing at Gastonia,
N.C.-based RadiciSpandex Corp. Again, these add-ons come in the form of functionality enhancers.
Case in point: a chlorine-resistant spandex that also offers protection from degradation due to
[ultraviolet] rays, suntan and body oils.
"A new product like RadiciSpandex Type S-45 [heat resistant spandex] provides both the designer
and the mills with answers, while allowing mills to incorporate better-[disperse]-dyeing polyester
fibers and raise dye temperatures for improved dye take-up and superior washfastness, sometimes
even saving in finishing costs," he added. Also, designers can now opt for new polyester/spandex
fabrics that offer better and richer color selections. In broadwoven fabrics, S-45 heat-resistant
spandex fiber opens up whole new markets. Girrier said RadiciSpandex is well into the development
of Type S-AM, a spandex fiber with antimicrobial capability. The company also is promoting its Type
S-TS low-heat-settable spandex fiber.
"There is no doubt," Girrier added, "that global competitiveness has put a squeeze on the whole
supply chain … and innovative stretch is part of the solution. Western Hemisphere designers
and mills are all endeavoring to create apparel that is unique, functional and stylish … and
at the same time … [to] move quickly to ensure that the value they create is not readily
converted into mass-market imports from Asia," Girrier said.

Design Students Stretch To The Future

Stretch to the Future, the annual design scholarship competition sponsored by RadiciSpandex
Corp., is now in its seventh year. It was developed to foster the creative development of
design students while educating them about the technical aspects of garment construction using
fashion fabrics containing a highly technical fiber such as elastane. This year, for the first
time, Stretch to the Future awards will go to undergraduates at the Pratt Institute College of Art
and Design in New York City. Stan Herman, three-time Coty Award-winning designer and president
of the Council of Fashion Designers of America, will serve as the designer judge and
honoree. Three scholarship prizes will be awarded to the winning students at Pratt's year-end
fashion show this month. Students will be allowed to combine stretch fabrics containing
RadiciSpandex fiber with one non-stretch fabric. Stretch fabrics have been donated by Coville,
Winston-Salem, N.C.; Cyberknit, a division of Paul Gottlieb & Co. Inc., New York City;
Darlington Fabrics, a part of the Moore Co., Westerly, R.I.; Fab Industries Inc., New York City;
McMurray Fabrics Inc., Aberdeen, N.C.; Native Textiles Inc., Glen Falls, N.Y.; Sextet Fabrics Inc.,
New York City; Symphony Fabrics, New York City; and Vanity Fair Intimates, a part of Greensboro,
N.C.-based VF Corp.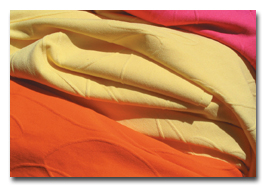 Sextet Fabrics donated fabrics to the Stretch to the Future competition sponsored by
RadiciSpandex Corp.

May 2005