Switzerland-based Schoeller Textil AG, a manufacturer of innovative technical fabrics and
textile technologies, has opened a subsidiary in Tokyo.
Schoeller Japan Inc., which has its own showroom, will offer marketing training and service for
the company's customers in Japan.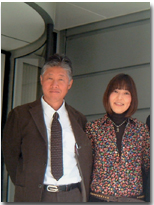 Hideaki Hirayma (left) and Hitoe Ogawa
Schoeller hopes to increase its market share in Japan, and build up the golf and leisure areas.
The company also will develop interior design and bedding markets, as well as individual industrial
applications for Schoeller technologies.
The new subsidiary began operations earlier this year under the leadership of CEO Hideaki
Hirayama. Hitoe Ogawa serves as marketing director.
March 2005