B

usiness was brisk at the most recent Première Vision show in Paris despite concerns about
monetary exchange rates, China and a lackluster economy. Buyers looking for fabrics for
Spring/Summer 2005 collections found a lot of innovation, creativity and quality in the lines of
more than 700 international resources.
Today, it's not only fashion, performance and price that are important; there is another
element, well being – what is going into a fabric to make the wearer feel good. Exhibitors that had
all of the key components in place for their niche markets reported phenomenal success. Italy-based
knitter Marioboselli Jersey S.p.A.'s sales last season were up 16 percent. In March,
Switzerland-based techno-specialist Schoeller Textil AG closed its year-end books ahead by 19
percent. Scotland-based wool weaver Reid & Taylor Ltd. has lowered its prices by 30 percent;
the United States is now its largest market.
Throughout the supply chain there is a startling amount of newness. New fibers are
coming from natural sources that are environmentally friendly and easy to process, and provide high
performance and easy care; and there are a variety of new treatments for established fibers. Color,
texture and surface treatments are other factors of note.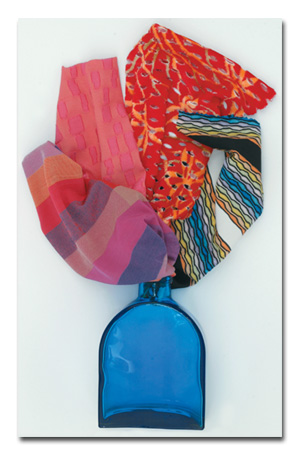 Viscose, microfiber blends and fancy yarn-dyed stripes are featured in Italy-based Jackytex'/
/ / / a / a / s current fabric line.

Fibers


Bamboo is becoming increasingly popular. The plant grows rapidly, is in plentiful supply and
produces a long, hollow fiber. Bamboo-content fabrics are antibacterial, antiallergenic,
impermeable to ultraviolet rays and pill-resistant. The fiber dyes well, imparts a rich luster to
fabrics and can be blended with other natural or man-made fibers. New York City-based Carmen Marc
Valvo is using knitted fabrics containing bamboo.
At Gartex International S.p.A., Italy, fabrics woven with 100-percent bamboo have a dry,
crisp hand, similar to the touch of silk/linen. Currently the company is buying 36/1 and 24/1
bamboo yarns from China.
Chigasaki Woollen Spinning & Weaving Co. Ltd., Japan, showed indigo-dyed denim woven of
100-percent bamboo in a weight of 370 grams per meter (g/m).
At Italy-based Milior S.p.A., stretch fabrics are available in a blend of 49-percent bamboo,
44-percent linen, 5-percent polyester and 2-percent Lycra®.
SeaCell®, introduced a year ago by Germany-based Zimmer AG, is derived from seaweed mixed
with lyocell. The fiber's generic designation is cyl. Knitted or woven fabrics using this fiber
have antimicrobial properties, and contain vitamins and minerals that are absorbed into the skin.
Germany-based knitter Haendel + Diller GmbH blends cyl with cotton and nylon, and is selling
a lightweight ribbed jersey to the sleepwear market.
Stotz & Co. AG, Switzerland, has woven fine shirting fabrics in blends of 70-percent
cotton and 30-percent cyl. "Wellness is selling," said Peter Hauser, product sales manager.
Six months ago, Italy-based Ratti S.p.A. introduced a line of printed jersey knitted in an
intimate blend of soy and silk. The fabrics are light and silky. This season, the silk specialist
has added fabrics of 100-percent soy.
Another new fiber that is going into printed terry cloth for Ratti's beachwear line is
Lenpur®, a cellulosic that comes from white pine trees. It is odor-resistant and has thermal
properties. The fabrics are soft and lustrous.
Fabrics containing metal are gaining in popularity. These fabrics have memory, are
antiallergenic and antistatic, and provide stress relief. Yarn-dyed fabrics at Italy-based Mectex
S.p.A. woven with a blend of steel/cotton/nylon/spandex are reported to protect against magnetic
fields. There are coated and iridescent fabrics, yarn dyes and cross dyes in this line.
Schoeller Textil, one of the first to develop metal fabrics, has lightened the weight and
softened the hand. Iridescent fabrics with a silky touch are woven in blends of
polyester/aluminum/nylon. A heavier translucent fabric in a blend of 90-percent metal and
10-percent nylon has been dyed in pastel colors.
Japan-based Komatsu Seiren Co. Ltd. uses aluminum with nylon and polyester and coats it with
polyurethane. Belgium-based linen producer Libeco-Lagae S.A. has added metal to linen to give it
subtle shine. Lightweight loose weaves of steel/cotton at Gartex sparkle and are soft to the touch.
Two high-end silk weavers, France-based Bucol and Switzerland-based Weisbrod-Zuerrer AG, are
showing metallic summer tweeds.
One old fiber, dating back to the Middle Ages, has been reintroduced. Escorial wool, grown
primarily in New Zealand, is a curly, ultra-lightweight wool that is softer than cashmere and has
natural elasticity.
Through the British Escorial Guild, the market for this fiber will open to additional
resources. It will remain at the top end of the market because of the limited amount of wool grown
– only about 100 tons a year.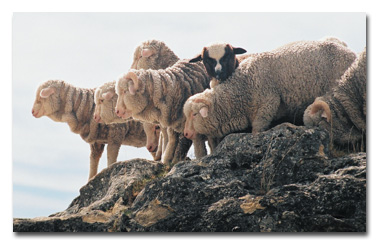 Escorial wool, from sheep bred in New Zealand, is a soft, curly, lightweight wool.

Cotton


Cotton Incorporated, Cary, N.C., exhibiting in the sportswear area, had a lot of new
developments. Ken Greeson, manager, textile chemistry research, showed denims and chinos with
abrasion-resistant finishes, 100-percent cotton with natural stretch of up to 20 percent, improved
color retention treatments, and dual-action finishes that both repel and release soil. Its
BUZZ-OFF™ technology, developed to repel mosquitoes, has successfully been launched by The Orvis
Co. Still in development are moisture-transport properties for cotton and wash treatments to give
cotton special effects, such as the look of tie-dyed fabrics.
Organic cotton was in greater evidence. Japan-based Avanti Inc. showed a line of novelty
fabrics knitted and woven using organic cotton from Arizona, New Mexico and Texas. Some are blended
with silk, and others are embellished with embroidery. Most of the fabrics are ultra-light and
sheer with a soft touch. Fabrics are wash-finished. No chemicals or dyes are used during the
spinning, weaving, knitting or finishing processes.
Gartex showed a silky-soft sheer fabric it refers to as "biological cotton." Vegetable dyes
are used in the production cycle.
Wonder S.r.l., an Italy-based company that exhibited in the sportswear sector, showed
cotton/linen blends with viscose flocking. Some of its fabrics are flocked, printed and then
piece-dyed. Others are sold for garment washing.
Schoeller Textil showed soft, sheer techno-fabrics for Summer. A soft-shell four-way stretch
fabric is ultra-lightweight, and uses 3XDRY®, Schoeller's moisture-transport/evaporation system.
Other fabrics include Schoeller® PCM™ thermo-regulating technology to balance body temperature.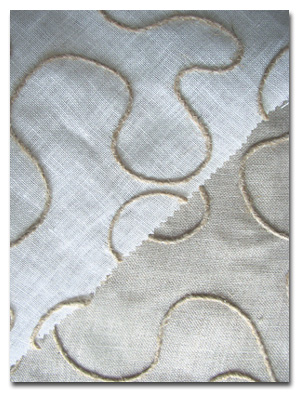 Masters of Linen member company Deren S.A., France, specializes in linen fabrics for
apparel and home furnishings.

Linen


Although performance linens are wrinkle-resistant, many exhibitors in the linen sector
reported their European customers prefer crisp-hand fabrics that crease and have the look and touch
of old-fashioned linen. Treatments include rustic washed looks, all-over crushed surfaces,
sanforized finishes and stretch.
John England Textiles Ltd., Ireland, has a twill weave of linen/viscose/Lycra that looks
like a knitted fabric. Creased patterns, washed linens, open-mesh weaves, coated surfaces and
laser-cut patterns are some of the novelties in this line. The company was astonished at the number
of sample orders for a 100-percent linen jacquard fabric in fresco pastels and tapestry colors –
they are priced at $82 per yard.
Bright colors attracted buyers to Italy-based Crespi S.p.A., where garment-dyed linen
dresses were on display. Hemp with a burlap look, stretch fabrics and metallic prints were other
highlights.

At Libeco-Lagae, dry-hand crepes, sheer loose weaves, crushed effects, sateens, chintz,
color-reverse double-faced linens, Panamas and stripes are popular. Irregular, small multi-colored
stripes with rumpled surfaces are favorites.
For Spring, linen turns up in the wool sector. Scotland-based weaver Johnstons of Elgin
showed linen/cashmere blends with a soft, dry hand. Lightweight olive tweeds with a cool touch were
pointed out.
Reid & Taylor is selling wool/silk/linen classic checks to Brooks Brothers. It offers
nubby tweeds in wool/silk, 100-percent silk checks and Sea Island cottons.
Milior, Mectex and Picchi S.p.A., all based in Italy, have extensive collections of linen,
cotton and man-made blends for Spring.
At Picchi, white-on-white dobbies, speckled tweeds and stripes are favorites. Vibrant color,
stretch and performance fabrics are available at Mectex. Milior has cotton/Lycra textured cottons
and sateens, enzyme-finished silk/linen yarn dyes and stretch shirtings.

Silk


"Spring/Summer 2005 will be an orgy of brightness," said François Damide, president of the
US divisions of two France-based firms, Solstiss S.A. and Bucol. At Solstiss, there are small
geometrically patterned laces colored in orange and white, and floral lace in vibrant shades of
pink and green or orange and pink. Bucol has sheer, iridescent silk mousseline that sparkles when
it moves. There are ink-jet prints with more than 200 colors.
At Weisbrod-Zuerrer, there are a lot of application treatments ranging from simple fagoting
on linen to elaborate pleated chiffon flowers and beads on net, ribbons applied to chiffon and long
fringe in stripes. Warp-printed jacquards and colorful crushed stripes are other novelties.
Bianchini Férier, France, has printed butterflies and scenic borders on silk taffeta, chiffon and
satin.
Best sellers at Mantero Seta S.p.A., Italy, include enormous moving stripes in black and
white, lacquered silver and Lurex® shine.

Knits


In the knitted fabric sector, Federico Boselli, president, Marioboselli Jersey, said his
customers are looking for quality. "They cannot find it in China," he said. "What is coming from
China is selling because of the price. We are selling more plain fabrics, such as viscose matte
jersey knitted with highly twisted yarns. We also make what is difficult to do." Boselli mentioned
printed glitz, burn-outs and linen/Lycra knitted fabrics.
Viscose is the core business of Jackytex, Italy. Highly twisted yarns, fancy yarn-dyed
stripes and microfiber blends are some of the staples. Techno-fabrics include membrane finishes,
metallic prints and velvet jacquards on sheers. A metallic coated fabric has the look of liquid
silver.
France-based knitter Billon Frères reports color and texture are selling. Buyers
looking for immediate deliveries to fill in Summer 2004 collections found stripes and lacy knits at
Première Vision. Last-minute fabrics for Fall also were available. The major portion of the line
was the new Spring/Summer 2005 collection. White-on-white textures, bright irregular stripes, and
tonal jacquards were of special interest.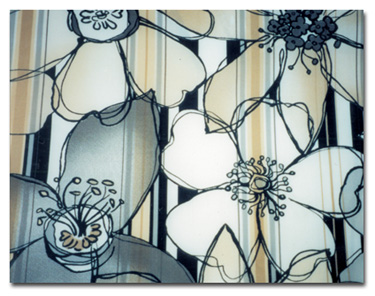 Best sellers at France-based Chaine et Trame included floral prints.

Prints


Color is selling in the printed fabrics sector. England-based Liberty had five color
stories: Sunlight; Myths and Legends; Marina; Scorching; and Restoration.
Floral prints at Liberty are small and clustered, scattered, gathered into garlands; or
giant with spidery petals. Sea shells, beach balls and deck chairs are the inspiration for a group
of prints called Shore Line. Dots, circles, sun spots, rotating disks and other rounded shapes,
precious gems and sophisticated Art Nouveau looks are other themes.
Spain-based La Industrial Sedera S.A. showed colorful flat florals, tropicals, butterflies
and figuratives printed on piqué, ottoman, chiffon and jacquards. Most of the patterns are large in
scale; some are printed on black grounds.
At Chaine et Trame, France, some of the best-selling prints are reminiscent of the 1950s.
There are simple, pretty, romantic florals; Hawaiian monotone florals, and black and white flat
flowers. Positive/negative prints in black and white or red and white sometimes have a touch of one
other bright color. African abstracts colored in earthy tones turn up in patchwork patterns.
Italy-based Segalini S.p.A. has prints, solids and yarn dyes to coordinate. Some fabrics are
printed with a small-scale pattern on one side and a large design on the other. Depending upon the
fabric, the grin-through effect gives another dimension. Flat flowers in acid colors are popular.
Along with pretty, romantic flowers, tropicals, butterflies and whimsical conversationals,
Miroglio S.p.A., Italy, has nauticals, fish patterns and small, colorful abstracts. Base fabrics
include chiffon, georgette, twill and jersey.
May 2004