Global Diversity
The 21st edition of Yarn Fair International featured new products from 62 global
exhibitors.At the 21st edition of Yarn Fair International, which took place recently in New
York City, 62 exhibitors from around the world showed novelty and quality yarns for a wide range of
end-uses. There were yarns for apparel, home products and industrial areas. Weaving, knitting,
hosiery, circular and flat-bed knitting yarns were shown. One-third of the exhibitors came from
Europe, one-third from Asia and about 23 percent from North America. There were new fibers and
fiber variants; high-performance yarns; and luster, classic and fancy yarns.Of the nearly 2,000
visitors to this show, there was an increasing number of retailers shopping for private label
product lines. They were looking for new and unusual yarns. Sandi Steiner, fashion merchandising
executive, Lew Magram Inc., commented on the trend presentation and quality of the show. She
especially liked mohair and chenille lustered yarns. Zoe Hansson, stylist, Hathaway Textiles, also
mentioned luster.Huntingdon Yarn Mill Inc., Philadelphia, showed a variety of colored metallic
yarns. One novelty in this line, Angelina® the super-soft metallic fiber from Meadowbrook
Inventions Inc., Bernardsville, N.J. is twisted with other fibers. Noted for its unique twisted
yarns for high-end markets, this company does a lot of spinning to order. Natural fibers are
blended together or with acrylic, polyester or nylon for special effect. At the show, Huntingdon
reported interest in skein dyeing.Felise Erdal, president of Yarn Mavens, the New York City-based
agent for Himiesa, Spain, said shine is a growing trend. She is selling bright filament yarns
year-round. Tapes with shine are popular, and buyers are asking for shiny hair or seed yarns.
Moulinwith up to six colors and mohair blends are other yarns she mentioned.Elizabeth Amoroso,
president, Hathaway Textiles, was looking for textured tweed spun yarns. She found them at the
booth of Germany-based Schoeller Spinning Group, which showed rustic tweeds and fleeces with
comfort stretch. Heavy and fine deniers sold well. Schoeller, noted for classic and fancy spun
yarns, has become a factor in performance yarns as well. It showed antibacterial, anti-radiation,
anti-static, flame-retardant, moisture-conductive, stain-repellent and temperature-control yarns.
One of its best sellers is a new yarn of 70-percent merino wool and 30-percent nylon that can be
machine-washed and tumble-dried. It is anti-fungal, prevents odor and is moisture-regulating. It
has been selling especially well to the sock industry.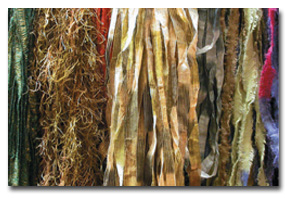 Sunny Gold Textiles Co. Ltd., Taiwan, showed a collection of feathery, eyelash and tape
yarns; and skein-dyed and printed yarns at Yarn Fair International.Photograph courtesy of Sunny
Gold TextilesPhotographed by S.C. DrudingHigh-Performance YarnsFrom Europe, United StatesPharr
Yarns, McAdenville, N.C., returned to the show after several seasons absence. It was promoting
high-performance nylon and polyester spun products for niche markets. Flame-retardant and
protective yarns spun with Nomex® and Kevlar® are a large part of its business. Military flight
suits, industrial gloves and automotive interiors are some of the end-uses for these products.
Carpet yarns of polyester and nylon, and space-dyed yarns are going to residential and commercial
areas. Yarns for upholstery and apparel are another division of Pharrs business.Pharr spinning
systems include cotton ring-spun, air-jet spun and modified worsted. Currently, the company is
spinning solution-dyed polyester, natural polyester, acrylic, modacrylic, microfiber, nylon, rayon,
antimicrobial and wool yarns.At Kennetex Inc., Kennett Square, Pa., a recent partnership with Cedar
Jet Yarns Inc., Scranton, Pa., has given it the ability to spin more novelty yarns using hollow
spindle equipment
(See Spinning News, TW, this issue). Amy Seiler, director of sales and marketing, said
there is interest in novelty bouclnd thick-and-thin yarns in blends of cotton, acrylic and
polyester. Space-dyed and package-dyed yarns are also selling, especially to the upholstery
trade.Mercerized cotton is a best seller at Meridian Dyed Yarn Group, Valdese, N.C. Jim Laney,
executive vice president, marketing, also commented on fancy yarns. He said space-dyed yarns from
Meridians Astro Dye Works Division in Calhoun, Ga., are popular. The company is selling straight
space-dyed rayon, boucl#44; rayon wrap yarns, rayon with bright polyester and textured polyester
space-dyed yarns. Skein-dyed and stock-dyed yarns also are available.Terrence Chermak, president of
Britannia Mills Ltd., N.Y., commended the quality of exhibitors at the show. He said rayon matte
jersey with Lycra® is his best-selling fabric for apparel. Spain-based Villarrasa noted strong
rayon sales, especially in California. With the popularity of this fiber, the supply is tight.
Other popular yarns here are indigo-dyed cotton/linen, polyester/cotton twisted yarns and blends of
cotton/acrylic.Filati Maclodio S.p.A., Italy, continues to make inroads with yarn made from Lenpur,
a wood-based fiber produced by Texinpro S.r.l., Italy. Mauro Belussi, commercial director,
explained the major advantages of Lenpur over rayon are increased dimensional stability, greater
absorbency, thermal properties and odor resistance. Lenpur comes from white pine trees that are
pruned rather than chopped down. Recently it was introduced blended with cotton in sheets and
towels. Ge-Ray Fabrics Inc., Morganville, N.J., is developing a Lenpur fabric line. Texinpro has
applied for a new generic in Italy.Chenille Selling ForApparel And The HomeChenille is gaining
popularity. Jennifer Doyle Fischer, yarn sales representative, Nortex Yarns, Fall River, Mass.,
said chenille is its number-one seller in home furnishings. One recently introduced is a bouclith
sun-blocking properties that is going into outdoor furniture. For apparel, the company is selling
spaced-dyed bouclfor sweaters, scarves and hand knitting. Nortex is developing more novelties.
Fischer showed shag yarns and a three-color eyelash yarn. Nautica and 525 Made in America shop this
line.SandO Industries, New York City, has a new chenille spun of Tencel® that is going into woven
fabrics and sweaters. There are slubbed rayon and acrylic chenilles here and indigo-dyed
chenille.Israel-based Nilit Ltd. and Unifi Inc., Greensboro, N.C., had adjacent booths at Yarn
Fair. They have formed a joint venture in Israel to produce nylon 6,6 partially oriented yarns for
texturing. Nilit showcased Sensil® Cupelle. Fabric samples demonstrated the color versatility of
this product.Another new product at Nilit is Sensil Britex. It is a textured yarn that is extremely
bright, has high dyeing regularity and high knitting efficiency in seamless or circular knits, with
or without spandex. According to Molly Kremidas, merchandising manager, Nilit America Corp.,
Greensboro, fabrics created with Sensil Britex have a high level of shine and a soft touch, and are
produced as a single ply or a two-ply with a trilobal cross-section.Unifi introduced Satura, a new
family of solution-dyed yarns, at the show. They are bleach-cleanable and have a lightfastness of
1,000 hours. Satura solution-dyed yarns can be produced in a wide array of saturated colors,
including custom-matched shades
(See Quality Fabric of the Month, TW, this issue).Other products of note at Unifi were
Reflexx and a blend of Sorbtek and Augusta. Reflexx is going into woven bottomweight fabrics for
men. It provides 25-percent stretch and recovery to fabrics, plus wrinkle resistance and stain-free
properties
(See Knitting/Apparel News, TW, this issue).The Sorbtek/Augusta yarn has been adopted by
Gold Toe Brands Inc., Burlington, N.C., for bikers socks. Designed specifically for right and left
feet, these socks have anti-static, anti-chafing and stain-release properties. In addition, the
socks get softer each time they are washed, according to the company.Turkey-based Sanko, a
first-time exhibitor, is using Sensura® in T-shirts and sweats. This company has a capacity to
produce 300 tons of yarn per day. Fifty percent goes to European countries. Sanko sells yarns for
weaving and knitting. Organic cotton and cotton blends comprise the bulk of its line. At the end of
the show, company representatives said new contacts made were far greater than
anticipated.Spain-based R. Belda Llorens has been selling to the American market for about six
years. It is one of the largest mills in Europe, with a production capacity of 700,000 pounds a
week. Stock service is provided for dyed yarns with an extensive color range, for fast delivery.
Performance yarns include blends of micropolyester, microviscose and microacrylic that have thermal
properties and resist wrinkles. There are wool/cotton heather yarns. Cashmere Prices Down,Wool
Prices UpIn the luxury arena, Z. HinchliffeandSons Ltd., England, showed quality classic yarns of
100-percent cashmere, camel hair, lambs wool and angora; as well as blends. Stock service provides
165 shades, or custom colors can be dyed. Hilaturas Ribe, Spain, producer of quality yarns of
natural fibers, is considering developing a less expensive line. Although the current price of
cashmere is down, wool is higher. Along with wool and cashmere, silk and cotton were shown, used
alone and in blends. One best seller is a cashmere/cotton blend.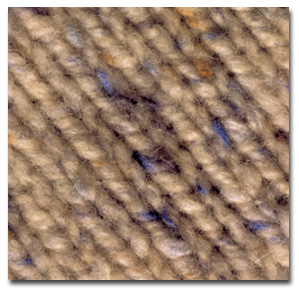 Hilaturas Ribe, Spain, uses mostly Shetland wool, lambs wool and angora in its yarns. The
adventurous spirit of the first explorers of Tibet and Nepal provided the inspiration for a recent
collection, which features cashmere/cotton blended yarns.Wool yarns at Shui Foong Woollen Mills
Ltd., Hong Kong, include cashmere, lambs wool, angora and machine-washable merino wool. Both fine
and chunky yarns are available. The bulk of its production goes into knitwear.China-based spinner
Shanghai Panfame Trading Co. Ltd. produces between 500,000 and 600,000 pounds of yarn annually, all
in natural fibers. About 20 percent is sold in the United States. In 1998, it developed a natural
stretch cotton yarn that is softer than normal cotton. Garments made using this yarn are 25-percent
lighter in weight. The cost is double that of conventional cotton yarns. Stretch comes in the
processing. Machine-washable, low-pill cashmere is another innovation here. The company also sells
mercerized washable lambs wool, mercerized spun silk, recycled silk, mercerized extra-fine merino
wool and regular cotton. In development are machine-washable, natural stretch lambs wool and merino
wool yarns.Another innovative Asian mill, Sunny Gold Textiles Co. Ltd., is a family-owned company
located in Taiwan. It has a volume of 300,000 kilograms per year. Fifty percent is sold in the
United States. Feathery eyelash, fringe, and novelty tape yarns are a specialty. They are spun of
linen, wool, cotton or acrylic. There are skein-dyed and printed yarns in this line. A lot of the
yarns are spun to order.Germany-based W. Schlafhorst AGandCo. was at Yarn Fair to promote its
Belcoro® Quality Label. Recently, Fruit of the Loom was certified to use the Belcoro label for its
line of value-weight T-shirts
(see Spinning News, TW, this issue), and will use the Belcoro label on all its packaging
and promotional materials. According to both companies, tests show there is a difference fabrics
knitted with Belcoro equipment look and feel better.A Final WordPhilippe Pasquet, president,
Textile and Fashion Expo in America Inc., New York City, organizers of Yarn Fair International,
said, We were pleased that the exhibitors from Yarn Fair are representative of the industry as a
whole right now. Reflecting the current economic trends, it appeared that the busiest exhibitors
were those offering creativity at a competitive price, such as fancy yarns in blends with perhaps a
little higher synthetic content than previously. As the economy recovers, we hope to increase the
number of American and European exhibitors, especially since Yarn Fair is the only yarn show in the
United States.Knitwear Innovations From DTIPrior to the announcement that it was going to change
its name to INVISTA, DuPont TextilesandInteriors (DTI) hosted a series of seminars in New York City
to introduce new knitwear designs for Fall/Winter 2004-05. Jean Hegedus, knitwear marketing
manager, said that although development fabrics covered a broad range of fibers, a lot of the news
was in performance fibers. Cordura®, Coolmax®, Supplex® nylon and T-400 were mentioned, along with
Tactel® nylon and Lycra® spandex. A lot of the protective fabrics shown had Teflon® stain-release
and stain-repellent finishes.Hegedus noted that T-400 is a new generic, elasterell-p. The company
will identify this fiber to the consumer as Lycra elasterell-P. Originally introduced for wovens,
it is now going into knitwear. T-400 provides comfort stretch. It is a self-crimping,
multi-component yarn.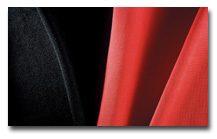 Coolmax®/Tactel® Soft Black knit from Wykes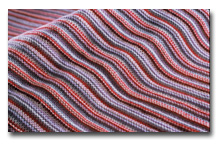 Fabric from Luigi BottoConcept fabrics developed by knitwear consultant Sheila-Mary
Carruthers included ideas for womenswear, menswear and childrenswear. All samples were knitted
using commercial yarns from global resources. Complete information about yarn sizes, gauges and
type of knitting equipment was attached to each sample. A double-faced hairy fabric made with a
soft novelty yarn from Italy-based Botto Poala and wool/Lycra from Italy-based Filatura di
Grignasco S.p.A. was knitted using a flat-bed five-gauge machine.According to Carruthers, there is
a continuation in activewear of fabrics with a plastic style. She showed slippery fabrics in hot
colors and with space-dyed effects. A group of fabrics called Be Aware takes its inspiration from
nature. There were rustic, open-stitch fabrics knitted with chenille yarns and brushed yarns. She
showed gutsy knits using Cordura dyed in camouflage colors.Of special interest was a group of
soft-colored fabrics knitted from brushed yarns of 100-percent Tactel from Mirella, Italy. They
included weightless wool/acrylic/Lycra open-stitch knits with a warm touch, and a shag knit using
an acrylic/wool/nylon/Lycra yarn from France-based Saint Lieven with Mirellas 100-percent
Tactel.Other fabrics shown had mock space-dyed effects, exaggerated surfaces and exotic piles.
Yarns were from Luigi Botto S.p.A., Overfil S.p.A. and Filati Lane Cervo S.r.l., all based in
Italy; D S.A., Spain; Tung Loong Mfg. Co., Taiwan; and England-based Wykes UK Ltd.October 2003