Nylstar Inc., High Point, N.C., has launched
be extraordinary, a communications campaign that will introduce Nylstar active and
intimate apparel nylon products to US industry leaders bimonthly through the end of 2003.The be
extraordinary campaign is a communication vehicle to engage the entire supply chain from yarn to
retail, said Dina Dunn, vice president, marketing. Each of our new products featured in the
campaign will focus on consumer benefits in order to get everyone thinking about answers before the
consumer asks any questions.Meryl® Skinlife antibacterial yarn is the campaigns featured product
for the month of August. Hind U.S.A., Peabody, Mass., and GeRay Fabrics Inc., Morganville, N.J.,
are both developing Skinlife-enhanced fabrics. Hind plans to introduce Skinlife products to market
in 2004.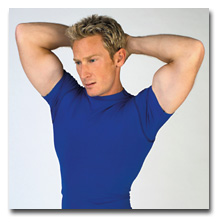 Nylstar's
be extraordinary campaign features apparel, such as the T-shirt left, manufactured with
Meryl® Skinlife antibacterial yarn.
August 2003