Exhibitors Show
InnovationsAt IHE
IHE saw the introduction of new developments in yarns and machinery for the hosiery
industry.Despite fewer visitors and less exhibitor space compared with 2000, the International
Hosiery Exposition and Conference (IHE), held recently in Charlotte, was still a solid show.While
the Italy-based Lonati Group including Lonati, Santoni and Matec led the way in new hosiery
technology, other companies, including Investa and Orizio Paolo, had knitting developments to show.
Fiber and yarn companies had updated products for socks and hosiery. Yarn feeders for knitting
machines also made serious strides forward.Over the past five years, Santoni S.p.A., Italy, along
with its customers and partners, has worked to widen the market for seamless garments. In addition
to machinery, the company displayed a variety of sample products.Currently, Santoni makes 15 models
of seamless knitting machines. At IHE, the company introduced the SM8 EVO4 13-inch machine for
womens outerwear. The company also showed the SM4 Plus3, a 15-inch machine designed to produce
womens undergarments using microfiber and spandex yarns.
IHE featured a fashion show in celebration of the American hosiery industry, which included
Hue's faux fishnet hosiery created by Kayser-Roth and Nylstar Seamless Bodywear.Our customers want
reduced maintenance, reduced costs and new opportunities, said Fiorenzo Sandonini, marketing
director, Santoni. The market wants complete service, not just machinery.Matec S.p.A., Italy,
demonstrated its Silver Toe double-cylinder, single-feed machine with electronic control for rib
and links socks with automatic linking toe closing. The machine features a very efficient,
high-quality toe-closing system.Uniplet A.S., Czech Republic (Trustfin USA Inc., Charlotte),
introduced its ANGE 15US with automatic toe closing. This 4-inch, four-feed, single-cylinder
machine has a maximum speed of up to 320 revolutions per minute (rpm) for plain styles. Terry
styles can be produced at speeds of up to 300 rpm.Investa International, Czech Republic, drew quite
a crowd with the NG.Plus six-feed, single-cylinder sock knitting machine with automatic toe
closing. According to knitters who were present, the machines appeal lies in the simple mechanism
used in the patented toe-closing system.Groz-Beckert KG, Germany, stressed its Hofa-Spec needles
with Loop Control®. These needles feature exceptionally narrow product variations, which allow
knitters to avoid panel streaks. Uniform loop structure and the elimination of single needle lines
caused by opened hooks are additional benefits.Italy-based Orizio Paolo S.p.A. introduced its Model
BS seamless machine, a single-knit circular knitting machine designed to produce underwear,
sportswear and swimwear. It has eight feeds with electronic individual needle selection. The
machine also has more than 24 megabytes of storage for garment designs and a maximum speed of 150
rpm.Upgraded Fibers, Updated YarnsThe Fibers Group of Bayer Polymers LLC, Pittsburgh, introduced a
new hosiery waistband technology and unveiled a reduced level of spin finish on its Dorlastan®
spandex.With the help of tension control device manufacturers and hosiery knitters, the Bayer Bushy
Park technical services team in Goose Creek, S.C., has found that it is possible to run Dorlastan
directly from spinning supply packages, eliminating the rewinding process. Although rewound
packages are still available to knitters that do not have accumulator feeders, more and more
knitters are seeing cost and quality benefits from this new hosiery waistband technology.Bayer has
also found that by reducing the amount of lubricant required in production, not only is fabric
preparation made easier, but machine operation is cleaner.Wellman Inc., Charlotte, promoted its new
Holofiber product, a responsive textile that works with the bodys own energy system to increase
oxygen levels, build strength and accelerate muscle recovery
(See Fiber Focus, TW, June 2003). The company also showed its polyester copolymer products
for socks including ComFortrel XP, Sensura® and Spunnaire®.DuPont TextilesandInteriors (DTI),
Wilmington, Del., showcased two new developments energizing socks made with Lycra®, as well as its
T-403 fiber developed specifically for sock constructions.The energizing socks feature a
combination of specially formulated Lycra yarns and new design and knitting techniques that enable
a form of graduated compression to be built into the sock fiber to actively massage legs and
improve blood circulation, according to DTI.The Soft Comfort Lycra yarns in these sock
constructions provide a new, unexpected benefit in a relatively basic product category, said
Margaret Jacob, global marketing director for Legwear, DTI. Unifi Inc., Greensboro, N.C., added new
deniers and filament counts in polyester and nylon to its Mynx collection, a family of yarns with a
soft, cool, natural hand and subdued luster. When combined with the appropriate yarns, Mynx has a
natural drape designed to benefit seamless apparel, intimate apparel, socks, hosiery and swimwear.
Depending on fabric construction, Mynx UV yarns have an ultraviolet protection factor (UPF) rating
from 35 to 50 and provide more protection than typical cotton garments.Italy-based Nylstar
emphasized its Meryl® Mattesse, a unique new collection of innovative micro and super-micro nylon
yarns. These yarns have a super fine, extremely soft hand and a matte finish. This dull finish,
which gives fabrics a more natural look, is due to Nylstars proprietary ingredient and
manufacturing technology, and is unique in the marketplace, according to the company.Israel-based
Nilit Ltd. scored points with IHE attendees by hosting an excellent brunch on the second day of the
show, and using live models to show off garments made with its fibers. The company introduced
Sensil® EverSheer and Sensil Cupelle at the show. Sensil EverSheer is a modified nylon 6,6 yarn for
covering and protecting spandex. Sensil Cupelle integrates two new polymers to achieve two distinct
colors in one regular dye process.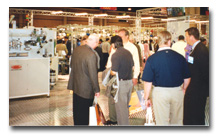 Lonatis booth saw steady traffic at this years IHE.Feeders Go Fast ForwardMemminger-IRO GmbH,
Germany, had a big winner with the new Memminger storage feeder air interlacing (MSF-AI) unit. The
unit air-interlaces yarn on the knitting machine. The company estimates payback at less than one
year. Memminger-IRO also showed its Digi One electronic yarn feeder for yarns and spandex. The unit
boasts a new sensor and is less temperature-sensitive.Italy-based L.G.L. Electronics S.p.A. (Lang
LigonandCo., Greenville) introduced the Primo, which the company says is the first fully automatic
yarn feeder specifically created for knitting. It has positive yarn separation, automatic speed
control and adjustable output tension all in a much smaller package.BTSR International, Italy (PAF
Sales LLC, Greensboro, N.C.), had excellent traffic due to the combination of a Santoni SM8 Top2
seamless machine and BTSRs KTF 100MF microfeeder and KTF 100HP feeder for reciprocated heel and
toe. The company also showed knitters how to eliminate the back creel to gain 25 percent more floor
space.Sock FinishingHeliot International S.A., France, displayed its Sockmodule and Sock.8 boarding
machines. Sockmodule is a modular system for boarding socks and half-hose made from natural fibers,
man-made fibers or blends. The unit has a drying tunnel or heating press and pressurized steaming
shells. An automatic stripper with conveyor is an option. The Sock.8 is a compact boarding and
pressing machine with automatic stripper.Raitech Inc., Charlotte, demonstrated the
QuickConditioner, a tabletop unit that conditions fabric samples using prescribed temperature and
humidity and delivers a dried sample in just 10 minutes.Thomson Research Associates, Toronto,
showed its Ultra-Fresh antimicrobial treatment, which has been used in markets worldwide and in
various applications including gloves, carpets and socks.
Editors Note: Alfred Dockery is editor of The HunTex Report, a newsletter for industrial
textiles. A graduate of North Carolina State Universitys College of Textiles, he has been writing
about the textile industry for 15 years. Dockery is based in Clemmons, N.C.

July 2003