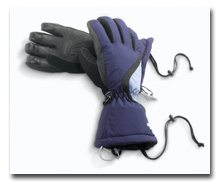 W. L. Gore & Associates Inc., Elkton, Md., has developed its extended comfort range
Gore-Tex® XCR® glove system for alpine skiers to wick perspiration away from the hand and out of
the glove, allowing hands and insulation to stay drier, longer. Skiers can now stay out on the
slopes for a lengthier period of time, according to Gore.
"The new gloves stay drier, longer than any other waterproof, insulated glove available
today," said Brian Gallagher, marketing manager.
March 2003