E

ast coast, west coast and all around the world, industry is catching up with technology.
From fabric and garment design to pattern making and cutting, computers are proving to be time
savers and error eradicators. They maintain records, track inventories and communicate among all of
the participants involved in the creation and distribution of apparel, and products for the home
and industry.
According to Gil Cable, designer, Robert Noble, a Scottish company that has been
weaving woolen fabrics since 1666, "Creating new patterns on CAD equipment is fast and fool-proof.
We used to draw and color by hand on graph paper. What took us three weeks to design by hand now
takes three hours with CAD."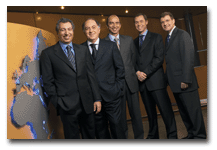 (Left to Right): Lectra's management team — Daniel Harari, CEO; André Harari,
chairman of the board; Daniel Moreau, executive vice president and director of sales; Jérôme Viala,
CFO; and Jean-Luc Bilhou-Nabéra, director, e-Company



Lectra Solutions: From Textiles To Transportation

Paris-based Lectra – a leader in CAD and CAM equipment – develops, manufactures software and
hardware and markets it to a broad array of markets, including textiles, apparel, home furnishings,
leather, industrial products and retail. Its 10,000 customers in 100 countries are major
international corporations and small to mid-sized businesses.
Lectra works with textile firms such as Arco Texteis and Fàbrica Têxtil Riopele, both based
in Portugal; Boussac and Emmanuel Lang, both based in France; Wittamer, Belgium; and a host of
firms in China, Italy, Turkey and Brazil. In fashion and retail, Lectra sells to Calvin Klein,
Eddie Bauer, JCPenney, Sara Lee Intimates, Sears, The Gap, and Victoria's Secret, among others.
Loewe, Fendi and Louis Vuitton are some of the luggage and leather goods companies that use
its systems. Furniture and furnishings clients are among the world's leaders: La-Z-Boy, Parker
Knoll and Rolf Benz. In transportation, almost every major firm uses Lectra systems. Boeing, Cessna
Aircraft, Jaguar, Land Rover, Lear Corp., Lockheed, Renault F1 and Sea Ray Boats are some of them.
Founded in 1973 in Bordeaux, France, Lectra sold its first CAD system in 1976. Its first
automatic cutting system was introduced to the market in 1985. In 1990, the company was taken over
by André and Daniel Harari. Today, the Harari brothers own 33 percent of Lectra; institutional
investors and the public, 66 percent; and employees, 1 percent. André Harari is chairman of the
board and Daniel Harari is CEO.
According to Daniel Harari, "There is only one market – the world. We have a unique global
presence." Lectra maintains 78 offices around the world, with international call centers in
Bordeaux-Cestas, Atlanta and Hong Kong to serve European, American and Asian markets. Revenues in
2001 came to 194.5 million euros, with 87 percent coming from outside of France. Europe represents
54 percent of its revenues, North America 22 percent and the Asia-Pacific region 18 percent.
Asia and North America are two markets in which Lectra has made inroads. Wal-Mart, Sears and
Boeing signed on in 2001. In China, Lectra has 300 customers, representing a market share of 30
percent.
"Lectra is a customer-driven company," Harari continued. "Our mission is to help our
customers overcome their strategic challenges. We can do this by reducing their costs while
boosting their productivity, reducing time to market, dealing with globalization, developing secure
communications across the supply chain, enhancing quality, satisfying the growing demand for mass
customization and managing control over their corporate image and brands."
Lectra's equipment spans the entire process, from design to manufacturing, including visual
merchandising. Users can design and color fabrics on screen, develop garments, create, mark and
size patterns, and establish a collaborative environment embracing everyone involved in managing
collections, thanks to a powerful graphics database. From electronic catalogs to product display,
interactive software is there. CAD/CAM equipment includes automated cutting systems, automated
spreaders, plotters and textile digital printers.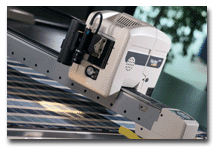 Lectra provides the furniture and home furnishings industry with pattern- and
marker-making, and fabric-cutting equipment.

New-Generation Cutting Room And Color Equipment

Research and development is ongoing at Lectra's industrial facility in Bordeaux. With 180
research and development engineers and technicians, new products are being developed following the
demands of customers in every aspect of design, production and marketing. New-generation cutters
that debuted in April 2000 have sold well in China for mass customization applications and in the
United States for handling industrial fabrics. They are easy to use and require minimum training,
according to the company. To date, 150 new Lectra cutters are in the market.
With customized heads, Lectra's Vector cutters can handle all weights of fabrics. Vector
Denim, a product of the Vector range, can cut 60 layers of 14-ounce denim with no problem. In one
hour, 1,200 five-pocket jeans can be cut.
Recently, laser cutters were introduced for airbags. Lectra's Focus Airbag-HP allows an
increase in productivity of between 20 and 50 percent.
In 1998, Lectra started a program of acquisition and strategic partnership. Color management
and communication, through a partnership with Datacolor, provide exact color matching on paper or
fabric. Colors may be altered to match the closest Pantone reference.
Digital printing, through a strategic partnership with the Netherlands-based Stork Prints
BV, is a combination of integrated hardware and software connected to the Internet. Patterns
designed and colored on Lectra equipment can be directly communicated to Stork's printing machines.
Machinery turns out prototype jacquard and yarn-dyed patterns or knit stitches, and also shows how
each pattern looks in garment form.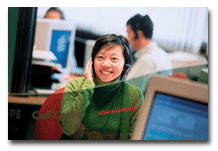 Lectra operates call centers that provide support, training and consulting services to its
customers. In Atlanta, 14 experts handle approximately 2,400 calls per month.

Made-To-Measure For Mass Production

Through a partnership with Human Solutions, Germany, Lectra is marketing Fitnet –
body-scanning equipment that can produce made-to-measure garments at mass-production prices. The
body measurement technology is easy to use, integrated into the manufacturing process and connected
to the order process.
Today, there are approximately 100 2-D and 3-D body measurement technology installations
producing military uniforms for Germany, Denmark and the Netherlands. Successful retail programs
are located in Germany and the Netherlands.
3-D body measurement technology can benefit manufacturer, retailer and consumer. For the
manufacturer, there is no guesswork in production. Instead, there is a closer relationship with the
retailer. The retailer needs little stock, and consumers buy made-to-measure garments of
their choice.
At retail, the time from body scanning to cutting machine is about 10 minutes. After the
customer's dimensions have been taken by the scanner – a procedure that takes 20 seconds – garment
style and fabric selections are made on the computer. An on-screen prototype will show the customer
how he or she will look in the garment. It takes about eight days to make the finished product. The
technology is inexpensive, easy to set up and easy to use, according to Lectra.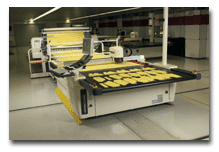 Moda & Co. uses two Lectra Vector 2500 machines to cut out up to 12,000 pieces per day.



Customer Focus

According to Harari, Lectra is a customer-focused company devoted to "providing solutions
for the industry and making a profit for our customers. We offer quality products and services." At
its call centers, Lectra handles on-line and off-line support, training and consulting.
Installation and maintenance are handled by each call center. In Atlanta, 14 experts handle about
2,400 calls per month. "In addition to our technology, we are selling the expertise of our people,"
said Harari. "Computers do all of the work."
Moda & Co., France, recently purchased integrated equipment from Lectra to handle all
aspects of product design and manufacturing. This 12-year-old company makes swimwear and intimate
apparel for NAF NAF, Iodus and Morgan, and private-labels for high-end stores, including Galeries
Lafayette and Neiman Marcus.
Swimwear Sales Manager Korine Yohay Simon explained that Moda & Co. works with each
label to design merchandise. Prototype garments are created using Lectra's CAD equipment. Most of
the fabrics used contain Lycra®. Base fabrics come from France, Italy and Spain and are
transfer-printed by Moda & Co.
Pattern making and grading is done using Lectra equipment. "We maintain a library of
designs," Simon said, "so it is easy to revise and modify. All patterns are made in size 38 and
digitized on the computer. It saves time and is error-proof."
"Our computers do all of the work," Simon continued. "They calculate the time to assemble
each garment, and the cost. They implement quality control and procedures through the final
product. We use computers to check fabrics, and things like weight and color."
All cutting is done at Moda & Co.'s new facility in Toulouse. Two Vector 2500 machines
can cut up to 12,000 pieces a day. Cutters can easily be moved between spreading tables. "We prefer
Vector cutters," said Simon. "They are easy to use, and Lectra provides excellent service."
Another advantage pointed out is equipment flexibility. Iodus is a line of swimwear,
producing a smaller number of garments. The NAF NAF line is younger, with larger quantities than
others. Vector 2500 machines can handle both lines with ease.
About 10 percent of the sewing is done at Moda & Co.'s Toulouse facility, while the rest
is assembled at a company-owned factory in Tunisia or contracted through a plant in Bulgaria.
Quality control is ongoing through the entire process.
Currently, Moda & Co. is producing 1.5 million pieces a year. "We have the capacity to
do more," Simon said. "At the moment, swimwear sales are off. Intimate apparel is selling really
well."

Hermès Saves Time To Market

Hermès is another company that relies on Lectra technology throughout the design and
manufacturing process. From pattern making and grading through to garment pricing, time to market
is lessened.
Patterns are created, graded and laid out via computer. Hermès uses Lectra's Gallery system
as a management support tool. Software calculates the future cost of each product, tracks the
status through production, and communicates with all personnel. Although the initial cost of
equipment is substantial, there is a return on the investment. With fewer people needed to do the
job, more reliable information and a four- to six-week jump on the market, computer
technology is paying off.
Worldwide, Lectra continues to make significant gains. "No longer are we thought of as a
specifically French firm," Harari said. "We are now viewed as an undisputed world leader."



January 2003