Greensboro, N.C.-based Burlington WorldWide's Activewear Spring/Summer 2004 line includes five
collections, all featuring Nano-Dry™ moisture-management technology.
The M.C.S.® Blocker® collection of outdoor sportswear fabrics features new Super-Supplex®
top- and bottomweights, piece-dyed stripes, and new stretch plaids. The M.C.S. Blocker collection
and the Bio-Weave™ textured fabric collection both provide a 40+ ultra-violet protection factor.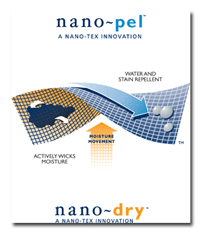 The Bio-Guard™ collection of nylon fabrics features anti-odor-protection. Inherent yarn
technology maintains the body's natural balance of bacteria.
The Flexstyle™ collection of durable bottomweights with stretch offers new textures.
The Versatech® Isotherm™ collection consists of fabrics with new "push pull" fabric
technology. Nano-Dry technology provides moisture-management properties to the inside layer of the
fabric, while Nano-Pel provides advanced water repellency to the outside of the fabric.
January 2003