By Virginia S. Borland, New York Correspondent It's In The JeansMeeting market demands and fashion needs, manufacturers are developing denim using new fiber blends, weights and finishes. From workwear to business attire, denim is the fabric of choice. Its in almost everything pants, skirts, dresses, jackets, accessories, even eveningwear and products for the home.The phenomenal growth of denim has been gradual and global, and does not appear to have reached its peak. What is new is the variety of denim fabrics in the marketplace. Just when you think nothing else can happen to denim, it turns up in new weights and fiber blends, with new finishes and application treatments.The French lay claim to inventing denim and believe the word is an English adaptation of "serge de Nimes," a fabric woven in the French city of Nimes in the 16th century.Italy takes responsibility for the creation of jeans, a word derived from Genoese and referring to cotton twill trousers worn by sailors in Genoa. The popularity of denim jeans started in the l9th century in America with Levi Strauss.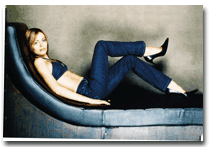 Denim made from Irish linen and Lycra® offers stretch properties, easy care and a soft hand, according to Masters of Linen. Denim Is AuthenticKeith Hull, president, Marketing and Sales, Avondale Mills, Monroe, Ga., said, Denim is popular because it is comfortable, it looks good and it is versatile. Part of its current success is a reaction to 9/11 and a direction to back-to-basics. Denim is authentic.John Heldrich, president and CEO, Swift Denim, Columbus, Ga., agrees: Denim is a cradle-to-grave product. It is the best and most versatile global fabric. It can take on so many different looks through yarns, construction and laundering.Mike Moody, executive vice president and general product manager, cotton apparel, Burlington WorldWide Ltd., Greensboro, N.C., attributes denims popularity to casual dress in the workplace. Denim is both fashion- and performance-driven, he said.Universally, denim weavers agree that the core business is the five pocket jean, made in 10- to 12-ounce 100-percent cotton that is ring-spun and indigo-dyed. Approximately two-thirds of all denim apparel purchased in 2001 was jeanswear.Basic denim is always there, said Livingston, but today it has many different characteristics and different touches.Denim mills are sold up well into the third quarter of the year. Today, our biggest problem, said Hull, is meeting the demand.Avondale weaves between 80 and 100 different denim fabrics. Darker blue shades are popular; black has become a staple. There are softer finishes, shiny surfaces and flatter looks. Even rigid denim has a soft touch, said Hull.Avondale works in partnership with its customers to develop special looks. Currently, the direction is to lighter weights, softer finishes and casts of indigo. Some of the popular jeans cuts include cargos, low rises and carpenters. Other apparel categories include skirts and jackets. Other end-uses include curtains and slipcovers. Jack Mathews, vice president, fabric sales and marketing, American Cotton Growers (ACG), Littlefield, Texas, said, Denim is in a strong fashion cycle. The basics are selling, but fashion denims that have texture and character are what is in demand. Some of the new garment washes and finishes are also helping to drive this business.Other factors Mathews cited for the renewed popularity of denim are low retail inventories after Christmas and mill closings.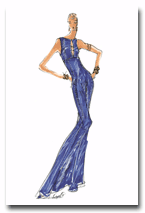 Denim eveningwear designed by Christian David Kozaki for Les Belles Choses. Photograph courtesy of Cotton Incorporated. ACGs business is focused on jeanswear. Most of the line is 100-percent cotton, open-end, faux ring-spun and ring-spun denims. All fabrics are indigo-dyed. Mathews noted a new blue/black shade called Raven is popular. New styles containing Lycra® are in development. Mathews sees denim sales continuing strongly through the end of the year, with no slowdown in sight until the first quarter of 2003. The biggest challenge is to get the price up, he said. In bad times, prices fall in quarters; in good times, they go up by nickels. Service And Price Drive The BusinessService and price are what drive the business, said Monte Galbraith, vice president, sales and marketing, Denim North America (DNA), Columbus, Ga. We will never be the lowest price, but we do offer the best service. What the domestic market has going for it is proximity and speed to market. We can work with customers on a daily basis to develop new products.DNA came on-line May 1, taking over Marubenis state-of-the-art four-year-old plant (See News, TW, this issue). The bulk of its production is ring-spun cotton denim in the 10- to 12-ounce range. Fabrics can go as light as 7 ounces.With fashion silhouettes cleaning up and becoming sleeker, Galbraith said there is a lot of talk about color, but all casts of blue will always be available. A black shade called Asphalt is selling in every construction. In addition to all-cotton, DNA is weaving cotton/Lycra and cotton/polyester, and is developing a variety of stretch products.Ring-spuns, stretch and lighter weights are popular at Swift. Customers are still looking for denims with a vintage-look, flat and worn appearance, Heldrich said. Our basic Hard Core Blues continues to be a best seller.Along with apparel, Swift denims are in comforters, belts, hats, log carriers and dog beds. Denim will always be in fashion, Heldrich said. Sometimes the fashion cycle is stronger. As long as we focus on being innovative and provide good value around the world, we will continue to be successful." S-t-r-e-t-c-hAlthough the majority of Burlingtons line is 100-percent cotton, stretch denim is one of the fastest-growing segments of its business. The company is weaving blends with both Lycra and DuPonts T-400. Polyester blends are there for strength. Moody also mentioned that black denim is having a resurgence.He also noted that most of Burlingtons customers are using more sophisticated wet processing such as sand-blasting. Sometimes a garment will go through several different treatments. Burlington is working on new technologies to give denim fabrics different looks when processed.At Cone Mills, Kara Nicholas, director, new product development, specialty stores, said, We have developed a lot of new blue shades. We are getting a good reaction to some of the clear blues and lighter colors.Were past the idea of basic denim, she continued. As long as we innovate and keep coming out with something new, we will find a fashion customer. Stretch is one area of innovation. Cone is developing lighter-weight, stretch denim fabrics with spandex and with polyester for comfort stretch. The company also is experimenting with new cotton yarns to give different looks to denim. Stretch denim has been popular in Europe for more than a decade. In the United States, it is selling strongly in juniors and is beginning to be accepted by other age, gender and ethnic groups. According to Livingston, stretch is adding another dimension: it provides comfort, shape and fit. Cotton Incorporated is working on development of 100-percent cotton stretch denim by using finishes and treatments.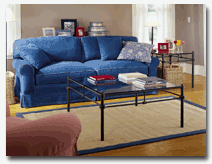 Eddie Bauer Home is using denim for home furnishings.Photograph courtesy of Cotton Incorporated. Most of the stretch denim sold in the world today contains an elastomeric fiber. DuPont Textiles and Interiors (DTI) is promoting stretch denim containing Lycra at high-fashion and mass-market levels, from Armani to Levis. Recently, DuPont participated in New Yorks Fashion Week in a joint show featuring stretch denim apparel created by six designers/brands.Another DuPont product that can provide comfort stretch to denim is T-400. It is chlorine-resistant and can withstand a variety of bleaching and washing conditions such as sandblasting, whisker washing and antique finishes. For more tailored looks, T-400 will retain trouser creases after washing.In partnership with Velonorte Mills of Brazil, DuPont has created a knitted stretch denim called Veloflex®. Containing 96-percent cotton and 4-percent Lycra, Veloflex denim has been sampled by designers such as Theory, BCBG, DDC Lab, Hippie Jeans, Adriano Goldschmied and Melanie Apple. The fabric has a soft hand, is supple and enables designers to create slim-cut jeans that provide comfort and freedom of movement. Linen And BlendsAlso jumping onto the bandwagon, European linen weavers have developed denim fabrics in a variety of looks and weights. According to Pauline Delli-Carpini, U.S. representative, Masters of Linen, denim woven of linen can be clean, structured and elegant; or rustic and casual. She cites shades of dark cobalt blue and graphite as popular.There are rigid linen denims, cotton blends and stretch with Lycra. The trend is to lighter weights and faded, antique finishes that have an elegant look. All of the linen-content denims are easy-care, and many are pre-washed to give the fabrics a soft hand.In addition to apparel, Delli-Carpini noted that denims of linen are widely used in fabrics for the home. Because of its antistatic properties, linen doesnt attract dust or dirt, so it is especially popular for upholstery, slipcover and drapery fabrics.A lot of European mills are showing denim fabrics and the look of denim with application treatments and embellishments. There are flocked, embroidered and coated surfaces; reversibles; sheers that are printed to look like denim; indigo-dyed jacquards knitted or woven using linen and cotton; laser cut-outs on denim; puckers; matte/sheen patterns; and the ultimate denim-patterned sequins applied to lace (See Premiere Vision Predictions, TW, May 2002). Tencel®Another fiber that is widely used in denim is Tencel®. June Lauck, marketing communications manager, Tencel, said the Belgian firm UCO and Tejidos Royo of Spain are selling Tencel-content denim fabrics. UCO denims are woven using dyed Tencel in the warp, and they have a uniquely soft and silky touch.Lauck pointed out that two reasons for Tencels popularity in denim are its aesthetics and performance. Because of its strength, Tencel can withstand harsh bleaches, acid washes and finishing treatments, even in lightweight constructions.Denim fabrics containing Tencel have a clean, neat look and natural luster. High levels of stretch can be achieved without the use of elastomeric fibers because of Tencels unique fiber-swelling properties.Enrique Silla of the Spanish firm Jeanologia has created jeans, jackets, skirts and other apparel in Tencel-content denim. Some of the newest looks shown at his most recent presentation were whitened or tinted blue shades. Some had gray or yellow casts. Most of the apparel has movement and excellent stretch and recovery.Will the denim momentum continue Mills are sold up through the third quarter, and denim producers are continuing to come out with new and relevant products. As Galbraith said, At DNA, denim is in our genes.June 2002