By Virginia S. Borland, New York Correspondent The OldandThe NewItalian knitwear and French laces represent divergent technologies for 21st-century fabrics.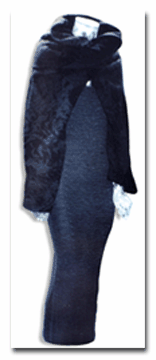 As modern technology creates faster, more efficient machinery that eliminates production steps and labor in the manufacture of fabrics and apparel, there still are some industries that rely on old methods and hands-on craftsmanship. In this report,Textile World looks at two successful companies; one committed to the best of the 21st century, the other relying on 19th century looms and hand labor.Looking toward the future, the Italian company Marioboselli Jersey S.p.A. is using the latest computerized equipment to knit and produce apparel selling under the labels of leading names in the fashion industry. Complex combinations of yarns and patterns can be knitted into a single garment.A holdover from a prior era is French lace producer Solstiss, which maintains nineteenth-century looms and employs highly skilled workers to create laces sold in 70 countries. Eighty-five percent of the cost of the companys fabrics is in labor.Both companies are medium-sized, family-run and diversified. Marioboselli produces yarns, fabrics and garments. Solstiss is a combine of four separate lace producers. Forerunner Of The CenturyMarioboselli Jersey was founded by Mario Boselli in 1973 as an adjunct to the yarn company Torcitura Carlo Boselli, which his father, Carlo Boselli, started in 1956. The family history in the silk business dates back to 1573. Today the Boselli family owns three companies: Marioboselli Holding; Marioboselli Yarns; and Marioboselli Jersey. Mario Boselli is president of the holding company. His other involvements in Italian textiles and fashion are so vast he is considered to be the dean of Italian fashions. Mario Boselli is president of Camera Nazionale della Moda (the organization that handles everything concerning Italian fashion). He is on the Board of Directors of two major Italian banks, is a member of the Board of Directors of the Italian textile company Ratti, and serves on the Board of DMC of France.Annual sales from all Marioboselli divisions amount to about $60 million. Yarns account for 60 percent, of which about 30 percent are exported, mainly to other European countries.Today, Marioboselli Yarns is headed by Carlo Boselli, a son of Mario Boselli and grandson of the founder. There are four mills in Italy and one in Slovakia. For apparel, the company spins silk, cellulosic, man-made and blended yarns. There are natural and dyed yarns, twisted yarns, air-jet textured continuous yarns and a lot of stretch yarns. In the home furnishings area, there are cellulosic and man-made twisted, up-twisted, textured and fancy yarns. Some are flame-retardant. Yarns for technical end-uses include Kevlar® and carbon fibers.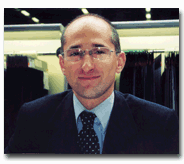 Federico Boselli, another son of Mario Boselli, is president of Marioboselli Jersey, a company that has four divisions. In addition to knitting, the Albate Division dyes knitted and woven fabrics. The Area Division produces knitted garments. The Linea X Division was launched in September 2001 to produce seamless garments.Marioboselli Jersey is a major knitter of crepe and matte jersey, both in silk and in cellulosic fibers. Novelty and innovative knitted fabrics are developed each season for high fashion, activewear and the youth market. Sales are worldwide, with half of the companys total production exported to other European countries, the United States and Japan (See Comfort, TraditionandProtection, TI, December 2001).Federico Boselli describes the concept behind the new Linea X Division as the ready garment concept. Apparel is created directly from the yarn, avoiding the cut-and-manufacture process, thus saving all of the production costs and reducing delivery time.Garments are produced on new Santoni machines. Marioboselli is the first to have this equipment. According to Federico Boselli, the new Santoni machines can do more than previous ones. They are able to create complex fabrics and garments that have no lateral seams or final hems. All is computerized.The software is the same as with other Santoni machinery, said Federico Boselli. The difference is in the way the yarn goes into the machine and how it is used. Linea X is making apparel knitted in silk, cashmere, wool, and other natural and man-made fibers and blends. Currently the company is using Meryl®, Elitand Bemberg® cupro yarns.The Santoni equipment is able to turn out garments using a combination of yarns and patterns, from double knits to jacquards, all in a single garment. It can produce a single, separate garment or make continuous, connecting garments. Linea X is making dresses, skirts and tops.Marioboselli has one single and one double Santoni machine, each with three cylinders of differing sizes. The machines are producing apparel designed by Hugo Boss and other leading fashion names, and for Area, Mariobosellis own fashion apparel division. French Lace The Old Way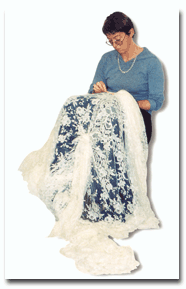 Since the middle of the 19th century, Caudry, in northern France, has been the production center of fine machine-made lace. Prior to the first mechanical production, lace was a highly skilled, labor-intensive product that could be afforded only by the very rich. It was so valuable it became a form of currency and was included in noble families lists of valuables, along with jewels.In 1812, when John Leavers invented a machine in England that could produce lace, not only did the cost of lace fabrics drop tenfold, but the demand for his machine well exceeded the supply. Because export of this equipment to France was illegal, it was smuggled part-by-part into Calais. Some of it was reassembled in Lyon, the silk center of France; some found its way to Caudry, then a textile center for linen and cotton. Leavers machines were set up individually in homes and barns. In 1867, there were 147 machines in Caudry; by 1914, there were 600. Until World War I, the lace industry in France was a cottage industry, with weavers bringing their cloth to market to be sold. Lace stayed in fashion until the 1960s, when styles changed to simple, unadorned silhouettes. Lace mills shut down, and Leavers machines were no longer produced.Today lace is back in fashion. The French lace industry is centered in Caudry; narrow lace is produced in Calais; none is made in Lyon. There are only a handful of mills still in operation that have Leavers machines. Of those remaining, 95 percent are located in Caudry.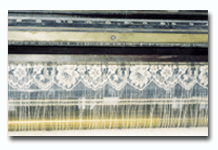 Solstiss, a major name in quality lace, was formed in 1974 by four separate lace weavers in Caudry. Each company has its own production facilities; they share administrative offices in Caudry and sales offices and agents in major cities around the world. Total annual sales volume is around $20 million. Ninety percent of its sales are outside of France. Italy is the major export nation. Twenty-five percent comes into the United States.The Solstiss combine has more than 80 Leavers machines. Ninety-eight percent of production goes into apparel, and a small portion is sold for home products, primarily for table top. With the unavailability of new Leavers machines, the Solstiss group is purchasing derelict lace factories, enabling it to have replacement parts for its old equipment.Lace weaving is done the same way it was 150 years ago, with a few modern improvements. If a thread breaks, the machine stops automatically. Leavers machines weave jacquard lace, using a double warp. Each machine produces about 20 yards of fabric per hour. Lace is sold by the piece, which is 4.5 to 5.5 meters, depending upon the length of the machine. Standard width is 36 inches.Because the machines are old, they are treated with graphite to keep them in working order. This turns the lace a gray color, so it is generally washed before dyeing. All Solstiss lace is sent to Calais to be washed, bleached, dyed and framed. It comes back to Caudry to be very carefully examined. Any flaws are corrected by hand. Threads of dyed lace are carefully taken from the selvage of each piece for repairs.A lot of Solstiss lace is embellished. Embroidery is applied in Caudry, and most of the bead work is hand-sewn in India. Designs are created in Caudry. More than 60 new beaded patterns have been designed for Fall 2002. Each can take as long as one month to create.Each member of the Solstiss group has a specialty. All are third- and fourth-generation mill owners. Henri Beauvillain, who heads Ets. Edouard Beauvillain S.A., weaves 9- and 10-point lace, some of which is embellished. He has 10 Saurer embroidery machines.The finest lace, 12-point, is produced by Ets. Ledieu Beauvillain. Roger Ledieu is managing director. His firm owns 20 Leavers machines. Ets. Victor MachuandCie. produces less intricate designs using 30 Leavers machines. Joel Machu is managing director. At Ets. Robert BelotandFils, there are 10 Leavers machines, four Tashima computer-guided embroidery machines and six Cornelli machines that are hand-guided to stitch ribbons and sequins onto lace.According to Frans Damide, president, Solstiss Inc., New York City, the price of a piece of lace goes from $20 to $800 in the United States, depending on the embellishment. In addition to fabrics, Solstiss produces trimming lace. There is an enormous inventory, so deliveries of trimming lace are fast. Sample orders of new designs are completed in from six to eight weeks. In the United States, Solstiss maintains offices in New York City and in Los Angeles.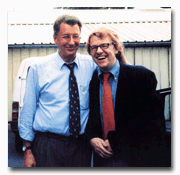 Joel Machu, managing director, Ets. Victor MachuandCie. (left) with Frans Damide, president, Solstiss Inc.Janurary 2002