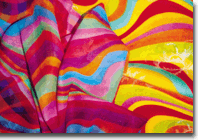 Quality in Demand
Premiere Vision exhibitors report sales increases despite lower attendance.Along with the
global economic downtrend, attendance was off at the most recent Premiere Vision, held in Paris in
March, dropping from 40,308 in March 2000 to 36,996 in 2001.However, all was not gloom and doom.
Most of the 776 exhibitors reported visitors were serious about finding the right fabrics for
Spring/Summer 2002. Generally, buyers were looking for novelty and quality. Fabric companies that
cater to niche markets and are flexible in their product offerings reported a record number of
sample orders.Irish Linen converter John England said that not only did he take more sample orders,
but a lot of customers placed substantial orders for yardage. England attributed part of his
success to his presentation: We had a colorful, exciting display that attracted a lot of interest.
One customer purchased our entire display for his own showroom.Ed Harding, Barn Hill, U.S. agent
for several European firms that show at Premiere Vision, concurred: Most of our lines were
constantly crowded with serious shoppers. The Americans in Paris for this show were there to work.
We sell a lot to bridge markets. They are looking for quality, and they are on the lookout for
performance fabrics that go beyond the basics.British exhibitors got an extra boost with a visit by
Cherie Booth, wife of Prime Minister Tony Blair. Booth was at Premiere Vision to help promote
British Textiles.Liquid Stretch Knits At WelbeckWelbeck Fabrics Ltd., British innovator of
technologically advanced knitted fabrics, said this was its busiest show ever. A lot of its line
goes into intimate apparel and activewear by La Perla, Victorias Secret, Vanity Fair, Armani,
Calvin Klein and Donna Karan.Welbeck is one of the first to come out with a line of
aroma-encapsulated fabrics. New scents of bergamot, juniper, apple and cinnamon bring the total to
40. Another successful line contains moisturizers. New for Spring are smooth, liquid stretch knits
of trilobal Tactel® or a micropolyester/Lycra® blend. There are shantung effects, fine and sheer
pleats, iridescent jacquards, laser patterns, layered or laminated mesh, punched or embossed
surfaces, and two new granular-effect stretch fabrics. Easy-Case Linen With A Traditional
Look

In the linen sector, traditional fabrics with easy-care qualities are selling.
Pauline Delli-Carpini, U.S. representative, Masters of Linen, said, Our members report that
designers are buying 100-percent linen fabrics and blends that have a traditional look but are
updated with easy-care finishes, a touch of sparkle, stretch or a laminated coating.Masters of
Linen membership includes more than 10,000 linen growers in France, Belgium and the Netherlands, 22
spinners in Italy, France, Northern Ireland, Belgium, Austria and Germany and 96 Western European
weavers. Its regional office in New York City disseminates information about linen, suppliers and
trends for apparel and home furnishings. Linen/Lycra fabrics include a washable mid-weight blend
from French weaver Deren. This company also has a group of creased and crinkled 100-percent linen
fabrics.Libeco Lagae reports that stretch, menswear stripes and solid coordinates of 100-percent
linen with a delavinish are selling across the board for menswear and womenswear. Sheer, mini-check
and stripe cross-dyed coordinates are also popular.Stretch linens at John England are available in
linen/viscose/Lycra or linen/polyester/Lycra blends. Some have a washed finish to resemble denim.
There is also a double-faced fabric containing Lurex®. Two fabrics are adhered with a dissolveable
bonding. Finished garments can be washed to remove the bonding, thus eliminating the production
steps of cutting and basting the lining fabric.Bronze metallic fabrics at John England have subtle
glimmer. There are distressed-finished butcher linens, crisp-hand rustic looks, linen/silk blends
that resemble indigo denim, slick finishes, ultra-light polyurethane-coated fabrics, laser-cut
patterns and polyurethane droplet patterns on 100-percent linen.Bright, yarn-dyed linen checks are
standouts in washable coordinates at Hauterive. Some are large and tonal; others are iridescent.
Crespi has metallic satin weaves and rustic surfaces. Some have an invisible polyurethane finish.
Solbiati shows classic seersucker stripes in a linen/cotton blend.Another linen innovator, Linea
Tessile Italiana, has tie-dyed linen gauzes and sheer linens woven with thick and thin yarns. Mesh
in a blend of linen/cotton/nylon is embellished with flocking, embroidered in all-over abstract
patterns or printed with large, watery flowers.At Giuseppe Bellora, striped ultra-sheer linen/silk
blends are selling to shirt makers for both menswear and womenswear. There are washable linen
shirtings and crisp-hand linen gauzes, some embroidered with abstract patterns.The Austrian firm J.
M. Fussenegger has done copper printing on rustic linens. Some resemble burlap, while others are
light and refined. Copper-printed flowers give the fabrics a damask look.Classic ComebackUpdated
classics are best-sellers at Gordon Textiles International, which represents French weavers Emanuel
Lang and Carreman; and Italian weavers Milior, Gartex, Segalini and Blue Line. Neat patterns and
traditional weaves in blends are treated to a variety of finishes to provide comfort and easy
care.Jim Gordon, president, Gordon Textiles, reports that Emanuel Langs small checks and stripes in
100-percent cotton are increasingly popular for womenswear. Newly revived are jacquards and
seersuckers. Shirtings containing Lycra are selling to designers of haute couture.Carreman is
selling suiting-weight fabrics with a traditional menswear look. Mini-checks, and pin and chalk
stripes in blends of polyester/viscose/elastane are buyer favorites.In Miliors line, abstract
geometric patterned cotton/polyester/Lycra blends are popular. There are classic mens stripes woven
with metallic and Lycra yarns, and a group of high-tech double-faced fabrics. One going into
year-round outerwear reverses from poplin to twill, contains 13-percent Lycra and is breathable.At
Gartex, sheer jacquards; burn-outs; light, slubbed linens; crinkles; and stripes are current
preferences with American designers. Most are blends of natural and synthetic fibers, and a lot
contain Lycra.Prints from Segalini include romantic flowers in soft, summery colors. Some have an
abstract, misted look; others are reminiscent of small Liberty styles. Shantung and rayon georgette
are two popular base cloths. Blue Line is selling plissacquards, shantung and gossamer sheer
stripes in silk blends. Stretch seersucker is another favorite here.Stretch, Jacquards And Demin At
NuvotexThe versatile Spanish company Sedera, French denim producer Milag and Italian knitter Mabu
are handled in North America by Nuvotex.Stretch jacquards are a highlight of the Sedera line.
Small, neat tonal patterns in an acetate/cotton/Lycra blend are selling for sportswear and pants.
Double jacquards reverse color and texture. They are piece-dyed, coordinate with solid fabrics and
are lightweight. Others are woven with high-twist yarns for a crepe touch. Prints are done on a
variety of fabrics. Among the most popular are stripes with color-coordinated outlined florals on
polyester matte jersey, heavy stretch cotton or chiffon.At Milag, warp- or weft-stretch denim is
printed with camouflage designs, bold graphics, peacock feather patterns or silver foil abstracts.
Other fabrics range from romantic florals on sheer plissand georgettes to piquand jacquards. Some
are sueded; others are lightly coated and slick.Mabu jersey is selling mini-Greek-key patterned
jacquard jersey coordinates to Versace. These cotton/nylon blends are going into shirts.Other
popular fabrics at Mabu are eyelash effects knitted with metallic yarns, variegated stripes and
ribs in cotton/silk/viscose blends and subtle glitter jacquards of nylon/polyester. Jim Molina, a
partner at Nuvotex, noted that sales of dressy fabrics are slowing. Double mercerized cotton and
raw silk knitted in rustic looks are in demand.


Color In Wovens

Color is selling at Barn Hill. Yarn dyes in smaller patterns by Isoule are going
into casualwear, sportswear and dresses. Most are blends of linen with viscose or polyester; all
contain Lycra. Open-work patterns woven with Paul Bontes dissolving yarn, Chimere, are other good
sellers.Recolored classics are popular at Liberty of London. Gingham, sophisticated geometrics with
a 1930s feeling and small conversationals are highlights. Conversational motifs include
mini-automobiles and oriental parasols. Stretch jersey of cotton/Lycra is a popular base cloth.At
Reynaud Rexo, piece-dyed, bi-colored jacquards with widely spaced floral patterns in a
polyester/acetate blend are selling to the dress trade.Essenza, a first-time exhibitor at Premiere
Vision, was happy with the numbers of new customers and orders placed at the show. Linen tie-dyes,
some over-printed, and cotton/viscose stretch bottom weights are among the favorites. At shirting
fabric specialist Borgomaneri, sportswear designers sampled cotton stretch top and bottom weights.
Heathers and stripes were of special interest.

Men's Shirt Fabrics For Womenswear

Quality shirting fabrics from the Austrian firm Getzner, sold here through Filtex,
are starting to sell well to bridge-level womenswear firms. Bright plaids and stripes are popular.
Josef Otten, also at Filtex, reports stretch rayon jersey and printed shirting-weight cottons among
its strongest sampling fabrics. Nautical shell and coral designs and small animals are popular.
Some are over-printed on burn-outs.Weisbrod Zuerrer, noted for jacquards, had a strong showing at
Premiere Vision. The patterns for Spring are spread out with an open, airy feeling. Some are done
on textured grounds with Lurex; others are on crinkled piquwoven with cotton/silk. Small geometric
patterns are especially popular. Best-selling colors are lime green and denim blue.Richard Nissan
of Filtex notes an interest in fine silk crepes in bright colors from Weisbrod Zuerrer. Some
fabrics have a water-repellent finish. A group of sheer, fluid solids; pleated fabrics; and
georgettes have been picked up for layering.Innovation At Fitzsimmons Fabrics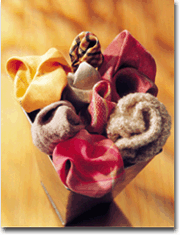 A major portion of Spanish producer AGBs line contains Tencel® blended with linen,
cotton, polyester or wool. A lot contains Lycra. There are slubbed linen looks; ultra-sheer
Tencel/wool blends; sparkling stretch chambrays; and silky touch, semi-lustrous, Teflon®-coated
lightweight poplins. One new techno-development is a moisture-moving antibacterial twill in
cotton/polypropylene.Two French jacquard weavers handled by Fitzsimmons are Dutel and Romain. Dutel
is showing stretch satin jacquards in both large-and small-scale abstract patterns, and optic
designs in cotton/polyester or polyester/nylon blends.Romain has lustrous linen/cotton/nylon
jacquards with a dry, crisp hand. Other fabrics include linen/ acrylic cloques, crepe satin sheers,
lightweight silk/nylon eyelash stripes and a group of acetate/Lycra crocodile-embossed
patterns.Fantasy sheers, embellished silks and featherweight cobweb knits are specialties of Paul
Dulac. Irregular leaf patterns are embroidered on silk/cotton. Some are tonally shaded, while
others have touches of metallic yarns. Other patterns include Greek key motifs, squares and wavy
lines.At Bianchini, ultra-fluid fabrics have the look of liquid metal. The hand is slippery and
sensuous. There are crisp, noisy, foil-look sheers embossed with crocodile or sunburst patterns.
Warp-printed taffeta, white-on-white patterned piqu#44; and supple polyurethane-coated fabrics are
other popular looks.The next Premiere Vision will feature fabrics for Fall/Winter 2002/03. It will
take place in Paris, October 4-7 at Parc des Expositions. In 2002, the dates for Premiere Vision
will be February 20-23 and September 18-20.Expofil Shows Fall 2002Taking a stand at Premiere Vision
for the first time, the producers of Expofil, the bi-annual yarn fair held in Paris in June and
December, showed Fall/Winter 2002/03 trends.Sylvie Tastemain, Expofil fashion director, said there
continues to be a strong desire for luxury and novel products. Garments must be easy to wear, light
and comfortable, and easy to maintain. The boundaries between masculine and feminine, and between
natural and synthetic are becoming increasingly blurred.There will be 11 new exhibitors, including
non-European spinners and fiber producers, at Expofil, June 5-7, at Parc des Expositions.
June 2001