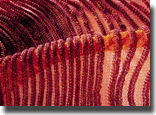 European Yarn Fair Expands
New quarters, acquisition strengthen Expofil Along with new fibers, colors and yarns
shown at the most recent Expofil in Paris, two major areas of expansion were announced by
management of this biannual yarn exposition. In June, the show will move to larger quarters at a
new location, where it will be able to accommodate international exhibitors. Yarn Fair
International, held in New York City every August, is being taken over by a consortium of French
trade organizations and will be run by Expofil management.In making these announcements, Didier
Tardy, Expofil president and recently retired head of the yarn firm Emile Tardy, said, For the
first time non-Europeans are exhibiting at Expofil. With the arrival of new countries, we will be
strengthening our profile and international viewpoint. By acquiring the show in New York, we now
have a foot on three continents. Expofil has a 50-percent interest in Filasia, a yarn fair which
takes place once a year in Hong Kong.Philippe Pasquet, secretary general of the Association franse
pour la promotion des fils textiles (AFPFT), the organization that runs Expofil, said that the move
from Quai Branly to Parc des Expositions, Paris Nord, will provide an additional 30,000 square feet
of exhibit space. This new space will be equally divided among exhibitors, fashion information and
visitor comfort facilities.About 7,000 weavers, knitters and manufacturers attended the December
Expofil, where close to 200 exhibitors gave a first look at fibers and yarns for the Spring/Summer
2002 season. Lenzing introduced Lyocell LF, a low-fibrillation fiber that has all of the properties
of lyocell and can be processed like conventional cellulosic fibers. Target end-uses are knitwear,
terry cloth, lace and garment dyes.Aquafil Textile Yarns, which is part of Gruppo Bonazzi, selected
Expofil as the venue to announce a new microfiber polypropylene to the market. Called Dryarn, it is
lightweight; resists abrasion, bacteria and moths; and offers UV protection. Like conventional
polypropylene, it is hydrophobic, so it expels perspiration and stains and transports
moisture.Dryarn is available in 12 colors. Research is underway to enable the fiber to be dyed. It
is expected to sell for sportswear, intimate apparel, hosiery, knitwear and medical
end-uses. Unifi Introduces New ProductsGreensboro, N.C.-based Unifi, the worlds leading
producer of texturized polyester and nylon, and a first-time exhibitor to Expofil, launched 10 new
products that, according to Jim James, European product development manager, have been in work for
three years. This is like our coming out party, he said.One new product, called Sorbtek, is a
moisture-management performance yarn that has been adapted by Nike for socks. Lee Gordon, Unifis
senior vice president, product development, said, The power behind Sorbtek is its advanced formula
that integrates itself into the molecular structure of the yarn. It outperforms all other yarns,
natural or synthetic, in the ability to catch, move and release moisture quickly and efficiently.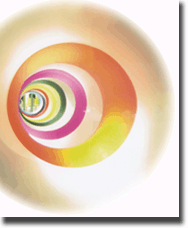 Sorbtek is available as continuous-filament polyester or nylon and in yarn counts ranging
from 70 to 150 denier. It can be used in the warp or filling in woven applications, and on
seamless, circular and warp knitting machines.Two new Unifi yarns that offer luster, brilliance and
shine are Sparkle and Novva. Sparkle is a false-twist yarn with a metallic look, and Novva is a
textured yarn with the brightness of a flat yarn.Myriad, another new yarn from Unifi, gives
striated or heather looks to fabrics. Eclypse is a thick-and-thin microfiber with the look of a
marled yarn. Donegal is a striated yarn with the touch of wool and the appearance of worsted.
Sultra is a splitable yarn that goes from 50 filaments to 450 after dyeing and imparts a peach-skin
touch. Augusta delivers the hand and drape of cotton. Sirrus is a false-twist yarn with inherent
stretch. It gives a crepe touch and thick-and-thin appearance to fabrics. Repreve is an
easy-to-process textured yarn made of post-industrial content.New at Nylstar are two nylon
variants, Meryl® Ecodye and Meryl® Skinlife. Meryl Ecodye is produced using a process that reduces
quantities of dyestuffs required and increases color saturation during the dyeing phase. The result
is less pollution, less clean-up and cost reduction ranging from 15 to 25 percent. Meryl Skinlife
is a bacteriostatic fiber that controls bacteria and keeps it at a natural level on the skin, even
during strenuous exercise. It lasts through repeated washings. New Technical Yarns From
FranceFrench spinner Paul Bonte, a division of Saint-Lieven and noted for technical yarns,
introduced new thermoplastic yarns containing Kevlar®. They can be laminated by applying heat and
pressure. Fabrics can be shaped and molded or spot-patterned. Other products of interest are
shrinkable yarns that can be used for seersuckers and plisses, semiconductive yarns,
electromagnetic yarns, antibacterial and antistatic yarns, and cut-and-slash protective yarns.With
the current trend to lightweight fabrics and open patternwork, Paul Bontes Chimere dissolvable yarn
is increasingly popular. Development fabrics shown are light, sheer, slubbed and nubbed.
Saint-Lievin also showed stretch yarns; plisses; light, ultra-sheer nylon crepe yarns; glittery
ribbon yarns; tie-dyes; raffia; and soft, dry-touch yarns.Crepe yarns are also popular at Emile
Tardy. One of the best sellers is a blend of viscose/nylon/elastane. Another is a twisted yarn of
acetate/textured Corterra. There are matte and shiny crepe yarns some with a dry touch, others with
a cold hand.Billion Mayor is selling new slubbed crepe yarns of 100-percent polyester and blends of
polyester/nylon. A twisted matte yarn of 44-decitex Corterra has a sensuous, silky touch. There are
trilobal polyesters, air-jet textured yarns, and dope-dyed, melange and pigtail yarns.At Chavanoz,
an increasing part of the line is selling to weavers of fabrics for the home. Fine polyester yarns
are going into organza for curtains; heavier, slubbed linen-type yarns are going into drapery and
upholstery fabrics. Wrinkle-Free LinenAnother French company, Safilin, has been spinning linen
since 1870. Today, it is producing 600 tons of yarn a month, of which 50 percent is exported.
High-twist yarns are selling to Northern Ireland. New are dry-spun yarns blended with Lycra® and
yarns that have been treated to be wrinkle-free.Italian spinner Linificio e Canapificio Nazionale
is noted for linen yarns. The company sells boiled natural yarns to apparel markets and bleached
yarns for bed, home and shirting fabrics. There are twisted yarns blending linen with nylon, iron
or copper; intimate blends of linen with silk or wool; covered yarns with top-dyed linen over
cotton; and dyed yarns to give a dvffect. A new high-twist crepe yarn is crease-resistant and is
selling to the shirting trade.Of the 68 Italian exhibitors at Expofil, Zegna Baruffa is one of the
most popular. Noted for stock color service, high performance and on-time deliveries, the company
sold 11.5 million kilograms of yarn to the United States last year, with a turnover of $200
million.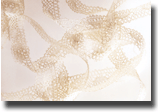 Among the top sellers at Zegna Baruffa are waterproof cotton yarns with a cashmere touch;
antibacterial yarns containing Amicor; UV-protective yarns; and yarns with fragrance, aloe and
seaweed for anti-stress. Dry-touch yarns include a twisted yarn of cotton/cupro; another is a
linen/cotton blend. There are chunky tweed yarns and lightweight dressy yarns. The B Exclusive line
at Zegna Baruffa is showing silk for spring in stretch, ultra-sheer, twisted and crepe yarns. There
is a new spinning technique that gives cotton an extra-fine, dry hand.At Marioboselli, the focus is
on lightweight yarns for casual- to formalwear. Dressy clothing is coming back, said Carlo Boselli.
We are selling new crepe yarns to the apparel trade for formal- and streetwear. One yarn he pointed
out is a blend of triacetate/polyester that is machine-washable and wrinkle-resistant.Marioboselli
is known as a spinner of fine silk yarns. With the fluctuating price and availability of silk, the
company has added synthetics and blends. With China becoming more industrialized, workers can make
more money in factories, so silk production is lower. Today we are getting some silk from Brazil.
It is top-quality, but more expensive, said Boselli.Viscose is another fiber Boselli cited as being
in fashion, but in short supply because of the closing of several major facilities. As a result,
Marioboselli has developed yarns of bright monofilaments and semi-dull trilobal polyester.At
Jaeggli, there are continuous-filament textured, twisted and stretch yarns spun in blends of
acetate, nylon, cupro, Bemberg, viscose, polyester, silk, microfibers, elastane and metallic
fibers. There are melange yarns, crepes and ultra-fine yarns of 50 to 160 denier. They sell to
weavers and knitters for a variety of apparel and home furnishings end-uses. A Return To
EleganceReiner Elend, sales export manager for German spinner Schoeller, agreed that there is a
return to dressing up. He showed a lot of dry, paper-touch fine yarns in blends of viscose/nylon
and acrylic/cotton. An eyelash yarn of cotton/nylon and a glitter yarn of acetate/nylon are some of
the novelties. Both have a dry hand. For casualwear, there is a new light, high-bulk yarn of
cotton/acrylic/copper.There were 31 exhibitors from Spain at Expofil. Josep Campanera of Consejo
Intertextile Espa#44; who coordinates textile promotion in Spain, said that exports are on the
upswing. He expects a large number of spinners to sign up for Yarn Fair International in New York
City.The yarns at Edgarfil fall into three groups: viscose, which is available as bright and matte;
linen; and fancy yarns. Most of the fancy yarns are blends. There are flammarns of cotton/nylon,
glitter of acrylic/nylon with a dry hand or of acrylic/polyester with a soft touch, and
fine-twisted yarns of acrylic/nylon.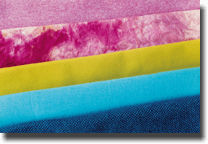 Himiesa showed yarns that are printed, covered, twisted, slubbed and flamm. There is a
polyester/nylon stretch yarn that has a paper touch and a shiny, two-tone chain yarn of
cotton/acrylic/nylon.Catfils line has a lot of stretch, linen and fancy yarns. There are new tape
yarns in linen/nylon. Some are natural, others space-dyed.The Portuguese firm TMG Yarns is part of
Textile Manuel Goncalves. They are equipped with spinning, twisting and dyeing facilities. The
product range includes cotton, linen, polyester, Tencel®, A-100 and specialty performance fibers.
Optic white Amicor/cotton blends are going into a variety of products including hospital sheets and
athletic socks. New this season are flame-retardant yarns spun with Kanecaron®, a fiber from
Kanebo. These yarns are selling to contract markets.At Somelos, there is a lot of long-staple
cotton from the United States. Some of it is blended with wool or modal. There are single and plied
yarns in medium to fine counts. Linen, silk and viscose are other fibers here. Somelos sells yarns
to circular and flat knitters for apparel and to weavers for apparel and home fashions.The next
Expofil will take place June 5-7 at Parc des Expositions, Paris Nord, with focus on the Fall/Winter
2002/03 season. Dates for Yarn Fair International in New York City are August 21-23.

April 2001