Irish tweeds, Scottish tartans, denim, lace and satin are back in fashion with a vastly different
touch and performance. Many of the 796 fabric companies showing lines for Autumn/Winter 2001/02 at
Premiere Vision report strong interest in classics with a luxurious, natural touch; plus easy wear
and protective qualities achieved with the addition of stretch yarns, microfibers and other
synthetics; or through new finishing techniques.Although overall attendance at Premiere Vision was
slightly lower than a year ago (40,066 versus 41,043 in Fall 1999), there were more Asian visitors,
a sign that the economy is improving in that part of the world. There was concern about the
increase in the cost of raw materials, but weavers selling luxury goods reported little resistance
to higher prices. DuPont Diversifies Into NonwovensDuPont showed the first line of fabrics
from its new division, Inova. Formed as a joint venture with DuPont Lycra®, Inova was, according to
Brian Gallagher, marketing and sales director, developed to engineer nonwoven fabrics to make them
fashionable (See K/A News ATI, this issue).The innovative expertise of DuPont Inova delivers
featherweight, versatile and multi-functional fabrics to satisfy the increasing demand for more
lifestyle-appropriate apparel, said Gallagher. DuPont will distribute these fabrics through its
global distribution network.There is interest in Inova from firms as diverse as Chanel, Levis and
Adidas. Prices range from $1.55 per yard to $20 per yard. New Strategies At WoolmarkAt
Woolmark, one new project involves certification of woven fabrics that are machine washable. A
Portugese company, Penteadora, has been licensed to sell woven wool fabrics that have been
partially treated for washability. Woolmark will work with garment manufacturers the rest of the
way and license finished apparel that meets stringent washability standards. Trousers tailored in
Woolmark-licensed fabrics and washed up to 20 times retain their crease and soft hand.Another new
venture for Woolmark is an alliance with Cargill Dow, Minnetonka, Minn., producers of NatureWorks
PLA, which is produced from corn, a renewable resource. Fabrics in blends of wool/NatureWorks can
be dyed and heat-set at low temperatures and have a more natural hand than fabrics made with
conventional polyester, said John McGowan, president, The Woolmark Company,
Americas. Soft-Hand TweedsIn the woolen sector, Scottish weaver Johnstons of Elgin showed a
chevron-patterned tweed, 580-grams-per-meter coating of 100-percent cashmere. It is selling at
about $150 per meter, with little price resistance. According to John Gillespie, raw materials
costs are up nearly 100 percent. The company has raised prices about 10 percent.Popular at
Johnstons of Elgin are color-flecked Donegals in deep berry and wood tones; rustic, raised stripes
coordinated with mini textures; miniature tartans in unconventional, smoky colors; double-faced
open weaves; and the conventional twills and basket weaves. All are woven of 100-percent cashmere
and available in weights ranging from 210 grams per meter to coatings weighing more than 500 grams
per meter.The company also sells fabrics containing camel hair, alpaca and other precious fibers.
Some of its classic weaves have added touches of sparkle.Tweed is back and color is selling, said
Derick Murray, managing director of The KM Harris Tweed Group. Classic checks in bright colors and
lighter weights are in demand. Another Harris tweed weaver, Donald Macleod, has added 15-percent
cashmere to Harris tweed to give it an extra-soft hand. We can add more cashmere, if our customers
want an even softer hand, said Macleod.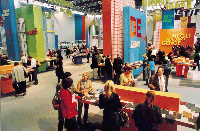 Donald Macleod is weaving Harris tweeds in natural, undyed wool. He is planning a line dyed
with natural colors. We can do almost any weight or pattern, he said.Another luxury-class Scottish
weaver, ReidandTaylor, showed superfine New Zealand Merino of 14.5 and 16.5 microns and lightweight
lambs wool. Fabrics are woven of either woolen or worsted fiber-dyed yarns, and heat-set or
paper-pressed. Double-faced coatings in 100-percent cashmere or cashmere/wool blends reverse from
tweed to twill. A group of double-faced protective fabrics are backed with Coolmax®. ReidandTaylors
Managing Director, Raymond Eagleson, said that menswear and womenswear firms are sampling many of
the same fabrics. Teflon-Coated TweedRobert Noble is selling traditional Scottish looks to the
American market. Gill Cable, designer, said buyers picked up on heathered, not too bright berry and
jewel tones. Red shades are especially popular. Soft-hand Donegals, checks and estate tweeds are
also of interest. There will be a lot of coordination next fall, she said. Designers are carefully
selecting patterns and textures that work together.Flannel-finished tweeds are popular for menswear
at Robert Noble. Teflon-coated, adhesive-backed estate tweeds are selling to luggage manufacturers
and to the airline industry.Irish wool weaver John Hanly showed misted and color-flecked Donegal
tweeds woven with Shetland and lambs wool yarns to Jones of New York, Ellen Tracy, Lands End and
Nordstrom. The American market is buying color, said Brian Hanly, director. We have a lot of orders
for heathers. Soft, milled finishes are popular, as there is less pilling.John Hanly stocks woolen
and worsted tartans, so delivery for sample yardage is prompt. Hanly said coordinating patterns are
in demand. The most frequently ordered tweeds are in the 350- to 400-grams-per-meter range.An
ultra-soft stretch fabric containing wool, cashmere, angora and Lycra was pointed out by Thomas
Brochier of the French firm de Cathelo. It is selling very well to the American market, he said.
The price is $17 per meter. Classic checks; fluffy, soft, tweed coatings; brushed boucles; and a
group of textures Brochier calls modern rustics are among the best sampling fabrics.The wool coat
business is stronger, partly because of the strong dollar, said Brochier. And we are getting repeat
business on plain and plaid coordinates, which have exceptional drape. They are 260 grams per meter
and sell for $13 per meter.French novelty wool weaver de Vaudricourt showed double-faced, jacquard
reversing from wool to silk. Other double-faced fabrics containing mohair reverse pattern or
texture, or are striped or checked. We are selling a lot of mohair this season, said Axel
Delacroix, designer.There was also wool/Lycra stretch at de Vaudricourt, as well as a group of
double weaves that reverse from linen to wool. They have irregular cut-out designs woven using
Chimere, a water-dissolvable yarn.French weaver Isoule uses mohair in boucles and fancy patterns.
According to Gerard Alzieu, president, large patterns are selling best. Ethnic-patterned felted and
woven double cloths some having a pilled surface were also shown, as well as color-flecked tweeds,
brushed flannels and animal patterns. Linen With WoolJohn England of Northern Ireland showed
textured yarn dyes in a blend of 52-percent linen/48-percent wool with a soft, washed look and a
warm touch. Small dobby patterns are especially popular. England is also selling a glazed linen
bonded to Coolmax.Linen gives strength to wool, and wool gives drape to linen, said Stephen Brown,
commercial director, Moygashel, Ireland. Tweeds and heather flannels have what Brown described as a
fresh handle. Wool/nylon blends have been selling well to the American market. According to Brown,
they have an Italian look at a lower price.Along with classic weaves and patterns, a lot of
technical innovation in wool and blends was seen at Milior of Italy, including stretch checks
splattered with golden cobwebs and fake leather reversing to flannel. There are stretch tweeds,
corduroys and moleskins, jacquard-patterned denims and a group called Cybersilk, which is woven
using Ispira® Tactel nylon. Techno InnovatorsSchoeller of Switzerland, an innovator in
protective outerwear fabrics, reported high interest in its Keprotec® collection of fabrics
containing Kevlar®, DuPonts aramid fiber developed for bullet-proof vests. Dockers and Levis are
using a soft, supple fabric in a blend of metal, nylon, wool and Kevlar. Flannels and taffetas
blend Kevlar with silk and microfibers; along with wool, metal and nylon. Fabrics containing Kevlar
are tear-, abrasion-, friction- and heat-resistant.Metal at Schoeller is more discrete than in the
past. Fabrics have a softer hand and more drape, including a stretch jeanswear fabric in a blend of
24-percent metal/31-percent cotton/42-percent nylon/3-percent elastane. Another innovation uses an
ultrasound technique for quilting, by which three layers are permanently joined and will not pull
apart.A group of reflective fabrics, Schoellers butterfly effect, changes color with light and
movement. New reflective fabrics have a mirror effect in daylight and a fluorescent/phosphorescent
look in the dark.Welbeck showed light-reflective knitted fabrics in Tactel®/polyester/ Lycra blends
that shimmer with the slightest movement for the leisurewear and lingerie markets. A new,
two-way-stretch laminated satin can be molded, eliminating the need for foam padding in foundation
garments.Based on the success of its line of aroma-release knits, which are in La Perlas line in
four fragrances, Welbeck has added fabrics containing aloe vera. Moisturizer is released only on
contact with the skin and lasts through 20 washes. Fabrics are knitted in blends of Tactel micro,
Tactel Diablo or micropolyester with 11- to 13-percent Lycra. Glitter KnitsAt Mabu Jersey,
ultra-sheer knits dazzle with golden threads and colored cellophane yarns. There are tree-bark
textures, animal- and reptile-skin prints, eyelash effects, fishnets, pleated borders and crinkled
sheers. Many contain stretch yarns, and all have a soft touch. These fabrics are selling in
coordinating weights and patterns.Wool/cashmere and wool/silk knits in novelty jacquard designs,
wool/nylon/alpaca brushed boucles and meshes and doubled-faced jacquards of wool/viscose are also
popular at Mabu. There are leather looks knitted in cotton and coated with polyurethane, and tweeds
and quilted knits in wool/acrylic blends.French knitter Billon Freres is also into glitz, showing
gold pointelle-stitched knits, irregularly patterned jacquard sheers, golden ribs, stripes and zig
zags, metal circles printed on stretch dress weights and golden flecked fabrics many containing
Lycra.Billon Freres also showed mohair blended with acrylic or nylon and knitted into open crochet
looks, sweater stitches, meshes and stripes. There are jacquards with Art Deco designs or
engineered patterns, and soft, supple, lightly lacquered polyester knits.The Spanish firm Sedera is
selling knits and wovens in coordinating graphic patterns. Black and white classic checks and boxy
patterns are popular in dress and jacket weights. A lot of stretch is shown. They are fabrics with
brushed surfaces; knitted or woven using blends of viscose/acetate, viscose/polyester or
viscose/wool. Novelty PrintsAt Milag of France, quartz-finished, printed stretch denim
resembles reptile skin. The clear, splattered quartz finish allows the fabric to drape. Fabrics are
woven with both warp and weft stretch. The range goes from shirtings and satins to pannes and
chenilles. A printed neoprene thin enough to be shipped on rolls is selling to accessory
manufacturers.At Italian printer Segalini, Lurex® jersey has been printed with large, irregular box
patterns. The companys Helitex line includes novelty stripes and geometric designs printed on silk
satin. Jacquards, woven in gold, have the look of moire; other jacquards with squared-off patterns
are woven in blends of viscose/mohair/wool.At Miroglio of Italy, Frank Iovino, who heads up the
companys U.S. operation, noted that prints are selling well on blouse-weight fabrics, including
satin, georgette, crepe de chine, pebbled crepe and jersey. Many are sueded, stretchy and woven
with microfibers. Anything with gold is selling, he said.The most popular print designs at Miroglio
are retro looks; small, abstract designs; splattered florals; optic herringbone patterns; diagonal
stripes; dot/stripe combinations; and animal or reptile skins.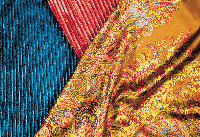 Ratti Fashion, Italy, also has a line of blouse prints. Most are printed on silk twill, crepe
de chine or light dupioni. The colors are deep, the designs simple; some resemble woven fabrics,
while others have pebble textures or abstract patterns. Sportier looks include printed, brushed
wools; animal-skin prints on textured stretch bottom weights; fake fur patterns on pile fabrics;
and glitzy, gold, woven jeanswear fabrics.For eveningwear, Ratti showed chiffon, georgette, satin
and velveteen printed with oriental floral designs, ostrich skins, golden abstracts, kaleidoscope
designs, shimmering iridescents and newly designed paisleys. Mohair At The Top EndTop-quality
producers of haute-couture fabrics showed a lot of mohair. At France-based Solstiss, it turned up
in lace sometimes trimmed with mink, fox or rabbit. Other laces are hand-beaded with sequins or
feathers and selling for more than $400 per yard. Some of the most popular are lustrous and
shimmering, with a liquid look.The French firm Paul Dulac showed mohair/nylon net embroidered with
feathers, metallic yarns or silk. Patterns are leafy, abstract or flowery. Shimmering sandwich
cloths have three layers of sheer fabrics in different colors, some containing metal in the middle.
Pattern effects are achieved using Chimere.At Weisbrod-Zurrer, Switzerland, a fabric woven using a
blend of 63-percent mohair/30-percent silk/7-percent nylon is fluffy, bulky, ultra-lightweight and
soft. Mohair is also used in boucles. A group of wool fabrics has wide, puckered effects. They are
woven using different types of wool that shrink differently to provide this look. Some are
ombrhaded, while others have surface interest.Weisbrod-Zurrer also showed crepe satins in wool/silk
blends, double weaves with moire patterns reversing to boxy checks, sparkling sheers, sandwich
cloths with burn-out mid-sections for novelty effects, brocades with optical patterns, crushed
taffeta, shot chiffon, iridescent silks and lots of metallic. Revival For Hand-Cut VelvetSilk
specialist Bucol of France has developed new techniques for satin and revived some old ones. Known
for its yarn-dyed and warp-printed duchesse satin, the company is now giving it water-repellent
finishes, backing it with felt for outerwear, and finishing it to feel like leather or rubber.The
long-defunct art of producing velour coupe au sabre, or hand-cut velvet, has recently been revived
by Bucol. Velour coupe au sabre can only be produced by hand from duchesse satin woven using a
double warp.When Bucol stopped making cut velvet in the 1960s, the art nearly died out. When the
company decided to revive it in 1993, it found only one very old woman in all of France who knew
the technique and could train younger women in the art. Today, Bucol has found a niche market for
this product. In just a few years, the company has trained five workers who are trying to keep up
with the demand at around $600 per meter.Daniel Faure, chairman, Premiere Vision, announced dates
for the Spring/ Summer 2002 shows. European Preview will take place in New York City January 17-18,
2001; Premiere Vision in Paris, March 1-4, 2001.

December 2000