Premiere Vision Offers Peek At Fabric Futures
Tradition and technology reign supreme at European textile show. A majority of the
876 textile exhibitors who show at Premiere Vision are medium-sized companies, yet their combined
annual total turnover is 16.4 billion euros. Exports make up 54.5 percent (8.9 billion euros), with
nearly 76 percent of that coming from neighboring European countries. Close to 12 percent is
derived from the Americas and more than nine percent from Asia.A recent survey of exhibitors shows
a decline in sales for the first half of 1999 of about 4.5 percent. With the Millennium Round of
negotiations, which took place in Seattle a few weeks after Premiere Vision, a debate was staged at
the show where textile leaders and European members of parliament discussed issues of
globalization, fair trade, de-localization and investment in the European textile industry. A
Textile OpinionOn the textile side, Jean de Jaegher, president of Euratex and the Italian group
Marzotto, said: We have specific advantages in terms of creativity, quality, flexibility,
employment and a market for specialties. If only the politicians would give us the means to survive
and develop these advantages.Other textile panelists were Eduardo Miroglio, chairman of Miroglio;
Wilhelm Otten, chairman of Josef Otten; James Sugden, managing director of Johnstons of Elgin;
Eduardo Malone, chairman of the Chargeurs group; and Nico Leendertz, managing director of
Girmes.Concerns cited by this group include balanced reciprocity. How can we survive if Third World
countries have permission to dump cheap fabrics in our home markets asked Otten. Sweatshop labor,
poor quality and politicians lack of response to events such as the Banana War were other issues
cited.In defending their position, members of the European Parliament said that it is difficult to
take measures that will be upheld by the majority of member states when there are many different
special interests. Although nothing was resolved, the debate did focus attention on problems facing
European textiles in a global environment. Divisions and ConsolidationsAt a separate press
conference, Marzotto announced it has divided its textile fabrics division into three separate
lines: Fabric by Marzotto, a collection of wool for menswear; Ws Marzotto for womenswear; and
Fusion Line for contemporary/sportswear.The Fusion line will produce innovative wool/polyester
blends, primarily coming from Marzottos Nova Mosilana plant in Czechoslovakia. According to the
company, production of 3 million linear meters is anticipated.In a reverse move, Como silk weaver
Ratti announced consolidation of three divisions: Donna Ratti, Ratti 7 and DEste-Brochier into one
unit Ratti Fashion. According to Donatella Ratti, printed fabrics began an upturn with the Summer
2000 collection.For Fall 2000, Ratti Fashion is printing on a variety of fabrics including
cashmere, taffeta, satin, velour, felted wool, jersey, crepe and chiffon. There are ethnic motifs
coupled with traditional designs, sophisticated flowers, macro and micro geometrics combined,
animal skin designs and paisley.Novelties at Ratti are sandwich cloth sheers with three fabrics
combined for a shimmering effect. Laser cuts turn up on leather-look fabrics and polyurethane
coated cotton/viscose blends. There also are double-faced silks which are softly brushed on one
side and satin surfaced on the other. New Ways With WoolTraditionally at the Fall/Winter show,
the wool sector has the largest number of exhibitors. There was a lot of innovation here, along
with concern about price and high tariffs.At Woolmark, easy care is increasingly prominent. A
fabric produced by Lanificio Cabal is going into machine washable suits for Emporio Armani.
Sportwool and Wool plus Lycra® are two other areas gaining market share.Other new developments at
Woolmark are wool denim in an intimate blend of 60-percent wool/40-percent cotton, steel/wool in
fabrics that mold, crush and wrinkle, and air-wool. The air-wool fabrics are woven with a yarn of
wool/PVA (polyvinyl alcohol). The PVA washes out in finishing, resulting in a ultra light fabric of
100-percent wool. The fabric on display was woven by the Italian mill Tiberghien.Wool/Lycra with a
polyurethane coating and bonded fleece fabrics of wool/polyester are other new developments at
Woolmark. These are being produced by Limonta (Strachman Associates). American designer Ron
Chereskin sampled several for his new outerwear line, which he describes as sportswear driven with
a softer approach.Limonta has also added a wool line. Most of the fabrics are lightweight blends of
wool/nylon with a breathable coated surface. Some are brushed and ultra soft, others have a rubber
touch. British MP Visits Show FloorIn the British wool sector, The Harris Tweed Group got an
extra boost with a visit by Brian Wilson, MP, Minister of State at the Scotland Office. A major
concern American buyers expressed to Wilson is the exceptionally high duty on wool fabrics,
especially when fabrics such as Harris tweeds can not be produced in the United States.Wilson noted
that Harris Tweed has a tradition that exists no where else in the world. The cloth is still hand
woven but today great efforts have been made to ensure that fabrics produced in the Hebrides can
meet the needs of contemporary designers, while maintaining the essential characteristics of Harris
Tweed.On the last day of the show, Derick Murray of the KM Harris Tweed Group (St. Andrews)
reported interest among American buyers in plains and large checks with a lot of color. Now that
Harris Tweed is available in 150 cms widths, it has a softer hand and is lighter in weight.Hunters
of Brora (St. Andrews) also reported checks selling well. Heather shades with touches of flat
boucle yarns in vibrant pink and scarlet, and rustic chunky herringbone weaves were shown. Menswear
designers were sampling ultra-light New Zealand merino wools, while womenswear customers opted for
dark, richly colored checks in lambs wool. Lightweight fabrics of 320 gms and heavyweights up to
540 gms were sampling well.At Robert Noble, Gill Cable said: Were busier than usual. I think its
because we have color. The Italians dont.At the top of the line there was interest in red shades.
Subtle checks in wool/cashmere blends, small neat patterns in lambs wool and small nubby boucles
were pointed out. American menswear designers sampled checks in wool/silk/linen blends. Double
cloths reversing from pattern to plain sampled well for outerwear and unlined jackets.At Calzeat
(Chantal) there was a move to muted colors and checks in the McArthur worsted line. Soft misted
wool spun checks at Dickson and raised patterns with touches of mohair at Claridge were popular.
Pressed velvet finishes and ripple effect mohairs in the Calzeat jacquard line were of special
interest.Weathered shades of green, olive and slate with old gold and pink were of note at
Lochcarron (RuLytex). An indigo-dyed denim tartan of 100-percent cotton, mohair tartans, blazer
stripes and anything with surface interest were featured. Cashmere With A Rustic LookJohn
Gillespie of Johnstons of Elgin (Windsor Textiles) reported excellent reactions to the fall line,
especially from Italian customers, who now account for 50 percent of their business. One of their
best selling fabrics is a Donegal tweed with a deceivingly rustic look and ultra-soft hand. New
cords and cavalry twills were selling, and there was less interest in traditional fabrics and
patterns.French weaver de Cathalo, part of the Chargeurs group, reported precious fiber blends
selling well. A shaggy, hairy-surfaced coating of baby alpaca/mohair/wool was one fabric of note.
Another contained beaver fur.The animals are farm raised and shaved, said Thomas Brochier, North
American market manager. Color reversing, double-faced fabrics, subtle raised surfaces and boucles
were other fabrics Brochier showed.Wool coats are coming back, Brochier added. Most of what he
presented contained Lycra and are scotchguarded. Generally the coating fabrics are lightweight and
have texture. There are velours, hairy fabrics and loops in blends of wool/cashmere/angora or
wool/kid mohair/nylon.Axel Delacroix of de Vaudricourt (Chantal) also mentioned wool coating
fabric. He showed tonal boucles and jacquards woven in Cashwool, a merino yarn from Zegna Baruffa.
There is a lot of novelty and innovation here. There are double-faced window pane checks in
wool/copper blends, boiled wools, wool/Lycra puckers, shaggy loops in patterns and wool/nylon
checks which are burned out to form a pattern.Rough and rustic stripes, zig-zag patterns and
waffles woven with thick and thin yarns have the look of Peruvian ponchos at Alba la Source
(ColemanandMason).Donegals and boucles with a spongy hand are woven with Shetland or lambs wool
yarns, some have angora or silk to give a soft or dry hand to the fabric. Rich shades of khaki and
red were featured.At Isoule (Barn Hill), washable shirtings in wool/cotton are napped for extra
softness. Stretch wools come in a variety of weights and coordinating patterns. The Isotex division
has puckered and embossed surfaces, lightweight bulky double cloths, heathers and tweeds.The
Spanish firm Dimtex (Rashi) has a wide range of classics and novelties for menswear. Worsted wool
suitings of 290/310 grams are classic favorites. There is ultra-light flannel of wool/cashmere in
plain and mini pattern designs. A line described as going from the country to the city includes
wool/Lycra bi-stretch, corded crepes and metallic stripes. There are washable wool blend jacket and
trouser weight fabrics here as well.Casual, rustic and sporty wools and blends at Dobert (Chantal)
include spongy terry and boucle, velours, meltons and washed boiled wools. There are double cloths,
some with foam bonding or fiber fill. Pastels and light beiges were popular colors.At Milior
(Gordon Textiles), an Italian firm in the wool sector, there is a lot of new technological
development. Lycra turns up in a variety of weights and textures. There are double cloths which
reverse from a hard to soft or felted to wrinkled surface. One new treatment, called Newskin, is an
ultra-light polyurethane adhesive with a rubber touch. It is semi-transparent and applied to
fabrics. Another is a thermostatic yarn developed by DuPont which helps maintain body
temperature.Milior has used a lot of mohair in light, open airy weaves. It is frequently blended
with viscose and nylon for subtle shine. There are also breathable bonded fabrics that resemble
suede and anti-stress fabrics that contain copper. Function And StyleIn the sportswear sector,
Schoeller continues to be a leader in technological advances. For Fall/Winter 2000/01 they
demonstrated climate control ComforTemp® products, introduced a year ago and developed for
astronauts in outer space. These fabrics are making the transition from sport to leisure, blending
functionality with style. They are breathable, moisture regulating and can be washed or dry
cleaned.Stretch has been reinvented at Schoeller. There is four-way stretch denim,
nylon/acrylic/Lycra stretch double-weave fleece and transparent stretch fabrics in a variety of
looks. Metallics continue, with new fabrics and blends. Some have a lot of sheen, all can be
crumpled, smoothed and molded. Metal is blended with wool, linen or synthetic fibers.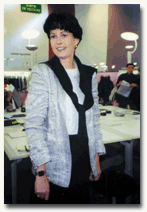 Christine Jenny of Schoeller models a jacket made with the company's new fabric that contains
metal. At Griffine (Gordon Textiles), fake leathers and suedes are lightweight, breathable and
going into skirts and trousers. Polyurethane-coated nubuck types are available in weights of 160
gms. They are soft, supple and easy care. There are coated organic non-woven fabrics with a paper
touch, lightweight textured effects, soft noisy taffetas and a double-faced fabric called R2D2. It
reverses color and sheen.
Griffine showed many different styles of fabrics including fake leather and suedes and coated
organic nonwovens with a paper touch. At AGB (Fitsimmons Fabrics) there are noisy,
Teflon®-coated paper-touch cottons, soft, slick shirt and dress weights in blends of
nylon/cotton/Modal®/wool, Tencel®/polyester/Lycra ribbed fabrics, and double-faced fabrics
reversing from slick to brushed surfaces.Portuguese weaver Riopel (Lyn Alessi) is showing a lot of
double cloths in polyester/viscose blends. Some also contain Lycra and stretch in all directions.
These reverse color and weave. The hand is soft and wool-like. There are Teflon finishes and almost
all are easy care. Textile AromatherapyNew developments at Welbeck are selling for activewear,
liesurewear and intimate apparel. The scent of lavender, rose, citrus or vanilla is encapsulated
into micropolyester/Lycra jersey. The aroma is released only by friction against the skin and lasts
through 40 washings. In development stages is a fabric that will contain moisturizer.Another
micropolyester/Lycra development at Welbeck is low temperature dyed fabrics that mold, pleat and
retain their shape for the life of the fabric. There are moisture-wicking Tactel/cotton/Lycra
fabrics for athleticwear and double-faced gossamer sheer nylon/polyester/Lycra fabrics that shimmer
with subtle luster.Marioboselli (HorneandWeiss) has developed three distinct lines. At the high end
are yarn-dyed wool knits and wool blended with precious fibers. There is a lot of cashmere, angora
and silk in this range. Second are piece-dyed wools and blends with polyester or nylon.The Active
line contains fabrics with a sporty look. There are sandwich cloths with a glittery metallic fiber
in the middle, heat reflecting stretch fabrics coated with polyurethane or aluminum and laser
cut-outs on a variety of weights. New In KnitsGruppo Dondi now offers four knit collections.
The newest is called TechnoandLogico. Fabrics combine natural with man-made fibers aluminum,
polypropylene and polyester that are blended with wool or cotton. Rubber-coated surfaces, puffed or
wadded looks and paper-touch fabrics offer resistance to moisture, wind and cold. There are
waterproof fleeces and heathered tweeds in this line.Other Dondi lines feature extra-fine wools
blended with angora, alpaca, cashmere, mohair or silk. There are bulky, soft boucles, alpaca
heathers, silk/cashmere reversibles, hairy jacquards, fabrics with metallic glitter and airy open
stitched fabrics.New at Mabu Jersey (Nuvotex) are ultra-lightweight sandwich cloths with
wool/angora stripes between layers of sheer nylon. There is a lot of Lycra and metallic glitter in
this line. Fabrics for evening are opulent. Nylon/Lycra in textured cobweb patterns, undulating
pleats on sheers and shiny cellophane hairs on open-stitch knits are some of the looks.French
knitter Billon Freres (Gera Gallico) showed engineered jacquards with open patterns, wool-blend
jacquards in crochet-like patterns with fringe and a spongy hand, and light, airy lacy looks in
blends of mohair/nylon/acrylic. There are pleated nylon sheers in this line. The same fabrics, with
the addition of spandex, are crinkled and textured. Printed Fabrics Pick UpInterest in printed
fabrics has picked up. Ed Harding of Barn Hill, agent for Liberty, said this line is selling
exceptionally well. Base fabrics here are cotton lawn and voile, wool challis and viscose crepe.
Clean, finely engraved mini flowers, Art Deco graphics and paisleys are among the most popular
designs.Paisleys are also popular at Miroglio. Here they turn up in large panel and boarder
placements. Animal prints on polyester satin are another acclaimed motif. Zebras are the animal of
choice.Long-stem roses and mixed florals turn up on a variety of fabrics at Miroglio including
brushed acrylic knits. Iridescent flocking printed on chiffon, double cloths with spots of glitter,
and diffused effects with a transparent fabric layered over a print are other new techniques.Print
base cloths at Josef Otten (Filtex) include lightweight stretch jersey, micro Modal interlock,
viscose jersey, plush velvet and nylon/spandex sheers. Art Tone prints are updated. The patterns
are graphic, minimal and modern.Other designs at Otten are nature abstracts, animal prints,
splatters and splotches. Many of the same motifs are duplicated in jacquards.There are a lot of new
fabrics at Otten. Metal is used in sheer fabrics which can be crushed and molded. Double-faced
fabrics change texture and surface. The knit line goes from thick, rustic heathers and fleeces to
soft sweater knits. Wool is blended with a small percentage of nylon, spandex or lurex. There are
boucles with mohair, and sandwich cloths in polyester/nylon with lurex in the middle.The Segalini
(Gordon) line has changed. Prints are now an adjunct to novelty wovens. There are quilted
jacquards, hairy boucles, crushed and wrinkled surfaces, double cloths and laser-cut taffetas.Wool
is blended with mohair, alpaca, acrylic or nylon. Prints are indistinct on luminous polyester
organza or diffused printed on wool jersey and sandwiched between layers of sheer nylon. Silks
Fit For A QueenIn the silk sector, first time exhibitor Paul Dulac (Fitzeimmons Fabrics) continues
to design hand-painted embroidered silks. Some of these have turned up in fashions worn by Queen
Elizabeth II. Quilted fabrics with printed polyester fiber fill under a layer of silk have a
clouded misty look. There are cobweb effects, double cloths and prints and embroideries on
mohair/nylon blends.The Rainbow division of Ratti showed silk mousseline and wool gauze which are
glue printed together. The same technique is used to combine iridescent silk with wool jersey or
felt. Prints are dimensional on mohair, splotchy or with the look of animal prints on felted wool,
or bright with a gypsy influence on silk.Muted book binder prints and soft paisleys at Dutel
(Fitsimmons) are done on polyester chiffon and wool flannel. New jacquards are crushed or cut to
show eyelash fringe.Jacquards at Sedera (Nuvotex) are metallic, lustered, slubbed or crushed. There
are large paisley panels, animal prints and small flowers. Double-sided cloths, moire effects and
chenilles with velvet ribs are other new developments in this line.European textile trend
consultant Angelo Uslenghi, in New York City for the ETS show two weeks after Premiere Vision,
surveyed exhibitors and reported best sellers. Double-faced fabrics, hairy and wooly surfaces,
mohair and cashmere, lightweight bulky rustic textures, blurred prints and tweeds are all on his
list.

December 1999