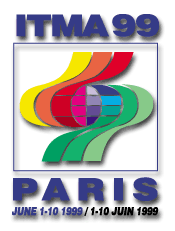 The knitting company in search of new offerings at ITMA was not disappointed since almost
every knitting machine vendor provided practical innovations to advance the capability of producing
knit fabric or garments.The overall theme of ITMA was one of increased flexibility, more
multi-functional capability, effective use of computerization and electronics and the early
approaches towards automated changeovers. However, at least two completely new knitting systems
were introduced, and these offer exciting directions for the future. Circular KnittingMonarch
Knitting Machine Corp. presented 12 circular weft knitting machines together with the computer
aided design system to facilitate the preparation of the fabric design. Monarch introduced a new
electronic Jacquard, four-color automatic striper with a separation facility-model V-LECNY5G.This
machine, in 18-cut, 33-inch diameter and 48 feeds, is geared to produced fine-gauge sweater fabrics
at a higher production rate than the fine-gauge flat machines according to Roger Hylton, director
of technical services.This sector of the market has been active due to the consumer demand for
lighter weight Jacquard-designed tops and sweaters according to Hylton.One model V-LECNY5G is on
trial in the United States. The separation yarn is inserted at the end of a garment length and is
subsequently removed prior to garment assembly.The idea of using a separation yarn is not new and
has been in use on sweater machines for a long time.The innovation present is the fact that the
separation facility is on an 18-cut (14 to 24 cut available) fully electronic machine equipped with
four color stripers and it operates in four positions knit, miss, tuck and support according to
Hylton.Monarch also introduced the Model V-LEC4D, a 20-cut, 30-inch diameter 48-feed machine with
electronic Jacquard capability on both the dial and cylinder. Clearly, this technology is geared to
produce fabrics with Jacquard capability on both the technical face and technical back of the
fabric.Both David Pernick and Hylton explained the significant advantages of Jacquard capability on
both dial and cylinder as almost endless range of structures and fabric developments together with
a more balanced fabrics because of the reversibility of the fabric.Monarch knitting machines now
come with electronic take-up that can be adjusted from outside and are equipped with a doffing
light to alert the knitter that the machine is awaiting roll doff, according to Hylton.The other
machines on display by Monarch have previously been available but have undergone some enhancements.
It is worth noting several of these enhancements: Model V-LEC6, the three-position electronic
Jacquard machine with RDS (Rotary Drop Cam) on the dial is now available as 60 feeds (rather than
48) to increase the productivity of Jacquard fabric production.Model VX-RDSY is a four-color
automatic striper machine designed for short runs, re-knits and quick changeovers. With this model,
Hylton explained that the striping section can be raised to make cleaning and working on the
machine easier.Preparation of the fabric designs for Monarch knitting machines is available through
the Monarch Design Systems-Knitworks.Knitworks runs on either Windows 95 or 98 according to David
Matsil, account manager for Monarch Design Systems. The current version of Knitworks can interface
with all the new machines being offered by Monarch. Elise Morton, sales executive for Monarch UK
indicated that 14 of the Windows version were already working in the United Kingdom.Knitworks
permits design creation and the subsequent conversion into the machine language for the knitting
machine model being used. Knitting InnovationsCamber International showed several innovations
in both single- and double-jersey knitting. Camber launched its new SJ E series of single
jersey knitting machines. These machines offer three-way technique with individual electronic
needle selection using specially-designed ceramic actuators.It was designed with electronic
applications that have been successfully used on the RJ 72 E series of double jersey
machines.Options within the SJ E line include cover wrapper, striper and wrapper-stripper versions,
with total uniformity for both stitch configurations and and fabric compatibility across the range.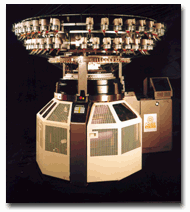 Camber's RJ 72 E3 machine offers a dramatic increase in production options by enabling the
numerous surface effects made possible by the difference in 3-stitch variations to be included in
the same garment length. Camber also offered the SJ M, a mini-Jacquard, which is available in
the same wrapping and striping options and uses the same knitting elements so that it can be
converted to the fully-electronic SJ E model if production needs increase.Camber also showed a
30-inch plush model and a striper machine (which was shown at Memmingers stand) of its
well-established, high-output Quattro 3 single-jersey machine line.For double-knit jersey, Camber
showed its RJE machine which can produce full Jacquard plush fabrics. The RJE has electronic needle
selection with three-way technique using specially designed ceramic actuators. This allows the RJE
to produce knit, tuck and miss stitch formulations while eliminating the need to change
cams.Complex designs can be loaded through a floppy disk-drive. Integrated pattern creation,
programming and storage features are also provided.The RJ M mini-Jacquard for double-jersey
knitting was also shown. It is fully compatible with the RJE and can be converted if
required.Vanguard Supreme, a division of Monarch Manufacturing, has converted all of its circular
machines to a K-frame construction. The K frame is a solid, modular frame with built-in machine
monitor, yarn-rate meter, oil-line management and lines up for roll doffing, according to Philip
Renda, manager of research and development for Vanguard Supreme.All of Vanguards machines have
Central Stitch Control and, as an option, machines can be equipped with Filter Flow, according to
Renda.Filter Flow directs air through the needle and sinker sections to prevent accumulation of
lint and debris as well as lowering machine temperature and improving needle life, especially when
knitting open-end yarns. Consistent with Vanguards strategy of developing the basic machines as a
compliment to the range offered by Monarch Knitting Machine Corp., four machine models were shown
at ITMA: model KSA3R raceway machine with 3 feeds per inch, angular sinkers and a built in Filter
Flow system; KS/1.5L terry/velour machine, designed for the production of plain terry, velour,
feeder stripes, double fleece, chenille fabric and Lycra®-plaited structures; model 2SR2/V,
two-track rib machine with 2 feeds per diametrical inch is designed to produce basic rib fabrics
for underwear, Morgan thermal and raschel thermal, and elastomeric plaited fabrics; and the 2SR2/V,
available in body sizes from 15-inch through 30-inch diameter.Renda also described the Model
4SJ4/HAC as the most productive of the four-track single-jersey machines operating continuously at
a 1500 speed factor and also available in diameters ranging from 9 inches through 36 inches.The
main application for the 4SJ4/HAC is for the production of plain jersey fabric for sportswear,
underwear, T-shirts and feeder stripes, plaited fabrics, and Lycra fabrics. Vanguard has also
introduced a broken hook detector that senses the position of the needle butts in the cam track.
Renda explained that a needle without yarn follows a different path through the cam race and
therefore permits detection.Harry Lucas Textilmaschinen showed a variety of circular knitting and
circular- and flat-warp knitting machines including: the RR2-FB-105 circular knitting machine with
Jacquard device for the production of two- or four-color curved fabric with a firm edge; the R-2s
high performance circular knitting machine to cover inlays up to 400 revolutions per minute; the
VEPA-G circular warp knitting machine for the production of bandaging material with elastic thread
feeding for up to 100 spools; the RD-2s wire knitting machine with electronic thread control,
needle head breakage control and fabric control; and the GTM knitting machine with stretching
device through heated yarn-feed air-jet device with fixation for the knitted fabric which can work
up to 100 spools.Tritex International presented six machines, five of which were new, for a variety
of knitting and related applications.The HS950 is a new electronically controlled shaping and
striping machine has been developed utilizing Tritexs TX950 machine. It incorporates computerized
stripping and shaping.Designed for the production of fabric for end-uses as varied as medical
bandages, ladies fashion tights and fruit and vegetable packing, the CW200 is a development from
the CW100 two-ring, mechanical circular warp machine.A third patterning ring has been added with
full electronic control and modifications have been made to the coupling of the positive feed and
take down mechanisms. Software has been written to allow the machine to produce a variety of
structures.The cylinder has 60 needles and of the three patterning rings two and a half are used
enabling 150 yarns to be accommodated. There is an automatic stitch length adjustment and fabric
roll-up on both models.The machine is built on a tubular steel frame similar to the CW100 model.
Each pattern ring is controlled by a servomotor which provides full electronic control over the
rings.The Warp V flat-warp knitting machine has been developed to meet the growing demand by trim
producers to make fabrics with higher production speeds on a twin bed warp knitting machine but
with the fabric having the appearance and characteristics of a flat trim.The machine has 5-12
needles per inch and operates at speeds of 400-600 courses per minute. The two eight-inch needle
beds are mounted in an inverted V formation.Each pair of needles has an individual feed. The number
of vertical strips is limited to the number of feeds due to the traditional V-bed
orientation.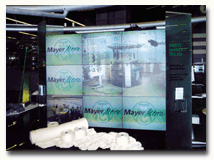 Mayer and Cie showed an entirely new range of circular knitting machines for high-speed
production of body-sized interlock/rib fabrics through to fully electronic Jacquard and robotically
operated cam changes.Jim Pitts, regional sales manager for MayerandCie, explained the significant
developments and enhanced fabric development opportunities.Model OVJA 2.4EA(3WT), displayed as a
72-feed, 30-inch, 28-cut machine operating at 22 rpm, used a switching robot to perform automatic
dial cam setting in three positions.The switching robot reduces the changeover time when changing
or re-knitting a fabric style, can reduce errors and de-skill the setup of the machine. Although
the introduction of a robot to perform cam changes is currently exhibited for dial cam changing,
this development offers an exciting potential for knitting machine operation in the future.Pitts
explained the introduction of the OVJA 1.6EE fully electronic jacquard design and structures on
both technical face and technical back. Shown as a 30-inch, 48-feed, 18-cut machine operating at 20
rpm, the OVJA 1.6EE offers almost unlimited design possibilities, according to Pitts.Mayer and Cie
also featured a series of technologies to improve fabric quality. The MV-MAXI, shown as a 28-cut,
96-feed machine and available in diameters of 42, 48 or 54 inch was equipped to demonstrate how
knitted fabric quality can be improved.The CONI-IN yarn measuring unit and CONI-TM yarn tension
unit fed information to the host computer which calculated changes required and automatically
adjusted the stitch length, quality wheel, tape tension and electronic takedown for the fabric
style being knitted during the show. These improvements in quality adjustment combined with robotic
cam setting, have substantially de-skilled the circular knitting machine and knit fabric producers
should anticipate significant improvements in their operations as we look into the next century for
circular knitting.Several machine vendors offered solutions for eliminating the center crease that
is set in the fabric, especially when knitting elastomerics. Mayer and Cie showed a new spreader to
cure the center crease that consisted of a ball inside the fabric at the take-down rollers together
with tapered covers on the take-down rollers at the edges of the fabric.Other solutions offered by
Mayer Industries and Vignoni Srl involved slitting the fabric and rolling the fabric as open
width.In the case of Vignoni, two fabric rolls were formed on the fully electronic Jacquard single
knit, 60-inch diameter VENIS-E machine according to Patrick Hobson of Speizman Industries.Terrot
Strickmaschinen GmbH also offered a solution for center creases on its Model S296 where the fabric
was slit on the machine a rolled up as open width goods.Terrot exhibited 12 machines, each
featuring a new frame according to Franz Hudi, district sales manager for Terrot.The purpose of the
new frame, according to Hudi, is to facilitate fast changes of machine gauge and to provide a
low-maintenance operation. Terrot showed a new electronic transfer machine, Model UCC-54-T, with 32
knitting feeders and 16 transfer feeds. The dial is equipped with a drop cam system.Hudi explained
that this machine provide endless opportunity for the fabric designer, such as the use of ground,
elastomeric and Jacquard yarns at one feed to produce plaited Jacquard fabrics or obtaining a
single-jersey plaited area then combined with a double jersey Jacquard effect.Terrot also
introduced the Model UCC4F548, a 48-feed, 18-cut, fully electronic Jacquard machine equipped with 4
color stripers to offer the industry additional capability in fabric design. Orizio Paolo SpA
and Marchisio SpA machines featured enhancements for the ITMA show according to Paisley Gordon,
vice president, knit fabric division of Speizman Industries. Gordon said that Marchisio has
developed a new high-speed (2200 speed factor) prototype machine for the production of single
jersey. The new model V3N-V is currently an 18-inch diameter machine operating at 120 rpm and can
knit a roll of fabric in 18 minutes, according to Gordon.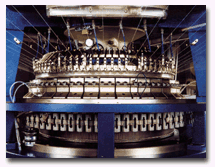 Orizio Paolo's MJD/CE circular knitting machine Sliver KnittingSliver knitting has been
a stable fabric forming system for a long time and had reached a steady market and state of
knitting science.However, ITMA showed renewed interest in sliver knitting by employing a method to
knit-in all of the fibers than normally formed the pile on the fabric.Mayer Industries Vice
President of Marketing, Earl Quay, explained the Fiberknit System as the most economical sliver
knit production ever developed with a minimal fiber loss of 8-10 percent from greige to finished
fabric.Quay cited the soft drape and hand of the fabric as exceptional and the 20-percent
yarn/80-percent fiber yields a low-cost plain or patterned fabric for lightweight knitwear.Terrot
showed their sliver knit model MKP 3 and Herbert Mueller of Terrot explained the range of products
possible. These include technical textiles, toys, garments, interlinings and new opportunities by
having the pile fiber knitted into the fabric by providing several alternating jets of air to weave
the pile fibers into the path of the knitting needles. Pai Lung Machinery Mill Co. Ltd. estimates
that in the year 2001, 50 percent of its revenues will come from non-clothing fabric knitting
machines. Consistent with this direction, Pai Lung showed a range of ten machines geared towards
upholstery, fish-net structures and technical textiles as well as clothing fabrics.Seven of the
machines were fully electronic and three were basic machines according to Robert Chen and Jeffrey
Wu of Pai Lung. Four of the Pai Lung machines represent unique electronic knitting technology,
according to Chen. These machines are for the production of automotive fabrics (model
PL-TSCJ3/FP-AP), megapile for upholstery and seats where the pile is cut on the knitting
machine(model PL-tdMPCJ-AP), supermesh (model PL-TSEOJ/C3-AP) and a double-sided computer terry
Jacquard machine (model PL-JSDPOJ-AP). Flat KnittingShima Seiki Mfg. Ltd. introduced an
entirely new range of knitting machines based on a new slide needle and called FIRST
(Full-fashioning, Intarsia, Rib, Sinker and Transfer).According to Tony McBryan, manager of the
knit division in the United States, Canada and Mexico, FIRST sets the direction for the next
generation of flat knitting technology.The key development permitting the new technology, according
to McBryan, is the slide needle. The slide needle acts as a compound needle but, in addition, the
slide element can extend beyond the hook part of the needle for transferring and receiving
loops.The major technical advantage of the slide needle, according to both McBryan and Toshio
Nakashima, general manager for Shima Seiki, is that the slide needle is in the center of the trick
which gives a balanced stitch and therefore better loop quality.It should be pointed out that most
flat machines that perform transfer have the needle to one side of the trick to accommodate the
transfer element.The new slide needle is expected to cost about the same as a flat knitting
transfer needle, according to Henry Tio, president of Groz Beckert USA Inc. Exact costs had not
been determined at the time of the ITMA show but Groz Beckert displayed the knitting action of the
slide needle.Shima Seiki also promoted the concept of multi-gauge where the slide needle offers
flexible adjustment of loop size regardless of gauge, according to Nakashima even while knitting a
single garment.Such Gaugeless capability permits special garment effects especially when a single
knit part of the garment is adjoining a part composed of double knit.Typically one machine can knit
from 7 to 12 gauge. FIRST has been introduced into the market two months prior to ITMA and two
machines are being tested at this time, according to McBryan.The FIRST machines with the four
knitting beds (two needle beds and two transfer jack beds) are geared for the product of WHOLE
GARMENTS and Shima Seiki demonstrated how complete complex garments could be formed on the FIRST
machines.Additionally, Shima Seiki introduced the SWG-X machine with four knitting beds each
housing slide needles.The SWG-X is still in a prototype stage with only one in operation for ITMA
but this technology offers additional knitting opportunity that has yet to be developed according
to McBryan. Stoll America Knitting Machinery, Inc. promoted its Knit and Wear technology
available on the CMS 330TC multi-gauge machine. This technology is suitable for knit panels,
pockets, etc, according to Richard Garret of Stoll. The multi-gage concept allows the knitter
to work in ranges of 5-10, 6-12, and 7-14 based on gauges of 5.2, 6.2 and 7.2 respectively. Garret
also pointed out the Stolls CMS 340 TC was exhibited in 20 cut and represented the only 20 cut flat
machine with full electronic capability on the market.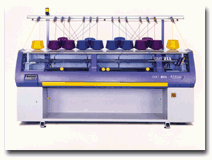 Stoll's CMT 211 uses semi-jacquard options to create a wide range of knitted
fabrics. New technology to permit different stitch settings on adjacent stitches was available
on Stolls model CMS 330TC/2, a feature important for the more complex designs, according to
Garret.In the area of trims, Stoll introduced the model CMT 211, a new machine that, according to
the company, will provide a lower cost knitting solution for trims for golf shirts, etc.Overall,
the knitting machine vendors at ITMA showed a lot of innovations that will stimulate the knit
fabric sector well into the next century.

September 1999