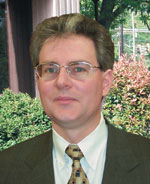 By Jim Borneman, Editor In Chief
Challenging times have a way of adding caution to the mindset of even the most optimistic business people. That being said, the evidence continues to mount that manufacturing — including the textile mill and apparel sectors —
continues to grow in the United States.
The latest Manufacturing ISM® Report On Business® stated: "The manufacturing sector grew in March. The March Manufacturing PMI® registered 64.7 percent, an increase of 3.9 percentage points from the February reading of 60.8 percent. This figure indicates expansion in the overall economy for the 10th month in a row after contraction in April."
Keep in mind that that includes a lot of COVID-intense months and any PMI reading above 50 percent represents economic growth.
The reported also noted: "Of the 18 manufacturing industries, 17 reported growth in March, in the following order: Textile Mills; Electrical Equipment, Appliances & Components; Machinery; Computer & Electronic Products; Apparel, Leather & Allied Products; Furniture & Related Products; Fabricated Metal Products; Food, Beverage & Tobacco Products; Primary Metals; Plastics & Rubber Products; Paper Products; Transportation Equipment; Chemical Products; Nonmetallic Mineral Products; Miscellaneous Manufacturing; Printing & Related Support Activities; and Petroleum & Coal Products. No industries reported contraction in March."
Yes, that is correct — Textile Mills leads the list of growing manufacturing sectors with Apparel in sixth place out of the 17 growing sectors.
As the editors worked on this issue of Textile World, it became apparent that the industry really has some bright spots. This issue's investment roundup piece, "U.S. Textile Investment Roundup," indicates no shortage of interest in buying into the future of the U.S. textile industry. And while interviewing prominent textile executives, highlighting technological developments or discussing new alternative fibers, an air of optimism was apparent.
Hearing from National Spinning's President and CEO Jim Booterbaugh about its winning strategy of diversification and yarn evolution from predominantly wool and acrylic for apparel, to include a broad mix of fibers for technical applications, illustrates how innovation is at the heart of long-term success. The company celebrates its 100th anniversary this year! (See "National Spinning: 100-Years-Strong," TW, this issue).
There is also growing optimism about the economy opening up and normalizing day-to-day business. As vaccinations sweep through the nation, there is a sense of a horizon and there will be a time when the industry can meet, share ideas and celebrate the achievements so many in the industry have accomplished during such difficult times.
Sights are set on Techtextil North America 2021, to be held August 23-25 at the Raleigh Convention Center in Raleigh, N.C. It seems a distant memory, but the 2019 edition also held in Raleigh, had the show's highest attendance for an odd-year with 3,185 visitors.
One wonders if that record may be broken once again. How large is the hunger to see colleagues, share developments and renew business relationships? Will the risks be low
enough and will the industry come together once again? Time will tell.
March/April 2021