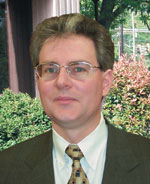 By Jim Borneman, Editor In Chief
The combined Techtextil North America/Texprocess Americas 2018 held recently in Atlanta and organized by Messe Frankfurt North America was a very positive experience for visitors and exhibitors alike. With many recognizable textile executives in attendance, the show offered serious networking in addition to the largest-ever exhibit floor space for the event.
With exhibitors from an unofficial count of 32 countries, the international presence was palpable. Country pavilions were prevalent as were well known domestic representatives cutting across technologies and suppliers to the industry. The international pavilions were well staffed and offered great information.
Notably, the show floor highlighted the growing realm of digital printing. In some cases, digital printing machinery manufacturers aligned with apparel manufacturing suppliers on the Texprocess side of the hall illustrating how their technology integrates into the apparel manufacturing process. Industry stalwarts like Zimmer were located on the Techtextil side of the exhibition showcasing digital printing machinery as well as coating technologies.
The shows spoke volumes about the health and vibrancy of the U.S. industry today. This was the 15th edition of Techtextil North America and fourth edition of Texprocess Americas, and it is interesting to see how the show has changed over the years from its roots as a relatively small show held at the Cobb Galleria just north of Atlanta to today's expanded presence at Atlanta's main congress center. And yes, there still is room to grow.
One attending executive who hadn't attended in the recent past, said, "Where did all the sewing machines come from?" — a testament to the growing size of Texprocess Americas and its impressive representation of suppliers to the sewn products industry.
The executives that stopped by the Textile World/Textiles Panamericanos booth generally were positive about the show and the state of the industry. There was a steady flow of guests to all booths, and engaging conversations were taking place across the show floor.
Momentum is building for the very busy show calendar in the first half of 2019. Techtextil North America will be held in Raleigh, N.C., in February — a little earlier than usual. The IDEA show, hosted by the Association of the Nonwoven Fabrics Industry (INDA) will be held in Miami at the end of March; INPRINT USA moves to Louisville, Ky., in early April; Techtextil/Texprocess will be held in Frankfurt in mid-May; and then the industry's largest trade show event — ITMA 2019 — takes place in Barcelona mid-June. That is quite a lineup, not to mention the various annual association meetings and conferences. Keeping the schedule straight will be challenging to say the least. It will be a demanding time for exhibitors and attendees alike, but what a showcase with the promise of something on display for everyone.
In 2018, Techtextil/Texprocess has done a positive job in providing a welcoming showcase presenting the depth and breadth of the textile industry — "Norma Rae" was noticeably absent.
May/June 2018