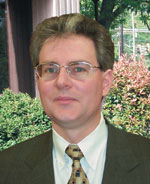 By James M. Borneman, Editor In Chief
Rotary textile printing has a long history as the industry standard for high-output printing plants. The process is specialized and capital intensive. It demands a fabric inventory, screen inventory, an accurate color shop with formulations per pattern and colorway, and in most cases, a finishing department, inspection area and quality control lab.
The process of turning a design into a print involves the studio where artists turn designs into printable patterns. From there, the designs are engraved on rotary screens, one screen per color. There is a lot of time, energy and capital tied up before the printer prints the first yard.
For years, the promise of digital textile printing teased the industry as it slowly developed. For some time, digital printing was a sample and development tool for designers in a preproduction environment. It was expensive technology that found a niche in commercial printing in banner and signage businesses.
Then it happened — printhead development brought speed into the equation; dyes, inks and substrates improved; and the color gamut available to the printer increased. Scanning technology and computational power also expanded capabilities.
Today, digital printing technology has transformed the textile printing business and has expanded the business model. The technology is transformational enough to make traditional printers consider the technology, and reinvest out of rotary production to increase productivity, and reduce operating costs and industrial footprints.
Digital printing also is making its way into non-traditional manufacturing areas like apparel, where it is being adopted as part of an operation for both samples and production runs.
The entire process has changed. Simple concepts like design repeat — the design was engineered to fit around the circumference of the screen in a continuous manner — no longer are necessary in some forms of digital printing, and this provides a great deal of freedom for designers. Direct-to-garment printing reduces inventories and adds production flexibility.
Many textile processes have evolved through the years — think of when the loom became the weaving machine. Rotary still has its place, but new choices are making printers and non-printers evaluate how transformative technologies are impacting their businesses. Sometimes making obsolete, and other times offering opportunity.
The marketplace is responding with new shows and conferences to make the technology more accessible. In this issue, Executive Editor Rachael Davis presents a digital printing technology roundup, and she will cover the inaugural InPrint Industrial Inkjet Conference previewed in this issue. For printers and non-printers alike, digital printing could become an important part of your business.
One final note: TW editors would like to thank Janet Bealer Rodie for her many contributions to the magazine over the years. In particular, "Quality Fabric of the Month," written by Janet for many years now, has long-been a reader favorite. Thank you, Janet, and enjoy your retirement.
January/February 2018