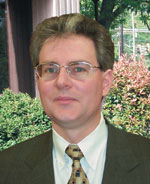 By James M. Borneman, Editor In Chief
The good news continues in U.S. manufacturing, and the recent Institute for Supply Management (ISM®) Manufacturing ISM Report On Business®, provides some great data that supports the trend. Prepared by the Tempe, Arizona-based organization, the report states, "Economic activity in the manufacturing sector expanded in August, and the overall economy grew for the 99th consecutive month."
Timothy R. Fiore, CPSM, C.P.M., chair of the ISM Manufacturing Business Survey Committee said: "The August PMI® registered 58.8 percent, an increase of 2.5 percentage points from the July reading of 56.3 percent. A reading above 50 percent indicates that the manufacturing economy is generally expanding; below 50 percent indicates that it is generally contracting."
That expansion is evident in the many news reports of plant openings in the United States. And it is good news for the economy in general.
Fiore said:"The past relationship between the PMI and the overall economy indicates that the average PMI for January through August (56.7 percent) corresponds to a 4.2 percent increase in real gross domestic product (GDP) on an annualized basis. In addition, if the PMI for August (58.8 percent) is annualized, it corresponds to a 4.9 percent increase in real GDP annually."
Those are the headline numbers that represent total U.S. manufacturing and are a composite of the 18 manufacturing industries tracked by ISM.
Fourteen of the 18 manufacturing industries reported growth in August including Textile mills and General Machinery. Unfortunately, apparel contracted compared to the July report.
Looking at the elements of each industry, Textile mills and General Machinery fared well in the New Orders, Production, Employment and Increase in Backlog of Orders sections of the report.
There is also increasing interest in the U.S. textile industry — possibly spurred on by new plant and equipment trends.
The Germany-based Mechanical Engineering Industry Association (VDMA) for Textile Machinery will be hosting a one-day technology B2B Forum & Conference title "German Technology meets U.S. Textile" in Charlotte, November 6, 2017. Please see the preview in this issue for details on the program. Registered attendees will be admitted free of charge. The VDMA also will host a similar event in Mexico City, November 7-8.
The flow of news to TW's inbox has been on the increase and generally positive. Not an exact science, but in looking at textile activity on a daily basis through TW's daily posting, it is fairly easy to sense an optimistic trend.
Business is difficult at times and keeping up with dramatic changes in technology is challenging. But it is great to see this sense supported by the ISM data.
It is very rewarding to see the level of technology driving the industry and allowing for competition on a global scale. Today, the U.S. textile industry is safer, with better paying jobs, increased productivity and better quality products than ever before, and automation plays a significant role in the industry's technical revolution and continuing good news.
September/October 2017