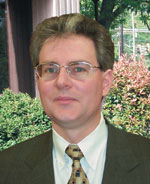 By James M. Borneman
Articles in this issue of Textile World lean heavily on the technical side. This wasn't intentional, but it illustrates the continued emphasis on innovation and investment in the industry. On the back of solid Techtextils in Germany and Chicago, and with INDA's RISE® conference and IFAI Expo 2017 on the horizon, the industry's appetite for exploring technical textiles is significant.
Traditional textiles are still important sectors, and are benefiting from near shoring and Made in America trends. Investment continues to expand as the National Council of Textile Organizations (NCTO) states in "Annual Capital Investments By U.S. Textile Mills Surge," in this issue.The article states: "In a positive sign, capital investments by America's textile industry have surged during recent years, driven by growing demand for innovative textile products, expanding exports and greater recognition of the added value of domestic sourcing. In the most recent government statistics, annual capital investments by U.S. textile mills reached nearly $1.7 billion in 2015, a 75 percent increase from $960 million in 2009." The interesting aspect of this trend is that capital expenditures are thought of as a dependable leading indicator with the exception of a major economic disruption or force majeure.
Energy prices are low with gasoline in the $2.15 to $2.25 range and some consumers are finding prices under $2.00 per gallon. Consumers are optimistic, manufacturers are optimistic and retailers are trying to figure things out.
Edward Gregor's article, "New, Emerging And Disruptive Technologies," in this issue is very enlightening on how the industry is changing. He says a great deal by stating: "New technologies are positioned to become potential market leaders in the increasingly sophisticated world of textiles." Gregor continues with profiles of new advances and the companies driving the developments forward.
China also continues to invest in the United States, this time through Key Safety Systems (KSS) — a division of China-based Ningbo Joyson Electronic Corp. — which has announced its intention to acquire substantially all the assets of automotive safety systems supplier Takata Corp. for $1.588 billion. Takata's Kernersville, N.C.-based high-performance textile and composites manufacturer Highland Industries Inc. is included in the transaction and will become part of KSS.
The editors and staff of TW, Textiles Panamericanos and TW Asia would like to express condolences to the families and friends of two great industry leaders for their recent losses.
Paul T. O'Day recently passed away, having led the American Fiber Manufacturers Association (AFMA) from 1984 to 2017. "Famously courteous and humble, Paul won heated policy debates through the power of his extraordinary intellect, his expansive institutional knowledge and his total command of the subject matter at hand," said Auggie Tantillo, president and CEO, NCTO.
Industry pioneer Gerold Flessner also recently passed away at the age of 92. Known for significant innovations in textile, man-made fiber and nonwovens technology, his innovations impacted textiles in a meaningful, positive way.
Both men, with their great talents, made U.S. textiles and textiles in general better with their dedication, vision and loyalty to the textile industry.
July/August 2017