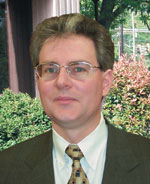 By James M. Borneman
Doug Billian, past owner and publisher of Textile World, always said, "Keep your eye on capital expenditures — they are one of the best leading indicators of future growth in market economies and capital intensive industries."
Capital expenditures are important because of what it takes to make them happen — management, board members, technology companies and financial institutions all are part of the process to get projects off the ground. Management is looking at the gap between future demand and current supply. The expenditures incorporate productivity gains, innovative capabilities and geographic shifts in supply, like reshoring trends, all coming together to form a strategic investment.
Jeff Price — outgoing chairman of the National Council of Textile Organizations (NCTO), and president, Specialty Fabrics Division, Milliken & Company — recently addressed the 13th annual NCTO meeting. (See "2016 State Of The U.S. Textile Industry," TW, this issue). Some of the numbers Price reviews are rather stunning.
"Investment in Textile Mills and Textile Product Mills has seen especially explosive growth, climbing from $960 million in 2009 to $1.8 billion in 2014 — an increase of 87 percent,"reported Price. "In contrast, capital investment in Apparel is down $157 million, a decrease of 39 percent."
Reading the article is worth the time investment because Price has provided an excellent overview of the textile industry, trends and NCTO's achievements.
Healthy Techtextil North America, Texprocess Americas and JEC Americas shows also had a positive feel. The Association of the Nonwoven Fabrics Industry (INDA) reported, "IDEA16 broke all prior exhibitor and attendee records for its recently wrapped up triennial event attracting over 7,000 attendees and 555 exhibitors."
It was unfortunate that these events occurred on the same dates in early May, with some visitors attending and/or exhibiting at both venues.
In textiles, it's not all rosy. TW Yarn Market editor Jim Phillips has uncovered some softening among the yarn spinners: "Compared to just a few months ago, most spinners interviewed were considerably more cautious about the state of the market going forward than they were a few months ago. 'We really were blind-sided when business began to slow down in January," said one spinner. It wasn't at all what we expected. Going forward, I think you will see a return to more favorable conditions. But I am not as certain about this as I was in, say, November of last year.'"
But as Price states there still is a growth story out there: "… since 2012, growth in industrial production by Textile Mills has exceeded that of All U.S. Manufacturing. Industrial production is up 7.6 percent for Textile Mills as compared to just 6.1 percent for All U.S. Manufacturing. Growth in industrial production for Textile Product Mills was 5.9 percent, a figure almost identical to that for All U.S. Manufacturing."
With that positive outlook, lets hope the industry can maintain its course.
May/June 2016