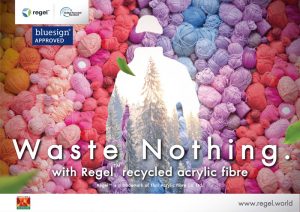 BANGKOK, Thailand — August 14, 2022 — Regel™ fiber, recycled acrylic fiber from Thai Acrylic Fibre Co. (TAF) – Aditya Birla Group, is now bluesign® APPROVED, in addition to being a GRS certified acrylic fiber. This certifies that Regel meets the safety and environmental requirements of bluesign CRITERIA, the latest milestone in their long journey path towards sustainability.
Regel is TAF's second product that gets bluesign APPROVED after its flagship gel-dyed acrylic fiber Radianza™. Regel was launched earlier this year by TAF that was developed as a result of growing demand of sustainable fashion products from global consumers, brands and retailers
Waste accumulation and its management is one of the key sustainability challenges of the industry and therefore recycling pre-consumer, post-consumer and in-process waste to make new products is one of the most preferred and prevalent ways to reduce the environment impact. Regel is a unique innovation as it is one of the first successful commercialization of acrylic fiber produced by recycling the waste. It is manufactured with an authentic and intimate chemical recycling process which is functionally equivalent to acrylic fiber like warmth, comfort, and vibrant shades.
bluesign APPROVED articles go through a rigorous certification process by Bluesign Technologies AG — the organization behind the certification — and it certifies that these articles are manufactured with a minimum impact on people and the environment.
"We are very proud to receive bluesign APPROVED certification for Regel fiber. We have been getting a lot of overwhelming responses since the launch of Regel. This bluesign APPROVED certification will further strengthen the credentials of Regel as a sustainable fiber and ensure our customers that any fabric made with Regel is produced responsibly in respect to the environment and the safety of the people. This certification is a part of our larger sustainability strategy, and we will continue our vision towards a sustainable future", said Thomas Varghese, business head – Textiles – Aditya Birla Group.
Posted: August 15, 2022
Source: Thai Acrylic Fibre Co. Ltd.