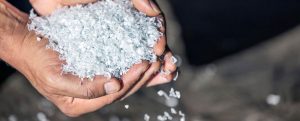 BANGKOK, Thailand — May 4, 2022 — Thai Acrylic Fibre Co. Ltd. (TAF), part of Aditya Birla Group, has launched a recycled acrylic fiber. The new fiber, branded Regel™, is made by recycling acrylic waste and has already received the Global Recycled Standards (GRS) certification.
TAF has developed this fiber as a result of growing demand of sustainable fashion products from global consumers, brands and retailers. Waste accumulation and its management is one of the key sustainability challenges of the industry and therefore recycling preconsumer, post-consumer and in-process waste to make new products is one of the most preferred and prevalent ways to reduce the environment impact.
"Regel is a unique innovation as it is one of the first successful commercialization of acrylic fibre produced by recycling the waste. The idea for Regel was conceptualized from our interaction with key fashion retailers who are looking to replace the conventional fibers with materials that have a better sustainability index. It took us almost 1.5 years of extensive R&D to formulate the process and technology for recycling acrylic waste," said Thomas Varghese, Business head – Textiles, Aditya Birla Group.
Regel fiber is composed of 50-percent recycled waste and 50-percent virgin polymer, with potential to go even higher on the recycled component.
"The unique part of Regel technology is that it ensures the homogeneous mixing of both recycled and virgin polymer, while maintaining the quality and other functional benefits of acrylic fiber like warmth, comfort and vibrant shades. This is a key advantage of Regel fiber over other techniques like mechanical shredding where there is a limitation on content, quality and color selection as the behavior and properties of Regel fiber is exactly same as fresh acrylic fibrer," added Siddhartha Chakrabarti, chief research & technology officer, TAF.
Regel fiber is commercially available and produced at TAF's acrylic fibre plant in Saraburi.
Posted: May 4, 2022
Source: Thai Acrylic Fibre Co., Ltd.