Glen Raven Custom Fabrics LLC, Glen Raven, N.C., recently launched Sunbrella® Renaissance Unity
awning and shade fabrics made using 50-percent post-industrial recycled Sunbrella solution-dyed
acrylic fiber. The Unity fabrics, which feature the same fade resistance and solar protective
properties as all other Sunbrella fabrics, comprise the third collection in the Sunbrella
Renaissance product line, which also includes braided rugs and upholstery fabrics. The fabrics are
Greenguard Children and SchoolsSM certified for their contribution to indoor air quality.
The Renaissance program engages certain trade partners that are reclaiming and reprocessing
fiber and fabric both internally and from outside sources – including materials collected through
the company's Recycle My Sunbrella service, under which it accepts post-industrial and
post-consumer Sunbrella fabric waste shipped to its recycling center in South Carolina.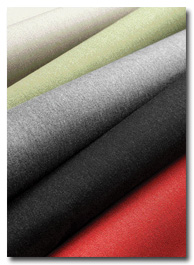 A selection of Glen Raven's Sunbrella® Renaissance Unity awning and shade fabrics
January/February 2013