Nilit Ltd., Israel, has unveiled NILIT® Breeze flat or textured nylon 6,6 yarn for use in
sportswear, outerwear, workwear, underwear, socks, hosiery and shapewear. Fabrics made with the
yarn have been tested by Centexbel, the Belgian Textile Research Centre, and shown to lower body
temperatures by almost 1°C compared to fabrics knitted using standard yarns.
The yarn's flat cross-section structure offers a wide surface area to transfer body heat
quickly. An inorganic additive integrated into the polymer increases surface area and creates small
channels that promote cooling. A texturing process creates a low-bulk yarn to maximize
breathability and ventilation in the garment. This combination also provides ultraviolet
protection.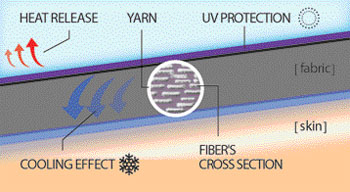 NILIT® Breeze offers a cooling effect as well as ultraviolet protection.


July/August 2012