GREENSBORO, N.C. — September 6, 2011 — During the August Congressional recess, U.S. Senator Richard
Burr (R-NC) toured Unifi, Inc.'s (NYSE: UFI) new REPREVE Recycling Center in Yadkin County, N.C.,
and Congressman Brad Miller (D-NC) visited Unifi's Madison plant in Rockingham County, N.C.
The visits were part of the 'Hill to the Mill' campaign that gives members of congress an
opportunity to gain a deeper understanding of the innovation and new investments in textile
manufacturing. Unifi is a producer of multi-filament polyester and nylon textured yarns and employs
nearly 2,000 people in North Carolina.
Senator Burr toured the REPREVE Recycling Center to get a first-hand look at Unifi's latest
expansion to its state-of-the-art Yadkinville facility. The REPREVE Recycling Center opened
in May and represents an $8 million investment that will allow for the expansion of REPREVE
recycled fiber production capacities. Additionally, the senator met with management to discuss
business trends and hear concerns about trade policy affecting the textile industry. He also
gave an update on issues and legislation pending in Washington.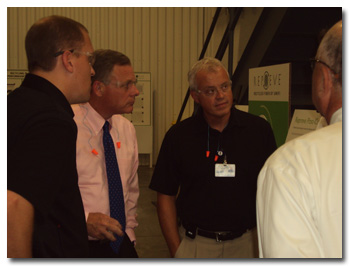 Left to right: Todd Baker, plant manager, REPREVE Recycling Center; U.S. Senator Richard Burr;
and Rob Snyder, operations manager of polyester spinning, at Unifi's REPREVE Recycling Center
While at Unifi's Madison plant, Congressman Miller listened to concerns regarding the pending
Korea-U.S. Free Trade Agreement (KORUS). Unifi employees provided the Congressman with a
petition signed by 1,305 textile workers from area mills including Unifi, Frontier Spinning and
Copland. The petition calls on Congress to oppose the Korean FTA that is expected to be introduced
when Congress reconvenes in early September. As written, the textile industry fears that the
approval of the KORUS agreement will result in the continued outsourcing of valuable textile,
apparel and other manufacturing jobs that could otherwise stay here in the U.S.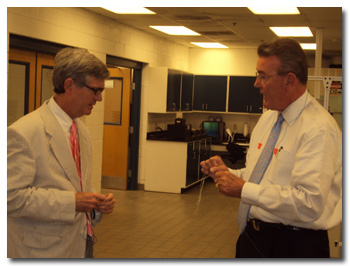 U.S. Congressman Brad Miller with Tom Caudle,


vice president of manufacturing, Unifi,


at Unifi's Madison Plant



"We were honored to have Senator Burr and Congressman Miller visit our plants and see the
investments we are making in new products and technology in an effort to support U.S. textile
jobs," said Tom Caudle, vice president of manufacturing. "We thank them both for taking time to
discuss the state of our business and our concerns about pending legislation."
The state-of-the-art REPREVE Recycling Center enables Unifi to recycle various kinds of
waste; including post-industrial waste, post-consumer waste and polyester based fabrics that have
reached their end of life. The investment has expanded REPREVE capacity from 25 million pounds to
over 40 million pounds annually. Unifi's Yadkinville facility produces polyester textured yarns and
employs 958 people. The opening of the Recycling Center created 25 new jobs in Yadkin County.
Unifi's Madison facility employs 595 people and produces textured nylon, single cover, double
covered and air covered products for a variety of end uses including hosiery, seamless apparel and
medical applications.
Posted on September 23, 2011
Source: Unifi Inc.