Teijin Fibers Ltd., Tokyo, plans to produce and market ECO CIRCLE® PlantFiber, a plant-based
polyethylene terephthalate (PET), beginning in April 2012. The new fiber contains approximately
30-percent content from sugar cane-derived biofuels. The bio-derived content will comprise the
ethylene glycol (EG) component of PET, and will replace oil-derived EG used to make conventional
PET. End-uses will include apparel, automotive seats and interiors, and personal hygiene products.
At the end of their useful life, those products will be recyclable, along with conventional PET
fiber products, through Teijin's Eco Circle closed-loop recycling system.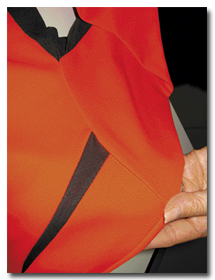 Teijin Ecopure pH-stable polyester fabric
Teijin also has debuted a polyester fabric featuring an inherent, slightly acidic pH level
similar to that of healthy skin. The fabric, tentatively called ECOPURE, is targeted to
high-performance sportswear, general apparel and other applications. The technology involves
permanently modifying polyester polymer by creating localized hydrophilic properties and mild
acidity on the surface of the inherently hydrophobic fiber, without affecting other inherent
properties of the polymer. Teijin reports the mild acidity can selectively control growth of
unhealthful bacteria while promoting beneficial bacterial growth, thereby maintaining healthy skin
and providing ultraviolet protection. The hydrophilic properties enable absorption of perspiration
as well as removal of sebum-based stains by washing, and the mild acidity neutralizes its alkaline
components.
January/February 2011