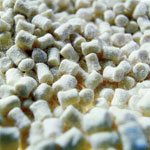 Teijin
Twaron BV, The Netherlands, reports its para-aramid Twaron® fiber derivative, the Sulfron® 3000
granule, substantially increases the lifetime and performance of sulfur vulcanized rubber
compounds, and is currently being studied by all major tire producers. According to the company,
Sulfron improves tire durability by at least 15 percent; rolling resistance by 20 percent, leading
to a 5-percent fuel consumption decrease; and cut, chip and chunk resistance.
In addition to use in the transportation sector, Sulfron may have other applications,
including conveyor belts, belt and carcass stocks and bridge bearings, according to Gert Frederiks,
commercial director, Teijin Twaron.

March/April 2006