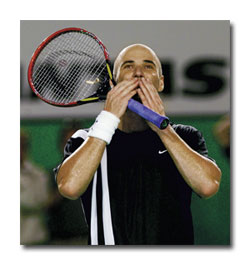 Andre Agassi uses a Head Intelligence series tennis racket powered by Advanced Cerametric
Inc.'s self-powered piezoelectric ceramic fiber composites.



A
dvanced
Cerametrics Inc. (ACI), Lambertville,
N.J., has developed a technology to produce ceramic fiber from nearly any ceramic material. These
fibers possess the desirable properties of ceramics — such as thermal, chemical, electrical and
mechanical properties — but mitigate the detrimental characteristics —such as brittleness and
weight. ACI's ceramic fiber technology has many novel applications including the ability to
scavenge functional amounts of electric power directly from wasted mechanical energy, eliminating
the need for batteries or power cabling in many systems.

Corporate Overview


ACI has supplied ceramic and metal thread guides to the domestic and
international textile industry for more than 58 years. ACI's origins trace back to 1947 when Dick
Cass founded Lambertville Ceramic and Manufacturing Co. (LCMC). LCMC grew steadily through the
early 1970s as Cass' son, Richard "Bud" Cass, joined his father in the business. The crash of the
US textile industry began in earnest in the late 1970s, and many of LCMC's customers closed their
doors. Those textile businesses that remained open began purchasing foreign textile machines,
forcing LCMC to suffer a double blow to its customer base. As a result, the company searched for
new ways to use resident core technologies to find a way to survive.



The company adopted the name Advanced Cerametrics in 1991 to reflect its plan to enter into
high-tech markets. ACI capitalized on its technical strengths and developed a range of new products
starting with Conduxite, its patented, highly electrically conductive ceramic for use in
electrochemistry. This led to the formation of HiTc Superconco, a wholly owned subsidiary, whose
business model used ACI's ceramic expertise to manufacture new ceramic high-temperature
superconductor materials. The superconductor venture led ACI into the realm of high-tech research,
and the company became an expert at winning Small Business Innovation Research grants and others
from the US departments of Defense and Energy and the National Aeronautics and Space
Administration. These grants permitted the company to develop a Viscous Suspension Spinning Process
(VSSP) to form fibers from nearly any ceramic material. This patented process is the basis for many
innovative fiber products, ranging from energy harvesting in sporting goods to reinforcement of
bone scaffolds to solid oxide fuel cell separators.

VSSP


This process loads a rayon precursor viscose with a high-volume percentage of
ceramic powder. This mix is spun through platinum spinnerets into mild sulfuric acid with a high
percentage of an added salt. The resulting acid/base reaction coagulates the cellulose with the
ceramic in it, and the salt pulls the water out, dehydrating the fiber and reducing its diameter
without stretching, which normally would pull the ceramic particles apart. This cellulose/ceramic
fiber then is washed and handled like a textile. Once formed into desired shapes, it is placed in
the furnace and processed as if it were ceramic.


Ceramic materials that have successfully been made into fiber form using ACI's process
include: lead zirconate titanate for PZT-piezoelectric; titanium dioxide for batteries and water
purification; yttrium-stabilized zirconium oxide for biomedical uses, fuel cells and ceramic and
metal matrix composites; aluminum oxide for ceramic matrix composites; iron silicide for stealth
applications; and calcium carbonate for paper applications; among many others.

History Of the Process


In the late 1980s, LCMC's management recognized that developing new technologies
was critical to saving the business. Building on core competencies, the company expanded its
superconductor and conductive ceramic businesses to conceive an entirely new technology. LCMC's new
president, Bud Cass, was looking for ways to make superconducting fiber. Media reports had
speculated that 90 percent of all high-temperature superconductors would be in the form of wire.
Knowing ceramic wire was not a realistic possibility, Cass sought a way to make superconductors
from ceramic fiber.

Ceramic superconductors require extremely pure processing conditions. The first thought was
to coat an organic fiber with a superconductor and then burn the organic fiber away. Carbon fiber
was selected because it burns away as carbon dioxide and water, leaving no residuals in the crystal
grain boundaries.
Superconducting tubes were produced, thus proving the concept. However, the tubes were too
weak to be practical. Cass looked farther back into the fiber process to see how carbon fiber was
made, with the idea of loading the carbon fiber precursor with the superconductor powder and then
burning the precursor away.
Through pure serendipity, LCMC's largest customer was Avtex Fibers Inc., Front Royal, Va. —
the largest manufacturer at the time of carbon fiber precursor rayon fiber. LCMC convinced Avtex to
load viscose with LCMC's superconductor powder using LCMC's new methods, and spin it as if it were
rayon.
The concept worked. Once Avtex recognized the value of its rayon as a fugitive carrier for
LCMC's product, the idea of using the same machines and people to make $300-per-pound ceramic fiber
versus 50 cents-per-pound rayon made sense.
After Avtex shut its doors in the late '80s, LCMC — soon to become ACI — worked with
Germany-based BASF AG and then with Elizabethton, Tenn.-based North American Rayon Corp. as its
viscose supplier.
ACI acquired Avtex's pilot spinning line, made significant modifications to the rayon
process and began spinning fiber in Lambertville. Using its modified process, ACI has been able to
make ceramic fiber from rayon viscose, cellophane viscose, sausage casing viscose and sponge
viscose.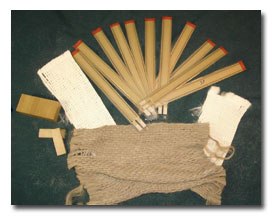 ACI manufactures ceramic fibers of various compositions in the form of sensors, actuators
and woven mats for composite reinforcement and fuel cell separators.


Applications And Products


The first commercial products
emerging from this process are high-performance ultrasound transducers that can signal over
multiple frequencies and solve the lateral wave interference of dice and fill solutions, providing
a significantly cleaner image trace than current state-of-the-art transducers. The most successful
products have been Amsterdam-based Head NV's family of Intelligence™ "smart" tennis rackets and
skis. JossWest, Ruidoso Downs, N.M., sells smart pool cues that use ACI's ceramic fiber composites
to dampen up to 50 percent of the vibration of a break or shot, providing more comfortable playing
and straighter shots.
ACI currently is investing significant monies to develop energy-harvesting technologies that
will eliminate batteries in applications ranging from heart pacemakers that use pulse as the source
of power to wireless sensor networks that use the activity being sensed as the source of power.
The company's fibers are able to generate and store enough power to run small electronic
systems from a few seconds of moderate-type vibrations. One example is the ability to power a
soldier's global positioning system from the vibrations of his steps while walking.
ACI also has developed a new generation of products that can produce light from mechanical
energy directly without using any intervening electronics. An example is self-powered lights on
navigation buoys that use rocking as the source of power, eliminating the use of batteries.
Self-diagnostic systems also are being realized. One example is a self-diagnostic bearing
that uses ambient vibration to charge a radio frequency transmitter that relays information to a
central data collection site, informing maintenance of the bearing's health.
ACI's Variable Diameter Fiber (VDF) technology has been shown to increase the absolute
strength of reconstructive bone cement by a few percentage points. This is a good thing because one
wouldn't want new bone area to be significantly stronger than surrounding bone.

The Future Of ACI


ACI has taken its core technology and
combined it with the oldest synthetic fiber technology to become a textile company, resulting in
many new uses and textile processes that were unheard of just five years ago.
The company currently is focusing on producing piezoelectric fiber composites for energy
harvesting, where it can harness ambient mechanical energy such as vibration to power electronic
systems without the need for external power systems such as batteries. Self-powered sports
computers using ACI's piezo fiber composite power sources will be in stores in the summer of
2006.
---
Editors Note: Richard Cass is president; Farhad Mohammadi, Ph.D., is director, research; and
Stephen Leschin is manager, business development, at Advanced Cerametrics Inc.
November/December 2005