Zimmer AG, a Frankfurt-based engineering and construction company, has commissioned a polyester
staple fiber plant in China for Fujian Jinlun Petrochemical Fiber Industry Co. Ltd. The plant,
which represents a 30 million-euro investment, has been designed to have a production capacity of
400 tons per day. It comprises two lines that use state-of-the-art spinning and staple fiber
production technology.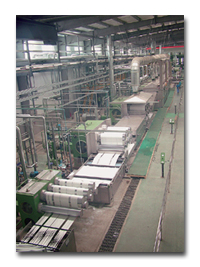 Fiber line installed by Zimmer at Fujian Jinlun's new plant in China

Germany-based Fleissner GmbH, a Zimmer affiliate, designed the staple fiber production lines,
which are equipped with the worlds largest crimper. Zimmer provided the technology, engineering and
key equipment; and supervised the construction and start-up of the facility.

July/August 2005