Poised For Survival
The US man-made fiber industry adjusts its sights to focus on industrial and home fashions
markets.Recent statistics from the Fiber Economics Bureau (FEB) present interesting and
encouraging patterns of capacity and capacity utilization in the man-made (non-cellulosic) portion
of the fiber industry. This industry has suffered mightily in the recent past, particularly in the
face of increased fiber, fabric and garment imports. The data, however, seem to indicate that,
while these external forces have been substantial, man-made fibers, particularly nylon and olefin,
have weathered this storm with capacities rationalized to levels consistent with a non-apparel
future. The industry looks ready to survive, focusing on submarkets less susceptible to imports
industrial and home fashions while allowing imports to dominate apparel unchallenged. Market
opportunities for US fiber producers will be examined without addressing the minutiae of fiber
price points and relative price advantage. It is axiomatic that the industry must adjust its
capacities to selected markets before price stability and price increase opportunities can replace
the opportunistic pricing confusion of the past five years. This article addresses the
supply/demand balance.All is not rosy; some work remains, particularly with polyesters traditional
and continuing reliance on apparel. Moves have been made, but more are needed. The nylon and olefin
models are instructive, providing continuing operational direction to the remainder of the
industry, and investment perspective to industry participants considering further rationalization
or consolidation in a very mature market.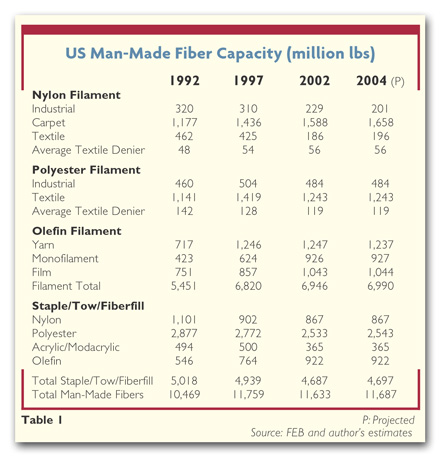 The SurvivorsIt comes as no surprise that the US man-made fiber industry has seriously
rationalized capacity plans in the recent past. Fiber imports have risen approximately 50 percent
in the past 10 years, having stabilized at this level in 2000. Similarly, fiber exports have risen
approximately 50 percent from 1992 levels, fueled by the economic boom of the 1990s, the North
American Free Trade Agreement (NAFTA) focus toward Canada and Mexico, and some amount of salting
export markets by domestic and international producers. Admittedly, the US fiber export base was,
and still remains, smaller than import opportunities, so comparable percentage gains show a greater
absolute impact on imports than on exports. In the past decade, fiber in the United States has
turned from a net export market to a net import market, a posture unlikely ever to reverse in the
face of actual and planned capacity additions in the developing world.Table 1 details man-made
fiber capacity in the United States from 1992 to 2004. It dramatically demonstrates aggressive
moves by the US fiber industry to reallocate resources toward import-resistant areas of the market,
such as home fashions and industrial, and away from labor-intensive apparel. In the 90s, nylon
producers, facing the combination of polyester incursions in tires and reduced industrial spending
engendered by the late-decade economic slowdown, dropped industrial capacity by one-third and,
facing imported fibers and garments, dropped textile denier capacity by more than half, while
adding 50 percent 500 million pounds to floor covering fiber capacity; all this while operating
rates for carpet fiber production grew from the low- to the high-80s
(See Table 2). The late-90s reversion of leg fashion from hosiery to bare legs helped
capacity utilization by driving the average textile denier up from the high-40s to the mid-50s.
Honeywells recent purchase of BASFs fiber business and the now-outed secret talks between DuPont
and KoSa for DuPonts nylon properties both look much better in a marketplace supply/demand
analysis. Olefin producers continue to expand filament and staple capacities with the firm belief
that industrial, diaper and carpet end-uses will support this unbridled enthusiasm. Olefins
chemical disaffinity for dyeing long ago inhibited producers spending on development of olefin in
apparel. Rather, the fibers were positioned as inexpensive utilitarian substitutes for some
existing end-uses and attractive alternatives to other materials in new end-uses including:
geotextile fabrics for new markets; fine-denier staple to replace rayon, then polyester, in diaper
coverstock; and relatively inexpensive man-made backing to complement both olefin and competitive
face fibers in carpets. Olefin fibers are not cheap. They are designed to add function to
technology, and producers are rewarded appropriately.As with nylon, market expansion of olefin
fibers has been hindered by the recent US economic malaise. Industrial investment is down, leaving
olefins to survive on low-margin nonwoven materials recent market share battles between
Kimberly-Clark and ProcterandGamble have done much to cap returns for coverstock materials. And the
carpet market has slowed, as the consumer catches up with his industrial counterpart in reducing
spending. If the economy is ever to recover, these two components must start to spend again. Then,
olefin producers, dogged by mid-60s to -70s operating rates, will enjoy the market expansion for
which they have developed fibers.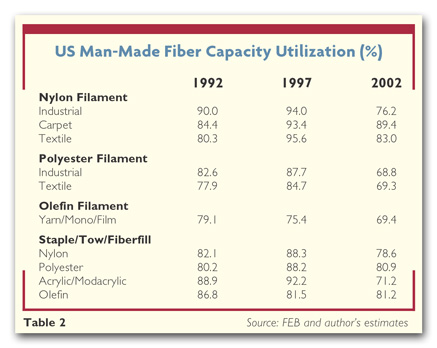 The ProblemsAcrylic fibers have found several niches that should sustain them, at least in
the short-term. The domestic hosiery industry probably will continue to shrink under import
pressure, but the combination of upholstery, some carpet and acrylics natural affinity for outdoor
use should provide a sufficiently large market to support at least a portion of current capacity.
Recent low operating rates, despite past industry capacity reductions, suggest that further
industry cuts may be in the offing.Unfortunately, polyester fibers are not quite so well-positioned
as are olefins and nylon. Polyester staple was developed as an apparel fiber witness durable press;
and polyester filament fibers were modified into apparel fibers through texturing. Thankfully, the
era of the polyester double knit disappeared into better-styled fashion, but even this fed the
polyester maw in staple blends with cotton.In filament apparel, the decrease in average denier for
polyester in part signals a specialty approach to lightweight apparel 70-denier untextured filament
versus 150-denier for texturing. The recent relatively poor Japanese silk crop, impacted by
reportedly even poorer-quality silk from China, thrust very high-quality fine-denier polyester into
the fashion scene. Demanding quality encouraged many fabric manufacturers to buy domestically; the
logistics/quality/time risk was so great that it offset any price advantages available
offshore.Additionally, filament polyester has found several large markets in home fashions such as
window treatments and nonwovens for the home, and automobile seating structures. To reduce the
fibers reliance on apparel, these must be expanded. Also, while the movement of polyester filament
into tires appears to have slowed, additional efforts must focus on other areas of automotive use
such as hoses, belts, body cloth, tarpaulins and upholstery, to enlarge the position of polyester
filament in specification-driven, import-resistant market areas.Unfortunately, polyester staple is
viewed as an apparel fiber, with significant but not sufficiently large enough to rescue the
industry quantities of fiber going to home fashions and even-smaller-yet quantities going to
industrial fabrications. Until new end-uses are found for polyester, staple and filament alike will
remain under pressure from both domestic and international sources. The likely result is continued
capacity rationalization until a supply/demand balance is reached. Microdeniers, in both staple and
filament, are a partial answer at the upper end of the market, but they will not absorb broader
distribution market losses from continued import pressure.Looking AheadDesign and distribution,
home fashions and industrial these are what the US textile industry does best. The United States is
the largest market in the world. Market control involves concentrating on areas in which there is
competitive advantage. The US textile industry does not have the advantage in labor rates;
labor-sensitive activities, such as garment manufacturing, will continue to move to lower-cost
production areas. It does have the advantage in design and marketing, and knows the market and has
or can develop the skills to service it fully.The US textile industry is a prisoner of downstream
capital and labor offsets in fiber production and must step up and control the future, or it will
be dictated to by a competitor. US producers must develop fibers and encourage rapid development of
fabric and component manufacturing systems unavailable to the competitor that needs six-week
logistics windows. They must target areas less susceptible to imports home fashions, where
logistics advantages and quick response times mean a satisfied consumer. Additionally, US producers
must investigate and actively support new uses for fabrics construction, support, filtration of
both liquid and gaseous materials, ablative materials, heat- and light-sensitive or -resistant
materials, and so on. Then, producers must develop materials, fibers and films to enhance the
natural characteristics brought to the end-use by traditional textile manufacturing techniques.
June 2003