The North Carolina Department of Labor's (NCDL) Division of Occupational Safety and Health (OSH-NC)
presented KoSa's Shelby, N.C., plant with the Carolina Star Award. The award marks the plants sixth
consecutive year as a Carolina Star site and represents its second recertification. In order to
become a Star site, the Shelby plant had to work with OSH-NC in the voluntary protection program
(VPP) to meet the state's criteria of excellence.
"According to the latest statistics published by the North Carolina Department of Labor, the
average index rate for on-the-job injuries and illnesses for organic fiber manufacturing plants in
North Carolina, excluding cellulosics, is 5.3 cases per 100 full-time employees," said Larry
Williams, business director, non-rubber technical filament and sewing thread, KoSa. "During the
certification period, [the Shelby plant] achieved a 0.3 rate."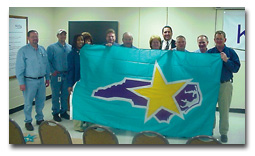 Left to right: Tommy Tessneer, Scott Greer, Lajuana Campbell, Judy Hicks, Joel Gosnell,
Tommy Jones, Nancy Smith, John R. Bogner Jr., Darrell Cole, Jim Graham and Gerald Potter
Lajuana Campbell, a Shelby Star Team member, accepted the award from John R.
Bogner Jr., bureau chief, NCDL. Joel Gosnell, Gerald Potter, Judy Hicks, Nancy Smith, Pat Collins,
Tommy Jones, Rhonda Kennedy, Tommy Tessneer, Scott Greer, Darrell Cole and Jim Graham are the other
Star Team members.



April 2003