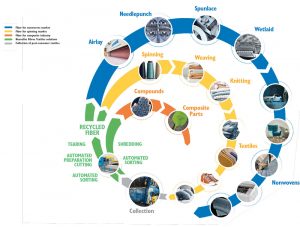 The textile industry's interest in all things sustainability has grown through the years from simple conservation initiatives into a comprehensive sustainable approach to product and manufacturing.
TW Special Report
Over the past handful of years, the textile industry has developed a growing interest in sustainability in virtually all facets of textile manufacturing and product lifecycles. Recent headlines have featured many textile sustainability developments from a broad range of companies.
A snapshot of recent developments includes Israel-based Sonovia's partnership with Italy-based denim developer PureDenim to install indigo yarn dyeing technology into France-based Kering's denim production lines; a partner-ship between Tokyo-based Asahi Kasei and Microwave Chemical, Japan, to commercialize a chemical recycling process for nylon 6,6; a line of sustainable carpet backing products from Germany-based Freudenberg Performance Materials; and a new foreign material removal technology to eliminate polyurethane elastomer fiber from discarded polyester apparel developed by Tokyo-based Teijin Frontier Co. Ltd.
In addition, Austria-based ANDRITZ has entered a partnership with Pellenc ST and Nouvelles Fibres Textiles to set up an industrial-scale automatic textile sorting line in France combining automated sorting and recycling technology; while Austria-based Lenzing Group has launched its Fiber Recycling Initiative by TENCEL™ with valued mill partners. Lastly, Spain-based Jeanologia has reduced water consumption from fabric to finished garment with its eco-efficient technologies.
These and many more companies are addressing key challenges faced by the global textile industry, including water consumption, chemical waste, energy expenditure and the environmental impact of textile production. The following narrative explores each of these company's contributions to textile sustainability.
Indigo Yarn Dyeing
Sonovia, in collaboration with PureDenim, has partnered with luxury group Kering to implement Sonovia's groundbreaking indigo yarn dyeing technology into its denim production lines. Kering aims to reduce its absolute greenhouse gas emissions by 40 percent. According to the company, traditional indigo yarn dyeing processes are known for heavy water usage, consuming an average of 60,000 liters per process, and reliance on chemicals like hydrosulfite. Sonovia's D(y)ENIM indigo yarn dyeing ultrasound technology revolutionizes the process by significantly reducing water usage by up to 85 percent and eliminating hydrosulfite completely.
This partnership with Kering represents a transformative shift in the fashion world by addressing water consumption, chemical waste, and energy expenditure in denim manufacturing.
"Sonovia's technology is the ultimate step towards near-zero-impact indigo dyeing," said Gigi Caccia, CEO and owner of PureDenim. "Having forward-looking partners like Sonovia and Kering gives us courage to take on challenges that until yesterday seemed unattainable."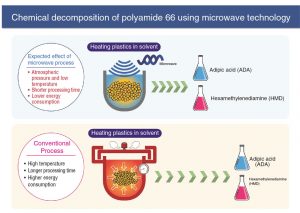 Microwaves For Depolymerization
Asahi Kasei and Microwave Chemical have launched a joint demonstration project with the aim of commercializing a chemical recycling process for nylon 6,6, also known as polyamide 66 (PA66), using microwave technology.
PA66 is widely used in automotive and electronic products, and its demand is expected to increase globally. The conventional manufacturing process for PA66 relies on fossil fuel-derived intermediates, contributing to greenhouse gas emissions.
Asahi Kasei and Microwave Chemical's collaboration focuses on developing a manufacturing process for PA66 that reduces greenhouse gas emissions compared to traditional methods.
Microwave Chemical's PlaWave™ technology platform for decomposing plastic using microwaves can depolymerize PA66 and obtain monomers like hexamethylenediamine and adipic acid for the production of new PA66. The project aims to achieve resource circulation and reduce greenhouse gas emissions by leveraging microwave technology and exploring the use of renewable energy.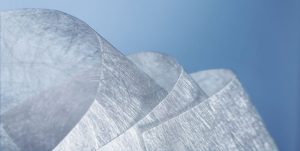 Flooring: Reduced Environmental Impact
Freudenberg Performance Materials has introduced its next-generation sustainable carpet backing products— Colback ECO and Lutradur ECO— for the flooring industry. The flooring industry is faced with the challenge of reducing the environmental impact of its products, and Freudenberg is actively supporting its customers in this endeavor.
"Like many other industries, the flooring industry faces challenges to reduce the environmental impact of their products," said Michaela Reuter, senior vice president and general manager, Regional Business Unit Carpet, Filtration & Shoes EMEA at Freudenberg. "Carpet manufacturers approach this challenge in multiple ways: reducing carbon foot-print, increasing recycled content, and improving recyclability are key trends. As a long-term partner, we work closely with our customers to support their journey."
Freudenberg's R&D teams have developed a proprietary yarn produc-tion technology that enables them to create extremely thin filaments, reducing the raw material required for carpet backings. This not only lowers the carbon footprint but also improves the recyclability of the car-pet at the end of its life cycle.
The ECO product range initially targets carpet tiles and is produced in Europe. Freudenberg plans to expand the ECO portfolio with high-recycled-content backings and other sustainable approaches, supporting the flooring industry's transition to a circular economy.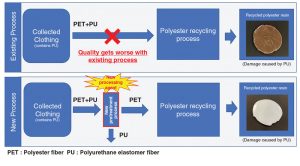 Guided By THINK ECO®
Teijin Frontier has developed a new foreign material removal technology to eliminate polyurethane (PU) elastomer fiber from discarded polyester apparel. This technology enhances the quality of recycled polyester fiber derived from clothing containing PU elastomer fiber. Teijin Frontier's processing agent dissolves the PU elastomer fiber and removes foreign materials such as dyes, eliminating the need for a separate decolorization process.
The company's efforts align with its THINK ECO environmental strategy, aiming to achieve ambitious sustainability goals. Teijin Frontier aims to establish a comprehensive ecosystem for polyester fiber, encompassing apparel collection, sorting, and recycling.
By expanding the scope of fiber-to-fiber recycling, Teijin Frontier contributes to a zero-waste society and promotes the value of environmentally responsible with its eco-efficient technologies.
Automated Sorting And Recycling
ANDRITZ, in collaboration with Pellenc ST and Nouvelles Fibres Textiles, is establishing an industrial-scale automatic textile sorting line in France. This groundbreaking project combines automated sorting and recycling technologies to process post-consumer textile waste. The line will produce recycled fibers tailored for the spinning, nonwoven, and composite industries.
Starting operations in mid-2023, it will serve as a production line for Nouvelles Fibres Textiles, an R&D line for the partners, and a test and demonstration center for customers.
Eric Boël, president, Nouvelles Fibres Textiles, commented: "We are very proud to announce the launch of the Nouvelles Fibres Textiles partnership. Several years of R&D involving key players from both textile and household waste management industries made this possible. We all shared our knowledge and expertise to promote on-the-ground circularity for textiles by full integration of the value chain."
This partnership aims to achieve industrial-grade material production and large-scale post-consumer textile sorting while promoting traceability, mitigating environmental impacts, reducing the carbon footprint, and creating job opportunities.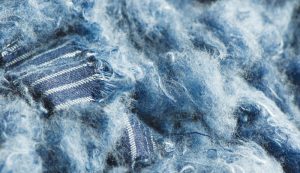 Lenzing Group has launched the Fiber Recycling Initiative by TENCEL™. Collaborating with mill partners such as Artistic Milliners, Canatiba, and Textil Santanderina, Lenzing Group is driving circularity in the textile industry. The initiative focuses on the production of denim fabrics derived from mechanically recycled Tencel lyocell fibers.
By utilizing preconsumer lyocell waste, Lenzing Group and its partners are redefining sustainability in the denim industry. The fabrics produced retain the core features of Tencel lyocell fibers, including breathability, smooth drape, and long-lasting comfort. With a growing demand for sustainable and circular products, this initiative addresses the call for more environmentally friendly options while ensuring traceability and transparency throughout the supply chain.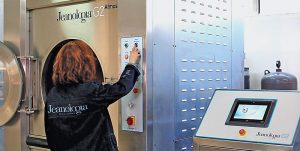 Water-Saving Innovations
Jeanologia is focused on revolutionizing denim production by creating water-saving innovations. Water consumption in the textile industry is a pressing concern, and according to the company, Jeanologia is committed to transforming production centers into eco-efficient plants that promote sustainability and circular economy.
Jeanologia reports that the company has successfully reduced water consumption from 100 to 1 liter from fabric to the finished garment using its cutting-edge technologies.
By integrating technologies such as G2 Dynamic, Anubis, G2 Ozone and eFlow, Jeanologia significantly reduces water, chemical, and energy consumption, as well as carbon footprint when compared to conventional indigo dyeing methods.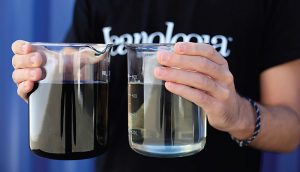 Its goal is to achieve total dehydration and detoxification in denim production, contributing to a more sustainable textile industry. In addition, Jeanologia emphasizes the importance of measuring environmental impact through the EIM software and continuously striving for lower water consumption and more sustainable processes.
The Sustainability Journey Continues
These types of advancements in textile sustainability are instrumental in driving positive change in the industry. By embracing innovation, collaboration, and environmentally responsible practices, these companies and many others not mentioned here are setting new standards for a more sustainable and circular textile industry.
Efforts in advancing sustainability not only mitigate environmental impacts but also meet the growing demand from consumers for products that align with their values. Through traceability, transparency, and the reduction of water and resource consumption, today's textile companies are leading the way toward a more sustainable future for the textile industry.
May/June 2023