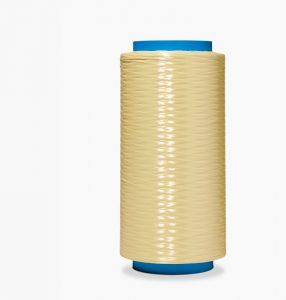 As consumers and brands demand sustainable products, the fiber industry plays a vital role in shaping a more environmentally friendly textile industry.
TW Special Report
In an era of increasing concern about climate change and its impact on the planet, industries, governments and academia are coming together to find sustainable textile solutions that minimize environmental impacts.
The textile industry is making significant strides in developing sustain-able fibers and reducing its carbon footprint. In exploring the latest fiber developments with a focus on sustainability, the following highlights the efforts of the Teijin Group, BioFilaments Inc., Renewcell, PrimaLoft Inc., Thai Acrylic Fibre Co., the DITaF – Denkendorf Institute for Textile Chemistry and Chemical Fibres, the Lenzing Group and RadiciGroup as just a few examples of the industry's active approach to sustain-able fiber solutions.
The Teijin Group
The Teijin Group has made sustainability a core principle of its business activities. The company reports in recognizing the importance of reducing greenhouse gas emissions, it has set targets to achieve a 30-percent reduction in carbon dioxide (CO2) emissions. The company also aims to reduce the portion of emissions from its supply chain by 15 percent.
These targets have been officially validated as science-based targets (SBTs). By aligning its goals with the Paris Agreement's objectives, Teijin is targeting a carbon-neutral future.
Teijin also announced it developed a method to calculate CO2 emissions during the Tenax™ carbon fiber production process. This data allowed Teijin to conduct a life cycle assessment (LCA) of all of its carbon fibers.
The Netherlands-based Teijin Aramid, a core business of the Teijin Group, has improved the carbon foot-print of Twaron® by 28 percent com-pared to 2014 according to applicable ISO standards 14040 and 14044.
Teijin Frontier, the company's fibers and product converting company, also has made significant contributions to sustainability. The company offers products such as ECOPET®, a recycled polyester fiber made from used PET bottles and fiber scraps; and SOLOTEX®, which incorporates plant-derived ingredients in its polymers. Teijin Frontier has also developed a system to calculate CO2 emissions in the polyester fiber manufacturing process, allowing for a comprehensive LCA.
Nanofibrillated Cellulose
Another notable development in the fiber industry is the new nanofibrillated cellulose (NFC) commercial production plant opened by Vancouver, British Columbia-based Performance BioFilaments Inc.
The plant, located at Resolute's Forest Products in Quebec, has a daily production capacity of 21 metric tons. NFC is a natural and renewable biomaterial derived from certified forests. According to the company, it offers a low-carbon additive that enhances the performance of advanced materials and specialty chemicals used in applications such as concrete, nonwovens and biocomposite plastics. The availability of commercial volumes of NFC opens up opportunities for various industries to adopt sustainable solutions.
"The Performance BioFilaments team and development partners have dedicated years of effort to bring this low-carbon biomaterial to market," said Gurminder Minhas, managing director of Performance BioFilaments. "We have collaborated extensively across a range of industrial supply chains, integrating nanofibrillated cellulose to achieve cost, quality and dramatic performance improvements. The availability of commercial volumes means we can readily sup-port large-scale opportunities across a number of major industry sectors."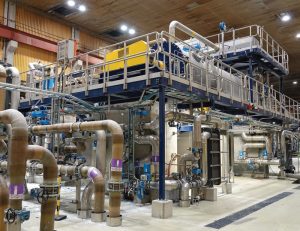 Renewcell's CIRCULOSE®
Stockholm-based Renewcell, a company dedicated to creating circularity in the fashion industry, has partnered with TextileGenesis™ to establish full pulp-to-retail traceability for its recycled raw material CIRCULOSE®. Renewcell uses a patented process to break down and recycle cotton and other cellulosic textile waste into Circulose, a biodegradable raw material. According to the company, this material can then be used to create regenerated, man-made cellulosic fibers such as viscose, lyocell, modal or acetate.
Through its collaboration with TextileGenesis, Renewcell can provide real-time digital traceability across its supply chain, ensuring transparency and authenticity for its products. This traceability is crucial for building trust and promoting sustainability in the fashion industry.
"Our new facility in Sundsvall, Sweden, is helping move us towards our goal of recycling the equivalent of more than 1.4 billion T-shirts per year," said Renewcell CEO Patrik Lundstrom. "But we also need a trusted and transparent supply chain to ensure the authenticity of products made from CIRCULOSE from our facilities all the way to the retail consumer. That is what TextileGenesis brings to the table."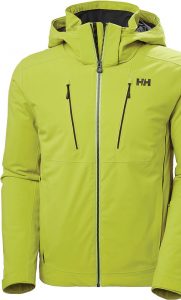 PrimaLoft Inc.  Ocean Bound
Latham, N.Y.-based PrimaLoft Inc. also is contributing to sustainable products with its PrimaLoft® Insulation with Ocean Bound Plastic. This insulation is made from 100-percent post-consumer recycled content, with 60 percent of the recycled mate-rial sourced from plastic bottles collected near coastlines. By preventing plastic waste from reaching the ocean and using it to create high-performance insulation, PrimaLoft is addressing the issue of plastic pollution while delivering sustainable products. The process is certified by OceanCycle, ensuring the material's ethical sourcing and traceability.
"The quality of plastic quickly degrades once it's exposed to the elements in ocean water, making it unusable for most recycling efforts," said Tara Maurer-Mackay, senior vice president, Product Strategy. "By capturing plastic waste before it can reach the ocean, we're able to use the material to create products that offer our brand partners and consumers the best mix of performance and versatility with a reduced environmental impact."
According to the company, PrimaLoft Insulation with Ocean Bound Plastic offers the same performance benefits for which PrimaLoft is known, including lightweight thermal performance, packability, and durability. By combining performance with sustainability, PrimaLoft is showing its commitment to its "Relentlessly Responsible™" mission.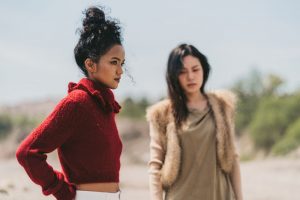 Upgraded Regel™ Fiber
Bangkok-based Thai Acrylic Fibre Co. Ltd. (TAF), a part of Aditya Birla Group, recently introduced an upgraded version of Regel™ fiber, incorporating 75-percent recycled content.
This new variant of Regel fiber, which already contained 50-percent recycled content, now holds the distinction of being the only GRS certified acrylic fiber in the world, according to the company. Regel is manufactured using a chemical recycling process that produces a warm, comfortable fiber in vibrant shades.
"Using recycled materials is a key aspect of sustainability, and products are made from recycled materials are becoming popular among consumers," said Tuhin Kulshreshtha, head of marketing, TAF. "… increasing the recycled content of Regel from 50 percent to 75 percent will help meet consumers' demands and provide them with sustainable options. Additionally, [the] higher recycled content in Regel will also allow manufacturers to create sustainable blends without compromising on quality or performance."
Regel with 75-percent recycled content currently is available in staple form and the company reports it plans to introduce other options such as tow and tops in the future.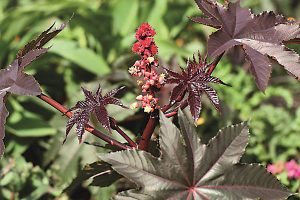 Yarn From Castor Oil
RadiciGroup, based in Italy, has introduced Biofeel® Eleven, a naturally sourced yarn made using castor oil, as part of its commitment to technical and environmental performance. Castor oil plantations, primarily located in the Gujarat region of India, provide a source for the beans, which contain approximately 45 percent oil. This oil, rich in ricinolein, serves as the raw material for the bio-polymer polyamide 11 used for RadiciGroup's Biofeel Eleven yarn. The remaining byproduct after oil extraction is a highly effective bio-fertilizer that promotes soil health, exemplifying circularity and zero waste.
"Biofeel Eleven has unique and special properties, such as low water absorption, increased lightness and improved strength properties," noted Marco De Silvestri, sales and marketing head of RadiciGroup's Advanced Textile Solutions Business Area. "This means being able to produce fabrics that are both durable and comfortable to the touch and skin. This translates into a wide range of applications, from sportswear to workwear, from fashion garments to textiles for luxury cars."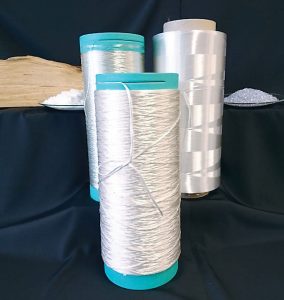 CELLUN For Composites
The Germany-based Denkendorf Institute for Textile Chemistry and Chemical Fibres (DITF) in collaboration with project partners CG TEC, Cordenka, ElringKlinger, Fiber Engineering, and Technikum Laubholz, is developing a new fiber composite material called CELLUN. This material incorporates reinforcing fibers made of cellulose, offering a sustainable alter-native to glass or carbon fibers used in industrial molded parts production.
The reinforcing component of CELLUN is a combination of non-fusible fibers and thermoplastic derivatized cellulose fibers — either regenerated fibers from Cordenka or DITF's HighPerCell® cellulose fibers— as a matrix, which is used to produce a hybrid roving. In DITF's in-house pilot plants, this roving is further processed into a hybrid roving or hybrid textile, which can be converted into a molded part using pultrusion and thermoforming processes or injection molding.
The German Federal Ministry of Economics and Climate Protection (BMWK) has partnered with DITF and is funding a project to develop CELLUN to industry maturity. The project will also look at the possibility to fully recycle CELLUN materials at the end of a product's life. Two approaches are being researched: thermally reshaping CELLUN molded parts without any quality loss and chemically separating the CELLUN material into its individual components for 100 percent reuse as new starting materials.
The development of CELLUN materials offers a sustainable, resource-conserving, and cost-effective alternative to established composites in the lightweight construction and automotive sectors.
Carbon-Neutral VEOCEL™ Viscose
Austria-based Lenzing Group has announced the expansion of its sustainable viscose fiber portfolio with the launch of carbon-neutral VEOCEL™ branded viscose fibers for Europe and the United States.
In Asia, Lenzing plans to convert its existing production capacity for conventional viscose into capacity for responsible specialty fibers in the second half of the year. This expan-sion reflects VEOCEL's commitment to providing nonwovens value chain partners and brands with environmentally friendly options that contribute to reducing carbon footprints.
"Everything we do is centered around VEOCEL's mission to be a responsible everyday care brand and demonstrate our care for the future of our planet," said Monique Buch, vice president, Global Nonwovens Business, Lenzing. "We believe it is imperative for us to not only reduce our own carbon emissions, but also to empower our partners to reduce their carbon footprint."
The carbon-neutral VEOCEL viscose fibers are made from sustainably and responsibly managed wood and pulp sources, adhering to the stringent guidelines of the Lenzing Wood and Pulp Policy and trusted forest certification systems.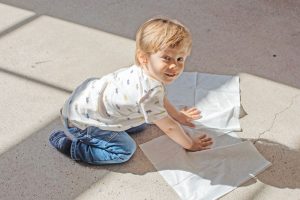 Lenzing's production plant in Austria employs efficient production methods, such as direct production from wood to fiber and the use of renewable energy sources like solar power and biomass, to reduce carbon emissions. To offer carbon-neutral products, Lenzing measured, reduced, and offset any remaining emissions through financing climate projects.
Lenzing partnered with Climate-Partner, a provider of corporate climate action solutions, to develop carbon-neutral VEOCEL viscose fibers. The company has also collaborated with Helsinki-based Suominen to produce the first carbon-neutral nonwoven, BIOLACE® Zero, utilizing VEOCEL lyocell fibers. Nonwoven roll-goods made with VEOCEL viscose fibers are available for Suominen's clients, demonstrating the importance of collaboration in promoting sustainable product development within the nonwoven market.
Fiber Sustainability Focus
The fiber industry is investing in developments with a strong focus on sustainability. Companies like the those mentioned above, as well as many more, are laser-focused on these efforts, driving innovation and creating solutions that minimize environmental impact. Through initiatives such as reducing CO2 emissions, implementing life cycle assessments, promoting circularity, and using recycled materials, fiber companies are leaning towards a more sustainable future. As consumers and brands demand sustainable products and the demand for sustainable products continue to grow, the fiber industry plays a vital role in shaping a more environmentally friendly textile industry.
May/June 2023