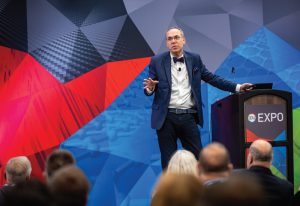 In-line with the organization's name change, moving forward the event will be known as the Advanced Textiles Expo.
TW Special Report
The Roseville, Minn.-based Advanced Textiles Association (ATA), hosted the last iteration of its IFAI Expo trade show recently in Charlotte, N.C. In-line with the association's decision to change its name, it was announced the name of the trade show also will change accordingly. The 2023 edition of the show will be called the Advanced Textiles Expo.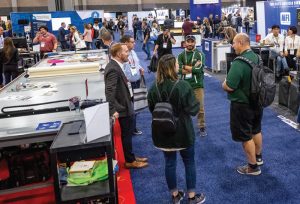 Commenting on the rebranding of IFAI Expo and future of the event, ATA President and CEO Steve Schiffman said: "ATA is proud to host a gathering place where all markets across the advanced textiles industry can come together and get business done. With that said, we're just scratching the surface of making changes designed to improve the attendee experience, which will become evident over the next few expos."
According to organizers, IFAI Expo 2022 — along with the collocated Sun Shading Expo North America organized by Messe Stuttgart — attracted more than 4,200 visitors to view the latest innovations from some 314 exhibiting companies.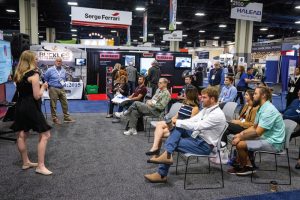 A day before the trade show floor opened, visitors had the opportunity to participate in the Advanced Textiles Conference, which featured a plenary session and networking luncheon followed by 12 classroom education sessions. The following days offered further learning opportunities with 20 market-specific classroom sessions on a variety of topics of interest to those in the advanced textiles industry.
Evening events, including the official show opening reception and Industry Night — featuring ATA member band Hangin' by a Thread — were well-attended.
"We are pleased with our inaugural collocation with Sun Shading Expo North America," Schiffman said. "One of our primary objectives in the collocation was to deliver new leads, new markets, more international attendees and ultimately more value to exhibitors. We saw some extremely positive indicators that the textiles industry is on the upswing — orders were being written, machinery was being sold and business owners received valuable insight on the latest trends and innovations to help them propel their businesses forward. Through expo, we provided a space for fabricators and suppliers to safely convene and do business."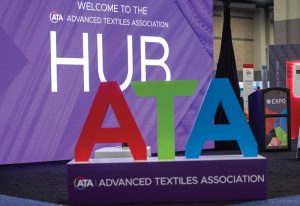 "Attending the IFAI show made us realize just how many companies are interested in sustainable textiles," said Curran Hughes, president, Renegade Plastics Corp. "We fielded many questions about our fabrics' sustainability benefits and product performance and why we no longer have to sacrifice function for the better health of our people and planet. The IFAI show was a great opportunity to network with a wide array of visitors from diverse industries who were sincerely interested in our products, our capabilities, and implementing them in their projects."
The Advanced Textiles Expo will be held November 1-2, 2023, in Orlando, Fla.
November/December 2022