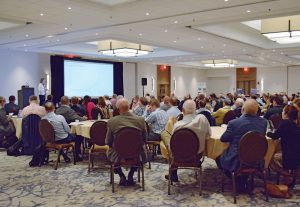 SYFA held lively fall conference to celebrate its 50th anniversary with 170 people registered.
TW Special Report
The Synthetic Yarn and Fabric Association celebrated its 50th anniversary during its recent fall conference. Under the theme "Past, Present & Future," SYFA looked back on its 50 years while looking to the future of the industry.
To mark the occasion, the association prepared an augmented agenda that included its traditional speaker lineup over the two days of the event, along with a sit-down dinner featuring keynote speaker Kim Glas, president and CEO of the Washington-based textile advocacy group the National Council of Textile Organizations, and a panel discussion featuring six industry leaders who talked about the ideas of the past, present and future in-line with the conference's theme.
The panel — moderated by Textile World's Editor In Chief Jim Borneman — comprised:
Amy Bircher, founder and owner of MMI Textiles Inc., Brooklyn, Ohio — a supplier and manufacturer of technical textile products;
Cameron Hamrick, president of Gaffney, S.C.-based weaving company Hamrick Mills Inc.;
Charles Heilig, president and CEO of yarn manufacturing company Parkdale Mills Inc., Gastonia, N.C.;
Eddie Ingle, CEO and director of Unifi Inc. — a producer of premium, value-added fibers;
Leib Oehmig, CEO of Glen Raven Inc., Burlington, N.C. — a fabric manufacturing and marketing company; and
Jeff Price, executive vice president of Strategic Initiatives at Milliken & Company — a global manufacturing company with textile, chemical, floor covering and healthcare divisions.
The gathered group held a thoughtful discussion that was quite lively at times sharing experiences and concerns, as well as opportunities for the textile industry in the coming years.
Talking points touched on history, challenges such as the Covid-19 pandemic, sustainability, energy, automation, and artificial intelligence, among other topics.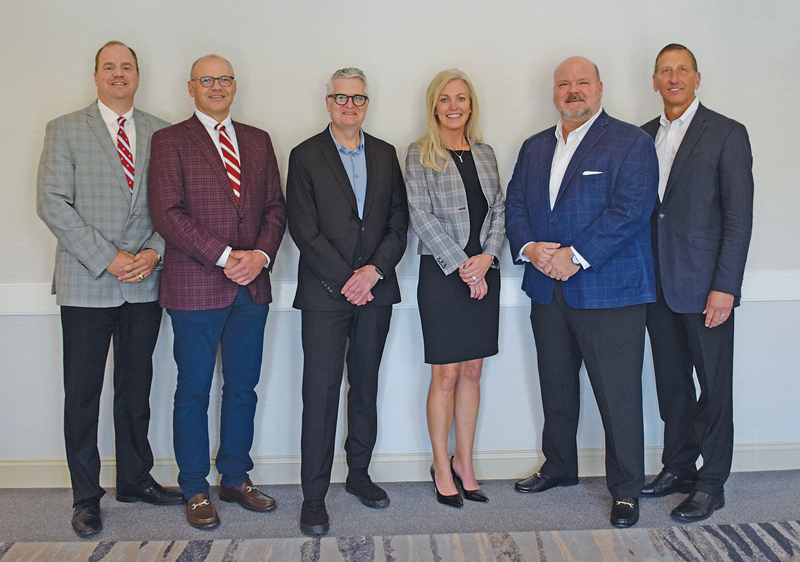 "From my perspective the opportunity to be part of a panelist with five other individuals that have a solid track record of industry leadership, growth, innovation and sustainability conscience was a very exciting and rewarding experience," Bircher said. "MMI Textiles is a much smaller company than the others, however, we have been aggressive in our approach to be relevant and passionate about our industry as a whole — from partnerships to collaboration, we need to support each other and figure out ways to overcome the many challenges that our industry faces. We will not stop investing in our industry and the vision we have to continue to overcome those obstacles, but rather propel us successfully into the next chapter."
"I would like to congratulate SYFA on its 50th anniversary," Oehmig said. "I would also like to thank each SYFA member company, and Textile World, for all you do to keep our industry moving forward. It is always inspiring for me to be among industry leaders from whom I continue to learn so much. Therefore, to have an opportunity to participate in a panel discussion with peers and friends in the industry was a great day."
Attendees enjoyed the event and especially the panel discussion. "Thanks to the SYFA for an outstanding 50-year-anniversary conference in Charlotte, N.C.," said Eva Welsh, North American market manager, Evolon, Freudenberg Performance Materials, who was attending the event for the first time in a number of years. "Outstanding textile industry panel discussion during the conference."
Speakers And Sponsors
Presentations were given by Wood MacKenzie's Laura Murphy; Walmart's Julie Rader; Gildan's Nello Masciarelli; NC State's Wilson College of Textiles' Dr. Andre West; and Consultant Jeff Dugan. Murphy also presented Alasdair Carmichael's "RPET in Fibers — What is Next for Sustainability" talk because the long-time SYFA board member was unable to attend the event. In addition, Joseph Plasky, a retired DuPont employee and former TYAA president was a guest speaker.
Conference sponsors for this special event included Diamond Sponsor Premiere Fibers Inc.; Gold Sponsors Goulston Technologies and Jomar Softcorp International Inc.; Silver Sponsors Pulcra Chemicals LLC and Teijin Aramid USA; Bronze Sponsors Avient, Thies Corp., Measured Solutions Inc. and Unifi Inc.; and Patrons Mariplast North America Inc. and Textile World.
New SYFA Scholarship Fund, Golf Tournament
SYFA also announced the creation of the SYFA Scholarship Fund for Gaston Community College's textile program. The association is planning a fundraising golf tournament before the Spring 2023 conference to support ongoing funding for the scholarship. "I know I'm not alone feeling a personal connection to supporting textile students financially, because, for many of us, scholarships are what initially attracted us to the industry," said SYFA President Hardy Sullivan. "Whether it's drawing people into textile manufacturing or the 2+2 feeder program with NC State University's Wilson College of Textiles, we're proud to be making a tangible effort to support the industry that has supported us.
Sullivan reflected on the event as the association is already looking to the next one.
"The conference was a fitting celebration of SYFA's 50-year history of education and relationship building, and it was a great launching pad for what lies ahead," he said. "For a normal SYFA conference we would be happy to bring in a speaker from Wal-Mart to discuss re-shoring, Gildan to cover resource conservation, or have a panelists of top industry leaders hosted by Jim Borneman. But to have them all, and more, in a single conference, was really special.
"The SYFA Board of Directors is so appreciative of everyone who sponsored, participated and attended the fall conference," Sullivan continued. "There were a lot of new faces, and we look forward to seeing them again in the spring!"
The next SYFA conference is scheduled for April 20-21, 2023, at the Sheraton Charlotte Airport Hotel in Charlotte, N.C.
November/December 2022