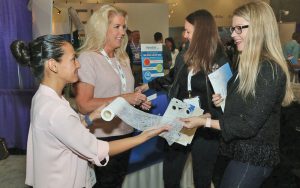 INDA's IDEA® and FiltXPO™ trade shows are collocating in Miami Beach for a value-added, in-person experience.
TW Special Report
The Association of the Nonwoven Fabrics Industry's (INDA's) IDEA® show is heading to Miami for the 21st anniversary of the nonwovens and engineered fabrics event. This edition will be collocated with the second edition of the Cary, N.C.-based association's FiltXPO™ filtration and separation show. Both events will take place at the Miami Beach Convention Center (MBCC) in Miami Beach, Fla., March 28-31, 2022.
INDA is excited to combine the two events into one enhanced experience — a decision that was made in part to avoid a crowded show calendar late in 2021, but also adds value for both exhibiting companies and attendees.
IDEA 2019, held during the INDA's 50th anniversary year, was the largest IDEA show in the event's history. The 2019 edition attracted 509 exhibiting companies and more than 6,500 visitors from more than 75 countries at IDEA. Visitors came from all sectors of the market including wipes, apparel, geosynthetics, absorbent hygiene, transportation, home and office furnishings, building construction, filtration, and medical and surgical, among other sectors. Job titles run the gamut from senior leadership to research and development to purchasing.
The association is expecting similar exhibitor and visitor numbers in March as the industry has an opportunity to reunite in person. "We are very excited about being face-to-face again!" said INDA President David Rousse. "Our industry needs face-to-face interaction to build trust. This event provides that forum. As we emerge from the pandemic, our members and the entire industry realize the power of gathering in-person at live expositions and conferences like IDEA."
IDEA 2022 kicks off with a welcome reception to be held on the outdoor terrace of the Miami Beach Convention Center, Monday, March 28, from 8 p.m. to 10 p.m.
The exhibit floor is open Tuesday and Wednesday from 10:30 a.m. until 6 p.m. and on Thursday from 10:30 a.m. to 4 p.m.
Educational Opportunities
The 2002 IDEA conference will focus on "The World View of Nonwovens." Each morning, conference sessions presented by industry experts will look at how each global region's nonwovens industry has changed since the onset of the Covid-19 pandemic. Sessions will take place from 9 a.m. until 10:30 a.m. prior to the exhibit halls opening.
IDEA 22 also will feature a series of short-course training courses aimed to share essential information and key details with newcomers, as well as enhanced knowledge for those with two or more years of experience in the nonwovens industry.
Under the header, "Essentials of Nonwovens" the six training courses focus on absorbent hygiene cores, making nonwovens, industrial wipes, consumer wet wipes and patent searching.
The courses are taught by James "Jim" Robinson, principal with Absorbent Hygiene Insights LLC, Dr. Jim Loftus, principal with Loftus Technical Consulting LLC, and INDA's own director of Education and Technical Affairs, Chris Plotz.
Attendees register for courses individually and may choose all courses or just one depending on budget and learning needs.
IDEA® Achievement Awards
Presented by INDA in partnership with Nonwovens Industry magazine, the IDEA Achievement Awards are handed out every three years in conjunction with IDEA.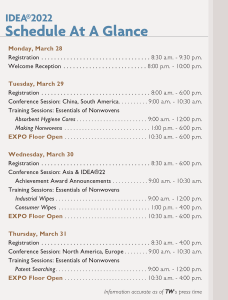 The awards recognize leading companies, individuals and new products in the global nonwovens and engineered fabrics industry who have contributed to the industry since the last IDEA show, so in this case, since 2019. The following five awards will be presented:
IDEA Equipment Achievement Award;
IDEA Raw Material Achievement Award;
IDEA Short-Life Product Achievement Award;
IDEA Long-Life Product Achievement Award;
IDEA Sustainability Advancement Award; and
IDEA Nonwoven Product Achievement Award.
Three finalists were selected in each category by INDA's Technical Advisory Board. Winners are determined by an online vote on the Nonwovens Industry website, and awards will be presented by INDA's Rousse and Rodman Media Corp. Owner and President Rod Zilenziger on Wednesday morning, March 30, after the first conference presentation.
FiltXPO Details
FiltXPO is INDA's new filtration and separation event first held in Chicago in February 2020. FiltXPO features an exhibit floor, filter media training course and trend presentations, as well as five interactive panel discussions on indoor air quality, sustainability, clean water, pandemics and filter standards.
"With COVID-19, "filtration has become mainstream," says Mike Clark, divisional president, Filtration Solutions, Hollingsworth & Vose Co. "This new public awareness will likely have a profound and lasting impact on the industry. The filtration industry continues to be on the 'front line' providing critical personal protective equipment (PPE) and IAQ (indoor air quality) to minimize the spread of the virus, along with advanced filtration solutions for medical equipment and hospitals, and the biopharma production processes used to develop and produce the vaccines at tremendous scale."
Health And Safety Protocols
INDA reports it is committed to providing a safe and healthy environment for all attendees. Precautions, including social distancing, mask wearing, personal hygiene and sanitation, and self-monitoring and self-reporting will be enforced during the event inline with current guidance provided by the U.S. Centers for Disease Control; and any federal, state or Miami Beach health authorities as well as MBCC rules. IDEA and FiltXPO attendees can check the event websites for safety protocols and mask/vaccine requirements.
Change For Future Show Schedules
Traditionally, IDEA has occurred on a triennial schedule. However, INDA recently made the announcement that the show will move to a biennial schedule beginning in 2024. The next show will take place April 23-25, 2024.
After the 2022 collocated event, FiltXPO will return to its 18-month schedule and will next take place October 10-12, 2023, at Navy Pier, Chicago, Ill.
"Establishing this new timing for IDEA® and returning FiltXPO™ to its original cycle aligns with our industry's needs to continue the growth of the nonwovens industry and establish its global leadership and versatility in delivering essential, environmentally-responsible materials and products," Rousse said. "With a more frequent IDEA® cycle, INDA will be better positioned to overcome business challenges and to support our members at the highest level."
IDEA cannot wait to host a "real live meeting of the minds" this March in Miami Beach where attendees can see, touch and feel the latest innovations available in the nonwovens and engineered fabrics sector.
---
For more information about IDEA® and FiltXPO™ and to register, visit ideashow.org. and filtXPO.com.
---
January/February 2022