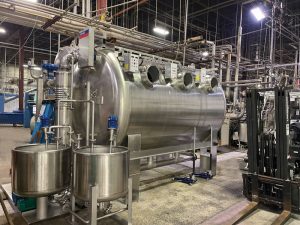 CCW continues its investment strategy to support shifting markets and remain competitive.
TW Special Report
Gaffney, S.C.-based Carolina Cotton Works Inc. (CCW) opened its doors in 1995 with an initial investment in all new equipment for garment dyeing, and continuous bleaching and scouring. Fast-moving market trends meant the company needed to quickly pivot shortly after opening its doors. But recognizing an opportunity, the company made an additional investment in a one-piece dyeing machine. That mentality of adapting when needed to maintain flexibility and nimble production set the tone for CCW moving forward, and its continued success has allowed it to add capacity almost every year since it opened.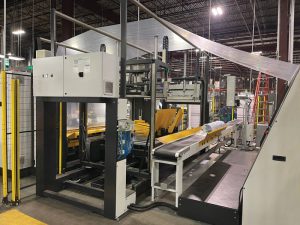 Today, the family-owned business is run by Founder Page Ashby's two sons — Bryan and Hunter. They are committed to continuing Page's legacy by dealing with challenging times by diversifying.
Wishing to remain competitive and environmentally responsible, CCW recently made an investment in new equipment for the plant.
"We use technology to improve quality, make jobs easier, improve efficiency and reduce our environmental footprint," noted Stacey Bridges, sales manager. "Over the years, we have added technologies that dye fabric using less water and fewer chemicals. We have also emphasized technologies that ensure every lot of fabric is consistent whether running knits or wovens in a wide range of styles."
New Equipment
For its latest investment, CCW purchased two new dyeing machines from Switzerland-based Lab-Pro GmbH, a Benninger AG company. CCW operates three different brands of dyeing machinery in its plant, but chose Lab-Pro machines for its latest upgrade because of the low liquor ratio capabilities and resulting water and chemicals savings. The flexibility of the dyeing machine was another consideration. "We can run our 100-percent poly filament automotive fabrics, body size apparel for the government, heavyweight fleece, and any other styles we need to on the Lab-Pro machines," Bridges said.
The company also added a new dye inventory system that requires less floor space for dye storage, and simplifies retrieving the dyes when they are needed. "The vertical carousels from Summit Storage make the job easier on our employees and better utilize space," Bridges noted.
In addition, CCW invested in a new system to improve the fabric quality inspection process, automatically wrap finished rolls and move the rolls through the plant. CCW selected the system from Italy-based PLM Impianti S.r.l. "We chose PLM Impianti for the quality control inspection and roll wrapping system because of the quality of their equipment," Bridges said. "It gives CCW a chance to improve our fabric inspection and eliminate the job of bagging rolls manually. The system also uses less plastic than bagging the rolls, so it's a better choice for the environment too."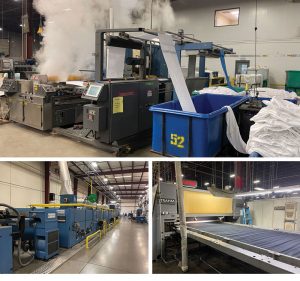 Reacting To The Times
Today's array of machinery and technology found at CCW includes capabilities for:
Piece dyeing;
Tubular finishing;
Open-width finishing; and
Fabric package sales.
Its expertise in dyeing and finishing focuses on cotton, and filament and spun polyester, as well as an assortment of specialty fibers for flame-retardant applications.
The company serves a myriad of markets including performance, fashion and military apparel; industrial applications; automotive interiors; flame-retardant workwear; medical fabrics; aerospace textiles; napery; and filtration applications.
During the pandemic, the product shift was dramatic with demand for personal protective equipment (PPE) at an all-time high.
Fortunately, the nimble company is built to respond to challenges such as those thrown its way such as during the COVID-19 pandemic. "At the beginning of the pandemic, CCW moved very quickly to running all types of mask fabrics, level 1 reusable gown fabrics and level 2 reuseable gown fabrics," Bridges noted. "We ran knits and wovens with antimicrobial and antivirus treatments for masks. We processed knits and wovens for gowns. Within just a few weeks, CCW transformed our normal business into fabrics for personal protective equipment. The switch allowed us to keep work flowing, employees working and we did not have to shut the company down for even one day because of the pandemic's effect on our business."
Unfortunately, CCW has not been immune to the labor shortage affecting the entire industry at the current time. "We definitely have had a difficult time staffing in 2021," Bridges admitted. "The new investments do help make jobs easier and eliminate jobs where possible. We have made huge investments in 2021 to grow our capacity, we now just need the staff to help us continue that growth!"
Going Forward
A willingness to invest has been part of the fabric of CCW since its inception. Markets and demand change, and investment to support those changes is what keeps CCW relevant. Page Ashby's legacy, with sons Bryan and Hunter and a devoted staff, continue to make a difference. "The Ashbys have always invested in the company to reduce cost, improve the flexibility of fabrics we manufacture, and to make the jobs easier for our employees," Bridges said.
It might seem to be a simple business model, but awareness of market demands, shifting interest of clients and technological developments, and the ability to increase capital investment is no easy road, but CCW is staying the course.
November/December 2021