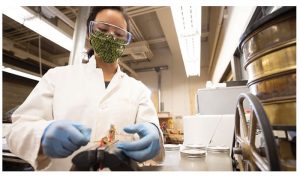 University of Idaho student explores uses for hops waste, including as a fiber for textile applications.
By Amy Calabretta
Hops are famous for adding bitterness, flavor and aroma to beer. The hop flower, or cone, is used in the brewing process while the remaining plant, or bine, is often mulched into compost. But, what if that hops waste could be used for something else — maybe something you'd want to wear? That's the question University of Idaho College of Agricultural and Life Sciences student Maggie Zee is hoping to answer.
A Unique Opportunity
Wakima, Wash.-based Yakima Chief Ranches, an integrated crop management company specializing in breeding new hop varieties, sees a lot of hops waste and is looking for practical uses besides compost. A fortuitus meeting at the University of Idaho's Career Fair in February 2019 resulted in a new partnership.
Zee happened by the Yakima Chief Ranches booth at the career fair. When representatives learned she was majoring in apparel, textiles and design, they presented her with a unique opportunity.
"They have been trying to figure out how to use their hops waste at the end of harvest," Zee said. "They want to find other practical uses for it so it's not just sitting around and composting. They presented to me this idea to figure out what to do with this hops waste. So, I decided to try it out."
Zee contacted Armando McDonald, professor of renewable materials chemistry in the University of Idaho College of Natural Resources, and, using hops bine from Yakima Chief Ranches, the two set out to discover what could be done with the by-product.
"We've been trying to figure out the feasibility of hops bine as a textile material," Zee said. "So far we've been able to use it as a nonwoven material to make paper."
Zee researched other bast fibers — strong, cellulosic fibers obtained from the outer bark of plants like hemp — and how they were processed to make paper. The bine was put into a steamer basket with sodium hydroxide and boiled to see if the bark would rip off and reveal the fibers. Bleach was then added to help further break down the bine.
"From there, the fibers would easily pull apart so we could separate them from the nice, fine bast fibers versus the coarse hurd fibers or the stalk," Zee said.
She used a food processor to pulp the fibers and a paper press to sift through the pulp and form sheets. The sheets were then dried with a hot press.
"The paper is really strong," Zee said. "I think that's just a property of the hops, just by the characteristic of the fibers, they have this kind of zigzag pattern and they're really strong."
A Source For Textiles
Making paper was just the first step in the project. Now the team is investigating the use of the fibers as a textile source with help from the University of Idaho's College of Science.
Brian Petty, scientific instrument maker in the Department of Physics, fabricated a decortication machine that strips off the bark so that Zee can extract the fibers. The machine is based on similar designs used for extracting fibers from hemp plants.
"It's something that we thought would be the best fit for our product and we can use it for other bast fibers if we wanted to research other things," Zee said. "It seemed like this was the most practical machine to create."
The hops bine is fed into the machine and paddles break off the bark and strip it so that only fibers remain. From there, Zee combs the fibers and spins them together to create a yarn.
"The texture of the hops fiber is unlike that of hemp or cotton," Zee said. "To me, it almost feels like coconut fiber. It's coarse, wavy and thicker than the hemp fiber I'm working with.
"My goal with this material is to make it as sustainable as possible," Zee added. "Not only am I making a value-added by-product, but it's intended to be recycled or composted once usage is done."
Zee worked with Ashley Hale, special projects coordinator with Yakima Chief Ranches, to source longer strands of bine and hopes to create clothing items as part of her senior capstone project.
"For me and for our company, because sustainability is such a huge aspect, this student is doing something really cool and we want to support her," Hale said. "I think using hop waste in an alternative way is a really cool project to get behind.
"If she does find a way to turn it into a textile, I think our growers all the way to our brewing customers would really like something made with a certain percentage of hops waste. I think the opportunities are endless."
Yakima Chief Ranches may use the hops paper as bottle labels, coasters or packaging.
"If more people can get on board with using their by-product towards a renewable product, it seems like we'd be able to become more sustainable in our practices and have locally sourced materials to create endless amounts of things," Zee said. "That's ultimately my goal."
---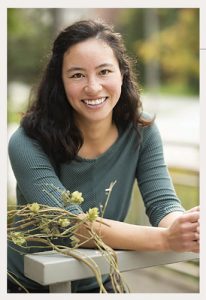 A New Career
Zee happened upon apparel, textiles and design by chance after earning a bachelor's degree in geology from the State University of N.Y. at Potsdam and spending nine years working in various seasonal fisheries and natural resources jobs.
"I was sick of the seasonal, but I was also feeling very tired of doing the same thing over and over again and feeling like a cog in the wheel and not seeing the end result of the field work I was doing," she said. "I started playing around with different art forms and trying to get back in touch with my creative side."
Zee was a ski and snowboard instructor at Brundage Mountain in McCall, Idaho, when inspiration hit — designing clothing for jobs and activities that she loved to do.
"I never thought of myself as someone that is fashionable," she said. "I was just trying to look for something different. Another catalyst was that I had been working so many jobs outside in the field and never found any clothes that really fit. I came into this program trying to change that with better fitting clothes for women. Fashion is not my end goal, function is."
Zee met with Lori Wahl, instructor in the Margaret Ritchie School of Family and Consumer Sciences, and after touring facilities on the Moscow campus, decided to make the career change.
"It's hard making that decision when you're already in debt from your first degree and going back for another bachelor's degree," she said. "It was just something that I felt I needed to do because if not now, then I'd never do it."
Zee's research project has also led her to plans for her next career — a business creating women's outdoor clothing that fits, is functional and — potentially — made from hops.
"If I am successful in making hops into a woven textile then I would like to be my own supplier for my own clothing company," she said. "Much like vertical integration, I like the overarching holistic idea of creating a more sustainable fashion industry with the production of textiles from locally sourced fibers into a wearable garment."
---
Editor's Note: Amy Calabretta is marketing and communications manager at the University of Idaho's College of Agricultural and Life Sciences.
---
November/December 2020